Barnes 250 grain TEZ
08-15-2018, 11:16 AM
Nontypical Buck
Join Date: Aug 2008
Location: Rapid City, South Dakota
Posts: 3,732
Barnes 250 grain TEZ
---
This morning an attempt was made to shoot and capture the 250g TEZ. The powder charge is 50 grain Blackhorn, which from this lot weighs 37.5 grain. Note the carpet sample glued to a piece of 3/8" plywood in front of the bottles.
The distance from the rifle to the front of the horse is 25 yard. There the bullet was traveling at 1223 fps.
The bullet blew through the first five bottles leaving behind little damage aside from a hole in , and a hole out. The bullet bounced off the last bottle, and ended up about ten feet to the right of the horse in the grass.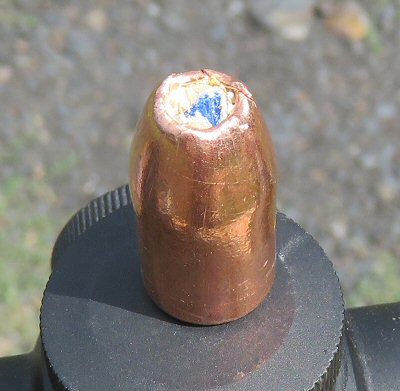 _
08-15-2018, 11:30 AM
Banned
Join Date: Dec 2008
Location: Boncarbo,Colorado
Posts: 9,186
---
Im not sure of the velocity, but many year ago we tested the 250gr Thor at 175 yards with 105 grains of pyrodex RS on a deer. That bullet fully opened up into the flower of death. Just curious if that 105gr pyrodex rs charge has less velocity than your 50gr charge which I THINK simulates 200 yards?
08-15-2018, 11:46 AM
---
I thinking it depends on what the intended hunting charge might be. For example, that bullet shot with 120grs VOLUME (84grs weight), would still have a remaining velocity of "APPROXIMATELY" 1226fps at near 300yds. Velocity would be "APPROXIMAELY" 1471fps at 200yds. Although the following photo is of the TMZ, they're not that far off between the two.
https://s19.postimg.cc/4vk5tsfv7/Capture.jpg
08-24-2018, 06:10 AM
Typical Buck
Join Date: Sep 2008
Location: Orange County, Virginia....
Posts: 556
---
I have been shooting 110gr. of BH209 with the 250 gr. T-EZ and the few rounds I was able to recover all mushroomed out really well with the four petals as shown on their site. Most have been complete pass through so no recovery of bullet, but none have gone more than 40yds from the shot. I am surprised however at the results on your video, but the results speak for their self. I would love to see if bringing up the charge to at least 80 gr. would make any difference.
Posting Rules
You may not post new threads
You may not post replies
You may not post attachments
You may not edit your posts
---
HTML code is Off
---