David and Goliath - A tale of 2 bucks
12-03-2014, 08:31 PM
David and Goliath - A tale of 2 bucks
---
Okay, maybe the title is a bit grandiose, but I'll get down to my story.
I just finished up 2 days of hunting Ohio's gun season. First of all, the weather sucked, big time. During those two days it rained, sleeted and snowed multiple times. It was wet, soggy and frigid. Because of the weather I believe, we did not see many deer. Most of the deer we did see were bedded down.
Despite all of this, my hunting buddy and I each managed to bag a buck on opening day, both of us in the afternoon when it had managed to stop raining for a while. I would love to say that I got the big one, but alas, it was not to be.
I pulled the trigger on a spike- I am mostly a meat hunter, and knew I only had 2 days to hunt this year, so I could not afford to be picky. He had a pretty big body, though - we got 40 pounds of meat out of him, despite losing some shoulder meat from the bullet wound.
I was 20 feet up in a tree and about 30 minutes before legal shooting time ended, 2 deer came right in. The first was a small doe, and the spike was behind her. I could have shot right away when I saw it, but knew that he would follow the trail right in front of my stand and give me an easy shot. When he was slightly quartering away at 15 yards I took the shot. At the shot he jumped straight up, took 3 or 4 bounds forward, hit a tree headfirst and fell over dead. The shot hit at a steep downward angle behind the shoulder, angled down, pulverizing the heart and exited the chest hitting the lower part of the offside shoulder. The bullet fragged a little bit, with some fragments in the offside shoulder, but most of it held together.
Rifle: CVA Hunterbolt .45 caliber
Powder: 80 grains T7
Bullet: .40 cal, 200 grain SST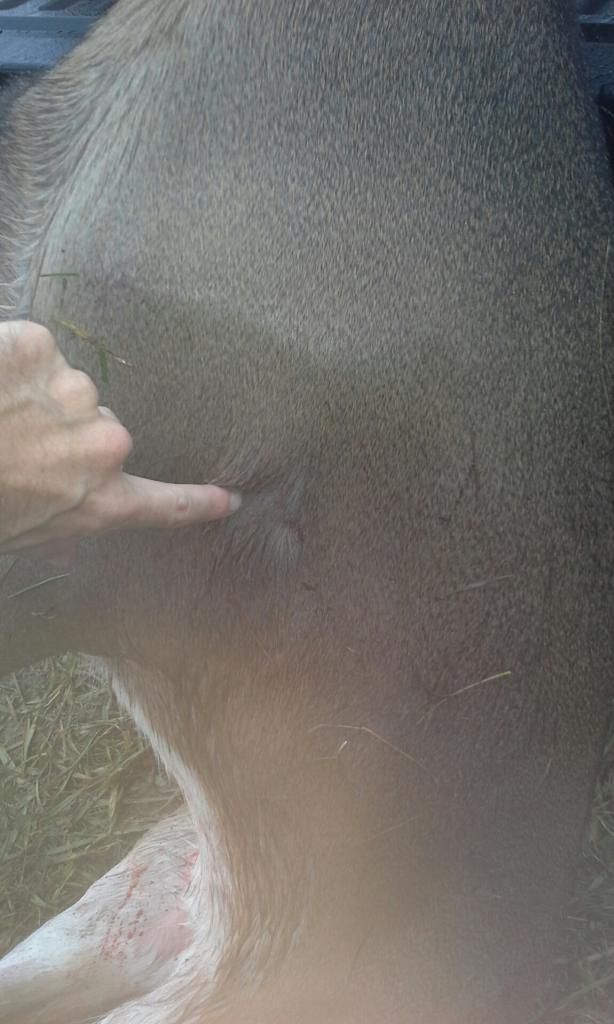 As you all may have surmised already, this deer was David. My buddy got Goliath. It was his personal best, and the best buck we've taken from our land. It came in out of the swamp, and offered him an 80 yard broadside shot. The buck made it about 50 yards after the double lung hit.
Rifle: TC Impact
Powder: 120 grains T7
Bullet: .45 cal 250 grain XTP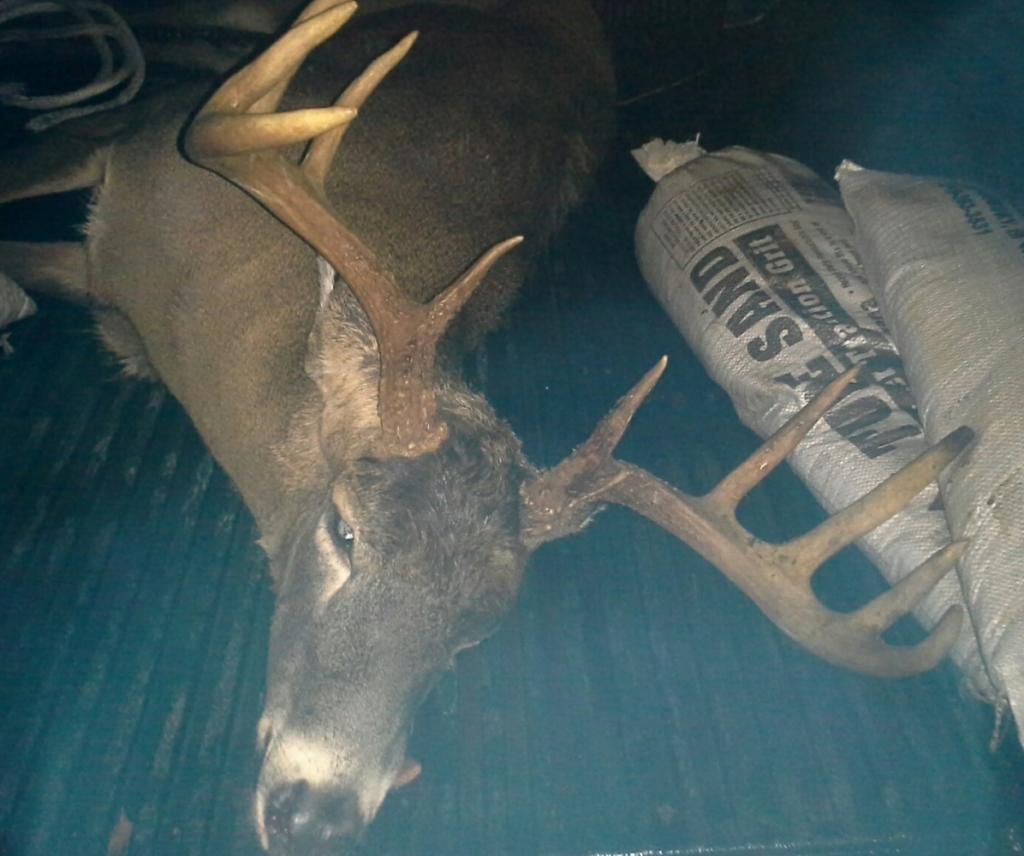 My hunting buddy was shaking like crazy for quite awhile afterwards.
So despite the weather, we both were successful and still had a lot of fun. Just wish I could get out hunting a few more days this year!
Oh, sorry for the low quality pics - only had my cell phone and it was dark out...
---
Last edited by oldsmellhound; 12-03-2014 at

08:38 PM

.
12-04-2014, 05:52 PM
---
Thanks everyone! I actually like shooting a younger buck as a meat deer - the meat is still tender and good tasting, but they have more meat on them than a doe most of the time. We only have 60 acres and can't manage our land for bucks - too small acreage, and we are surrounded by other hunters that shoot anything that moves. So there is no point in letting a buck go to grow bigger the next year- chances are one of our drunken neighbors will shoot it anyways.

The 200 SST has worked well for me. For many years I used the 200 grain XTP, but I wanted something that would hold together a bit better and penetrate more. At the velocities I shoot it at, the SST has worked out great - always have expansion and great penetration. I've only ever recovered 1 from a deer - that was on a frontal shot and the bullet was found lodged in the rear ham. The nose of the bullet tends to fragment a little on close shots, but the base of the bullet always continues on and gives an exit wound.
Posting Rules
You may not post new threads
You may not post replies
You may not post attachments
You may not edit your posts
---
HTML code is Off
---