225 or 230 gr .45 cal saboted bullet
11-27-2013, 05:19 PM
Nontypical Buck
Join Date: Aug 2008
Location: Rapid City, South Dakota
Posts: 3,732
---
11-27-2013, 07:26 PM
Fork Horn
Join Date: Oct 2007
Location: Williamsport, PA
Posts: 273
---
Sabotloader,
The bullet you mention is exactally what i want I think.
a 230 grain bullet that I can shoot out of my .45 cal Encore pro hunter
with a sabot. Is it solid copper or lead with a copper color?
Does anyone now use these?
daddus
11-27-2013, 08:30 PM
---
Those bullets are solid brass and are quite deadly...
Here is the problem.... the 40-230 was dream bullet thought up by Grouse45 trying to find the best Lehigh bullet for his 1-20 twist Knight Super DISC. Dave Fricke owner/operator of Lehigh Defense designed the bullet to be the optimal weight and BC for that specific twist. He them ran a batch of the bullets in his facility on the CNC machines. The bullets were then sent to a small group of shooters for testing. They really do perform better than expected. The final problem... very few current production rifles can shoot them becausbloodlinee of the twist rate needed to stabilize them.
I have shot them from a 1-20 Super DISC, a 1-20 White Whitetail, both 45 caliber rifles. I have also shot them from a 1-28 Knight DISC in a MMP 40x50 sabot with a MMP sub base installed under the main sabot. Shooting them with a 120 grains of T7 they did stabilize and shot very well. Clay pigeons at 200 yards was not a problem.
Finally since Knight does not have a current production rifle that can shoot the bullet, the bullet is not yet in production.
But... the perfect alternative and available alternative is the Lehigh/Bloodline. This bullet was initially built for the standard Knight DISC with a 1-30 twist. Even then it was slightly to long to stabilize, so Dave created a 40x185 grain bullet. In my case and others the 200 grain did work very well in a 1-30 but then again I was shooting it with 120 grains of T7 to increase velocity to get stabilization.
I would really suggest you get some of the 200's and give them a try. I do not think you will be disappointed...
This sheet is computed with the velocity shot by 110 grains of T7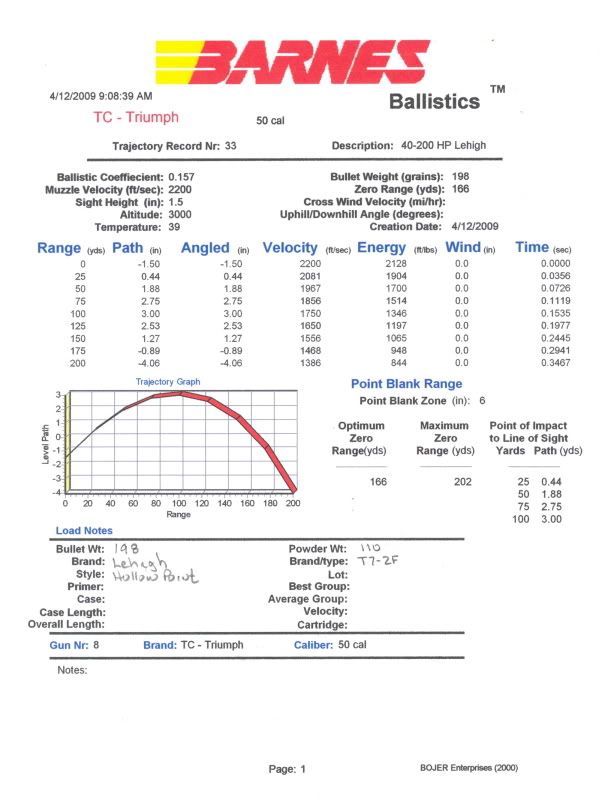 Posting Rules
You may not post new threads
You may not post replies
You may not post attachments
You may not edit your posts
---
HTML code is Off
---