beating the rain clouds..
06-16-2012, 09:31 AM
beating the rain clouds..
---
Today they are talking thunderstorms this afternoon, so I knew if I wanted to shoot I was going to be limited in time. So I hurried and weeded all three gardens this morning and then broke out my..
Traditions Woodsman Hawkins Flintlock 50 caliber. 1-48 twist.
Powder: Graf's and Sons 3f black powder. 4f for prime
Distance: 46 yards range finder told me
Shooting from a bench rest with open primitive sights.
Bullet is a .44 caliber .430 240 grain Hornady XTP
Sabot was a green EZ load Harvester (nothing easy about loading either).
I cleaned the barrel with alcohol and let it rest to dry. Shot #1 was a surprise to me. I'd forgot how light that set trigger was and knew as soon as the rifle went off, I was not on target. Also the ignition today was exceptionally fast. You'd of thought it was an inline. No tick Boom.. click boom, nothing. Just BOOM! I was using a german agate as my flint.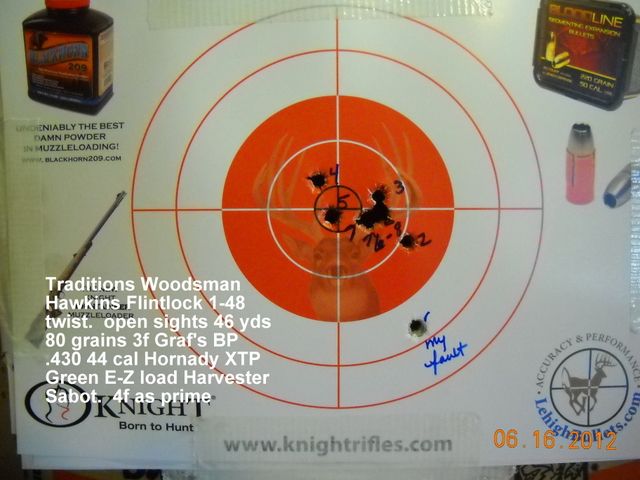 towards the end of my shooting, shots 6-9 I had the sight picture finally down pat. Holding just under the center of the bull to the left a hair. And it just kept laying them in that nice hole then. I know this Traditions has a fast lock time, but today with that new German Agate.. WOW!! I might have to buy a few more of these agates.
I was swabbing between shots with alcohol and then a dry patch. For some reason, maybe the humidity in the air, the rifle was filthy today. I've never taken so long as today to clean a traditional rifle. It just did not seem to want to come clean. Water bath, then alcohol, finally I broke out the Birchwood Casey #77 solvent and scrubbed with that. Three patches later I finally got a clean patch out of it.
This sure is a sweet little rifle. And 80 grains of 3f Graf's powder and that little XTP would be a good deer load. I would have shot longer but as I was loading for the last time a great big drop of rain hit the pan of the rifle. I wiped it out, re primed, shot and headed for the house.
06-17-2012, 05:35 PM
---
Dave

I sent you those storm clouds... they were here early last night and moving east... did not know you were planning to shoot today.

Looks like shot good as usual...

I got the front sight on the Lightning and hope to get out with it later this week...

Oh.. do any of your White 504's have a Wilson barrel on it? Next question... do you have a .451 White?
06-17-2012, 08:06 PM
---
Yes my Bison has a Wilson Barrel and is .503 diameter. The Ultra Mag is .5045 diameter. I also have a Model 97 White model Whitetail Hunter with a 22 inch barrel in .451 caliber. Great rifle.
06-18-2012, 06:25 AM
---
Great - I will get a package coming your way.
Do you feel that the .451 has a little larger bore bore than a standard 45 cal?
Posting Rules
You may not post new threads
You may not post replies
You may not post attachments
You may not edit your posts
---
HTML code is Off
---