200 & 100 yard target
02-23-2011, 04:19 PM
Nontypical Buck
Join Date: Aug 2008
Location: Rapid City, South Dakota
Posts: 3,732
---
The very first chart indicates a little over 5 1/2" difference from 100 to 200 yard. This is about how the rifle was shooting today, i believe. The 100 yard target was shot from a warmish rifle, so the bullets hit lower than i think they would from a cold barrel. The first shot from my rifles always seem to hit highest, until the barrel gets hot. Once the barrel gets hot, all bets are off, and The bullets fly all over. The only real way to know, in my opinion, is to shoot the rifle and load at 100 yard from a cold cold rifle, and see where it hits. I won't do it in the morning, i don't think, because it supposed to start snowing later tonight, and snow all day tomorrow, and on into Friday.
When i am shooting a rifle i plan to use on the prairie, i always shoot first at 200 yard, until i am satisfied with an approximate point of aim at that range. Then i shoot at 100 yard to make sure i am not hitting higher than 3". This particular rifle and load have been verified pretty good at 200 yard, and i will try the 100 yard shot from a cold rifle next.
There are 3 empty boxes of these bullets, and this target is the first one i was able to allow myself to share, because of my lousy groups. Plus, i was kinda tickled that all the bullets were on one piece of paper. I was going to change the powder charge, but today's shoot has decided me to keep everything the same.
I forgot to mention that the elevation could be important as to how the bullets fly, compared to how SHOOTER say they should fly. That is why i mentioned the elevation was near 4700'.
---
Last edited by ronlaughlin; 02-23-2011 at

04:29 PM

.
02-23-2011, 04:33 PM
Nontypical Buck
Join Date: Aug 2008
Location: Rapid City, South Dakota
Posts: 3,732
02-25-2011, 08:56 AM
Nontypical Buck
Join Date: Aug 2008
Location: Rapid City, South Dakota
Posts: 3,732
---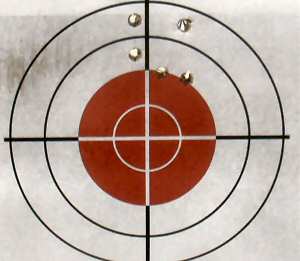 Here is a target shot this morning at 98 yard with the Triumph, which was left overnight in the truck uncleaned, using the same same same same. The first shot from a cold cold barrel, is the highest hole. It was -5 when the shooting began. It was -2 when it ended, and there was a light breeze.
Posting Rules
You may not post new threads
You may not post replies
You may not post attachments
You may not edit your posts
---
HTML code is Off
---