Captured Deep Curl
02-05-2011, 01:51 PM
---
OK... we are talking Gold Dot/Deep Curls again so I think it might be OK to bring this picture up again.
These bullets were shot into the raised portion of a water bar on a road. The water bar was 95% Palouse soil type - clay. It was completely saturated with water from melting snow and rain (mud). It really is a good medium to test bullet performance. I believe it to be more destructive on a bullet than shooting an animal even shooting through a big bone.
This was a 100 yard shot with a muzzle velocity above 1700 fps. for both weights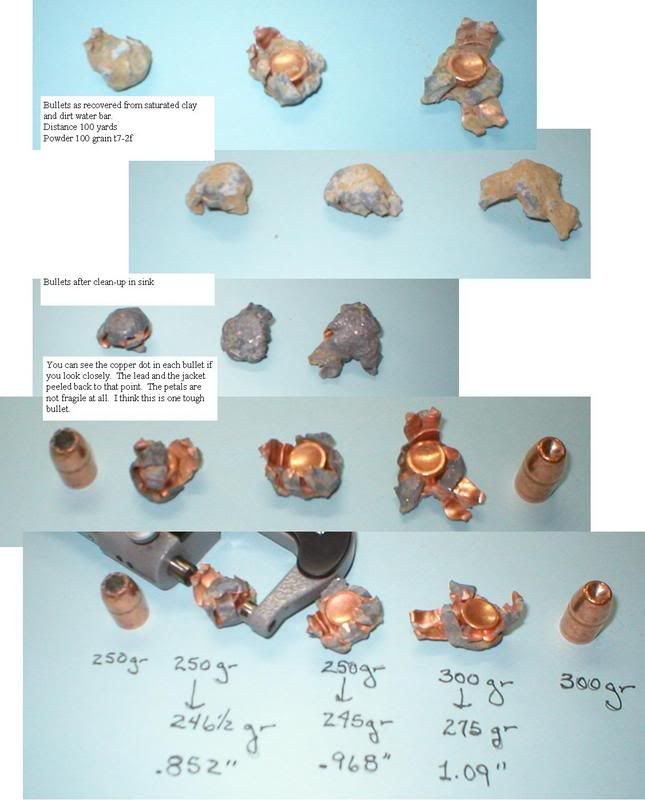 ---
Last edited by sabotloader; 02-05-2011 at

01:53 PM

.
02-07-2011, 09:04 AM
---
Hey Semi,

hit her center mass right behind front shoulder, quartering towards me slightly. The bullet hit a rib and turned a little exiting between 2nd and 3rd ribs (counting from the last rib) and was caught by the skin. there were half a dozen smaller exit wounds from bullet frags and bone. the entrance wound was quite graphic, but a fragment of some sort penetrated her diaphragm. the punctured diaphragm along with no exit (through the skin) and the entrance being mid-ways up accounted for a sparse but followable blood trail. She lit out of there like somebody stuck a hot iron to her butt. Went about 100 yds before dropping any blood and another 60 or so before going down. will post a pic later and you can kinda see where I hit her.
02-07-2011, 11:16 AM
Typical Buck
Join Date: Nov 2008
Posts: 588
---
I carry gold dots in 9mm and 40SW. They are an awesome round and hold together very well. I've done a bunch of testing with them in 9mm and 40cal and they always open up like that. Another good round is the Federal HST but Federal doesn't sell just the bullets.
Posting Rules
You may not post new threads
You may not post replies
You may not post attachments
You may not edit your posts
---
HTML code is Off
---