KNIGHT LK 93 USERS --- please read
01-16-2011, 10:33 PM
KNIGHT LK 93 USERS --- please read
---
Hey everyone, i have owned a Knight LK 93, stainless barrel, with camo thumbhole stock for about 12 years now. I converted it over to a 209 primer gun maybe 9 years ago. It is in excellent shape (except for the stock, more on that later) with the barrel and everything else still very clean.
I know every gun shoots different than the next with different loads, but i was wondering what you LK owners have found to be the best load as far as accuracy goes?
I have tried at least 5 different bullet/powder combos and don't really think my gun is as accurate as it can be. I found mine shoots best with 100gr Triple Seven and a 250gr Barnes Red Hot Bullet. I think Knight packaged them for awile but i haven't seen them lately. This gives me a 2 1/2" group at 50 yards. Shouldn't it be better then that? 100 yard shot falls about 6" below that and their groups are at least 6 to 8" in size. If i remember right, long ago i tried a 150 yard shot on paper that looked like it dropped at least 18". Does that sound normal?
I always shoot from a rest at the range and also have a very good scope on it too. The barrel is clean as a whistle and i try to swab the bore every 2 to 3 rounds when practicing. Somehow i think it could shoot better. I have 4 different kinds of loads waiting to be tried when it warms up. 245gr Powerbelts, 250gr Knight Ultimate Slam, 240gr Hornaday XTP's, and 300gr Hornaday SST's. Can't wait to get out and throw some lead soon. I'm hoping to find some kind of load that shoots better then i have been so far.
What loads seem to work best in your LK 93's? (speaking from experience hopefully)
Anybody know where i can find a camo thumbhole stock for my LK, cheap? I loved that stock. It got hung up in some brush coming down from my stand a few weeks ago and fell the last 5 feet onto the frozen ground. It didn't sound good when it hit the ground. It broke the stock in the weakest spot and didn't damage anything else as far as i know. I doubt i could repair it and still be strong.
01-17-2011, 04:20 AM
Fork Horn
Join Date: Nov 2003
Location:
Posts: 313
---
Sorry about the broken stock <ouch>

You don't mention the primer you are using or how the rifle shot before the conversion. 777 primers are a little cooler and may help.

The first three things I look at when a rifle won't shoot are:

1. Loose or bad scope, and or rings.

2. Bad crown.

3 Poor stock bedding.

YMMV
01-17-2011, 06:26 AM
Giant Nontypical
Join Date: Nov 2005
Posts: 6,585
---
Call
Phone: (641) 856-2626 on the stock.If they can not help they will tell you where to look.On the accuracy problem, It sounds to me like you should take your most accurate load and try different thicknesses of sabot. Thats assuming you have checked for all the normal thing like loose mounting block screws or scope ring screws. That gun should do better than that with any load that fits properly.
01-17-2011, 06:33 AM
---
I cant help on the stock besides a plain black composite. Knight has them in stock but they are not listed on the website. They are plain but very well made.
As for the LK, my 54cal had a slightly larger bore than my DISC based 54cal.
I would take a guess at trying a tighter fitting sabot and your current bullets. Its the least expensive starting point. You could also try some of the cheaper Rem 300gr 458s in a Harvester Crushib for .452 bullets. That combo usually works well in larger bores.
BTW Knight still offers the 250gr RedHot, its the same bullet as a Barnes Expander MZ but it may use a different sabot.
These come with the EZ load 3P sabot so you may need to swap them or buy the Barnes branded version.
http://www.knightrifles.com/red-hot-bullets-M900590/
---
Last edited by Gm54-120; 01-17-2011 at

06:36 AM

.
01-17-2011, 07:44 AM
---
I own three of the LK series rifles. One is a LK-II and the other two are LK-93. One is stainless and one is blued. All of mine have the 22 inch barrels. And they have the #11 ignition.
What I would do is get rid of the pellets. And personally I like the #11 ignition. I would never change that. My rifles shoot best with 85 grains of loose powder. It likes the 250 grain Barnes Expanders, 250 grain XTP, and Shockwaves in 250 grain.
I would get a pound of Pyrodex RS and some 250 grain Shockwaves. Try shooting 85 grains of loose Pyrodex RS and some of them Shockwaves. See how well they do.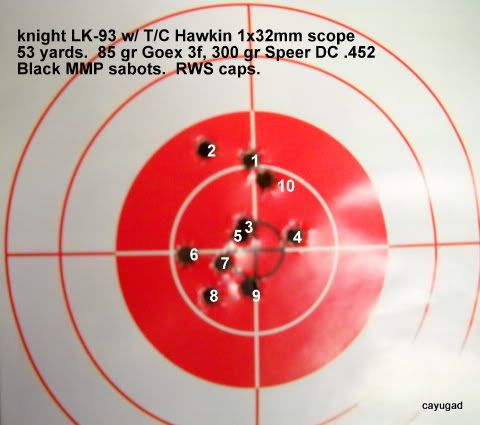 this is what my LK will do at 50 yards with the one power scope. I was testing some of the 300 grain Speer Deep Curl bullets.
01-17-2011, 07:53 AM
---
Right now i'm using a CCI primer that doesn't seem to fit very far into the breech plug. It is brass in color. I was using a silver colored primer before (not sure of the brand) that fit all the way into the breech plug.

Sabots always fit pretty tight in this barrel. Takes a good amount of pressure just to get them down the barrel if it's not clean. Even so when it is clean.

I wouldn't think i have any plastic residue down in the barrel. I always clean with boiling soapy water, and most always use a bore brush. Looks as clean as a whistle, but then again i'm not sure if plastic is easy to see down in the bore.

I will try and work up a load with powder instead of pellets . I'll try 85 grains. I used to try loads < 100gr before i went to pellets. After that i just stuck to 100gr. I do have some Goex left over (Ffg), but it's about 12 years old, but still dry. And some Pyrodex powder (RS) that is about 9 years old. They may be too old to use.
---
Last edited by Iowabucks44; 01-17-2011 at

08:11 AM

.
01-17-2011, 08:33 AM
Nontypical Buck
Join Date: Dec 2006
Location: Minnesota
Posts: 2,037
---
How old are your pellets? Although I agree that loose powder is your best option, the pellets should give better accuracy than what you are getting. I would say get some fresh powder among the other things that are being suggested.