First shoot with the Wolf
12-02-2010, 08:49 PM
First shoot with the Wolf
---
Earlier this fall I bought a CVA Wolf from a member of this forum, but I hadn't had a chance to shoot it til now. I wanted to get it set up for my dad to use for deer season (starting this week). I had a shipment of 250 Gold Dots in the mail, but unfortunately they did not arrive in time so I had to use what I had on hand: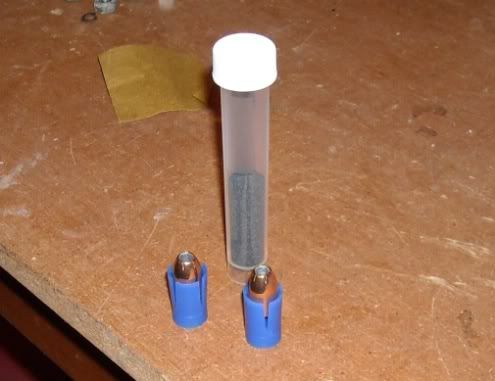 .40 cal 200 XTP's with the MMP blue .50/.40 sabot. So I loaded up some Lane's tubes with 70 grains T7 3f and went out.
It was starting to get dark, and it had started snowing hard with a 30 - 40 mile/hour wind. Not the best conditions to shoot, but I had to at least get it dialed in close so my dad could take the gun out the next day.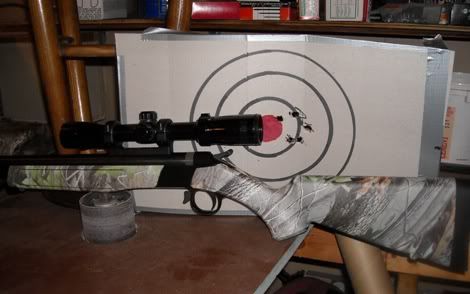 Range was 50 yards. Not the greatest group, but shooting with high winds and snow blowing in your face is kind of tough. I'm sure that with better conditions and some load developent, this gun will shoot very well. But it was good enough to hunt with, so I just adjusted the scope a few clicks to the left.
I am very impressed with this little carbine. I have an older CVA, and this new design is light-years ahead of my old one in terms of build quality, fit and finish, and trigger. The trigger on the Wolf is very nice. The jury is still out on accuracy though, as my old CVA shoots the lights out, but it looks like the potential is there for good accuracy. With this load, recoil is minimal, even with the light rifle - kind of like shooting a .223. Great handy little carbine for tree-stand hunting.
Any other load ideas out there?
12-02-2010, 09:00 PM
---
oldsmellhound
Looks to me like you are getting off to a great start...
Your Dad will really appeciate the help and the thought...
12-02-2010, 09:33 PM
---
I will keep that in mind. However, my dad prefers a soft-shooting load. I can try bumping the powder charge up to 90 grains and see what it does, then if it shoots better, see if he minds the extra kick or not.
Also, he's not going to be shooting farther than 60 or 70 yards, so he really doesn't need a load that shoots 1" 100 yard groups. If it shoots 2.5" or better at 70 yards, that should be good enough for him. I'm thinking of trying out the 250 Gold Dots as soon as they come in the mail, also with 70 grains T7.
12-02-2010, 09:44 PM
Banned
Join Date: Dec 2008
Location: Boncarbo,Colorado
Posts: 9,186
---
Ahhhh okay, that makes sense.
Hey thats some weird camo on that rifle! I never seen the gray bark pattern like that before. I actually like it, seems like the gray and the mixed up colors would do really well with blending in with the woods.
Ours has a lot of green in it,
Just noticed but if you turn that Dead On mount around, you'll have a lot more room for adjustment.
12-03-2010, 05:33 AM
Nontypical Buck
Join Date: Oct 2006
Location: Tennessee
Posts: 1,607
---
I'd say it's not too bad for those conditions. Once it clears up I think you'll get a lot better picture of what the gun can do. Even so, still should be able to kill deer w/that group.

Good luck to your dad!
12-03-2010, 06:17 AM
---
Well it looks like you are getting it dialed in for your Dad. Good for you. That's the way to be. I am sure at the ranges you mentioned your Dad will be a deer killer. I hope the weather behaves for you. And the deer march past you will little red dots on their side, right behind their shoulder.
12-03-2010, 07:07 AM
---
oldsmellhound

I know it sounds a bit crazy but......

I prefer the 180gr XTP or GoldDot and 80-90gr. Recoil is very mild and accuracy is really good. I also prefer the MMP 50x40 over the Harvester. In your load either is probably fine but ive blown too many Harvester 50x40s with hotter loads and the MMPs are more consistent in all my guns.

Total ejecta weight is similar to a 200gr with a lighter charge but IMO both of those 180gr bullets hold up better than the 200gr XTP at higher fps.
12-03-2010, 10:58 AM
---
70gr's with the 200gr XTP is all you need at ranges 100yds and under, you could go to 80 and probably not notice that much more recoil.
Good Luck and let us know how Dad makes out.
(BP)