I am back from a couple of days of hunting
10-23-2010, 01:36 PM
Nontypical Buck
Join Date: Mar 2008
Posts: 1,141
I am back from a couple of days of hunting
---
I took off on Wed night for a deer-hunting trip. I didn't get a good tag this year so I am stuck with what ever I can find, where ever I can find it. I was camped on the Bruneau River about 4 hours down a tow track dirt road. The Bruneau canyon is a very deep canyon up to 800 feet deep in places. Thur morning I took off on foot into the new wilderness area to find a deer. I took my Hotrod Renegade thinking the shots might be long. I was greeted with 5 does at first light. I watched them for a while thinking a buck might be around but no luck. As I walked the canyon rim I got to about mile 4 when something caught my eye. I looked at it with my bino's and instead of an old mulie buck I saw sheep.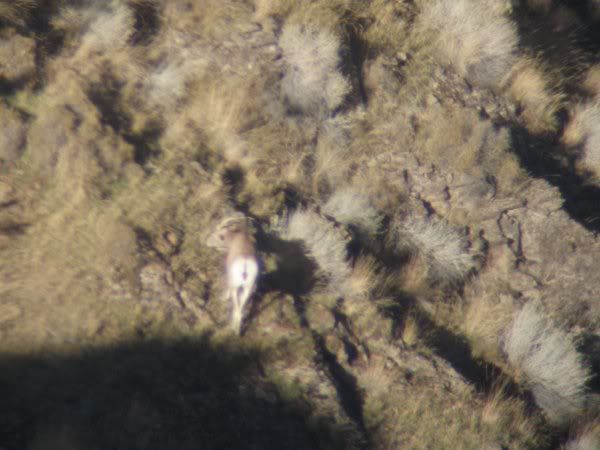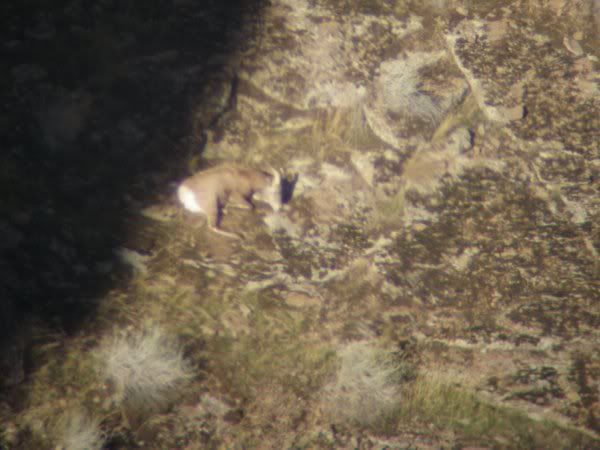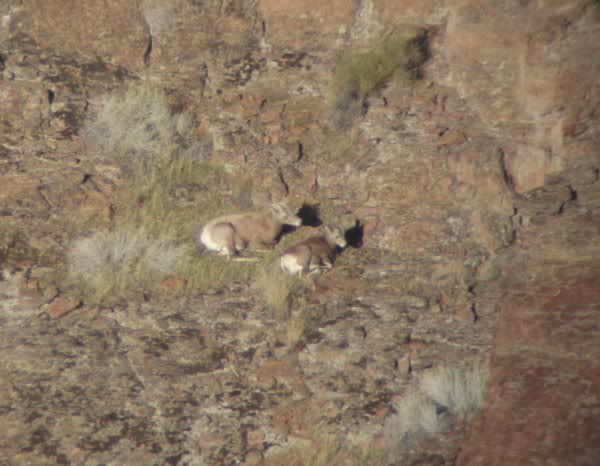 That was cool! I would have rather seen a buck but this was good. The bad thing was my battery on my camera gave out right at the last sheep picture. Man that bummed me out I didnít have any way to charge the battery.
I got back to my camp right at dark. Again I saw the same 5 does that I saw in the morning. Friday morning comes around way too soon, I didnít sleep well at all. I headed for my back up area #2. On the way I saw another 14 head of does. Again I watched them for about an hour hoping that a buck would show up, nothing. Well I was again headed for area #2. I stopped to watch some antelope and while I was messing around doing that I see something in the brush. It was a coyote. I started to make squeaking noises with my lips not to call him in just to keep his attention. That worked, I adjusted the sight for just over 100 yards and put the front pin of my sight on his nose. He was buried in the brush and his head was all I could see. At the recoil of the rifle I could hear the bullet hit. The bullet impacted about half way between his nose and his eyes. Since my camera was dead the rest is up to your imagination but it was UGLY. That has to be one of the best shots on a coyote I have ever had. It is also too bad that was the high point of the trip. I never saw a buck the rest of the day and This morning I didnít even see any deer. It started to rain so I headed home. Next weekend I get one more try then it will be over. Ron
10-24-2010, 03:46 AM
---
Any time in the woods is better time then at work pal. Nice job on the 'yote. We need to cull as many as possible.
I nailed one last year while deer hunting. Had one chasing a yearling and I was handgun hunting with my S&W 629. I got off four shots and hit it with the first shot. He went down, but got back up. I know I got a good hit.
The next one I saw was during turkey hunting. I was calling birds with my slate call and had a 'yote come in behind me and scared the schmidt out of me.
I will be off to the woods on Monday for four weeks of blissfull hunting. It is great to be retired!!!
Posting Rules
You may not post new threads
You may not post replies
You may not post attachments
You may not edit your posts
---
HTML code is Off
---