How my antelope hunt went.
09-25-2010, 07:07 PM
Nontypical Buck
Join Date: Mar 2008
Posts: 1,175
How my antelope hunt went.
---
Well my hunt lasted a couple of hours. Well that is not true, I have been scouting and getting ready for the last 16 years. I got out to my area on Thursday night. When I was driving up to the area I planned to camp I saw a good sign. A little stinker in the road.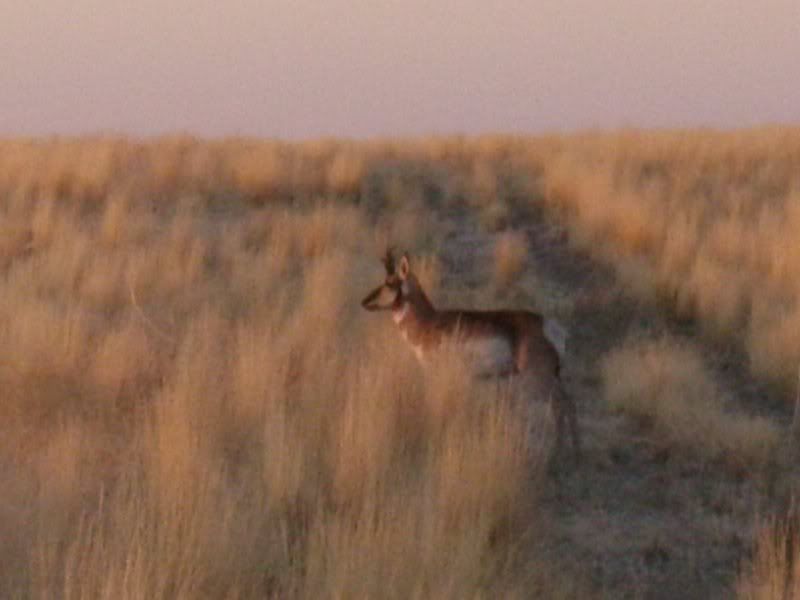 Well I went on up to camp and got ready for the night. I planned to hunt with a friend but he never called and never told me what he planned to do. So much for showing someone a great hunting spot.
The next morning look who cam and made a visit to camp.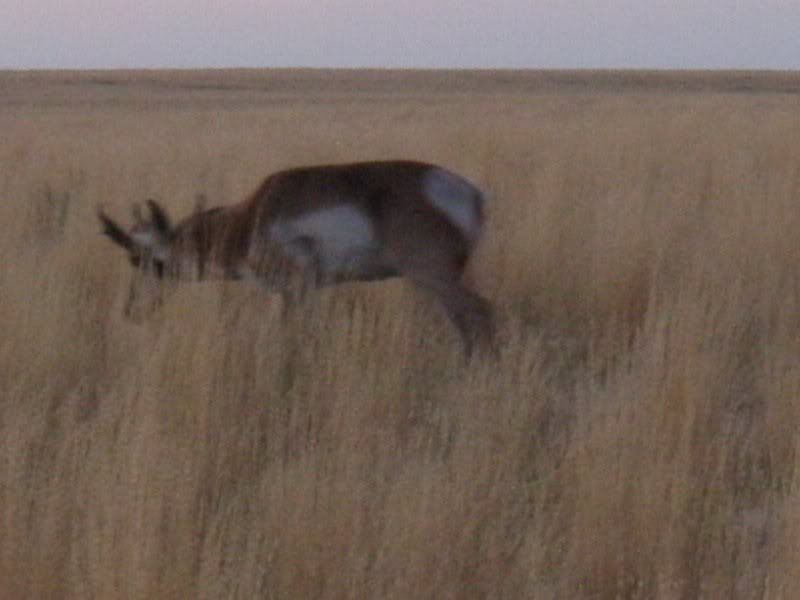 Well that day I spent some time scouting some more and found a spot I thought I would get a shot at. I found a waterhole that had been used by only a couple of animals. I hung around that hole but never saw anything but the little pain in the hind end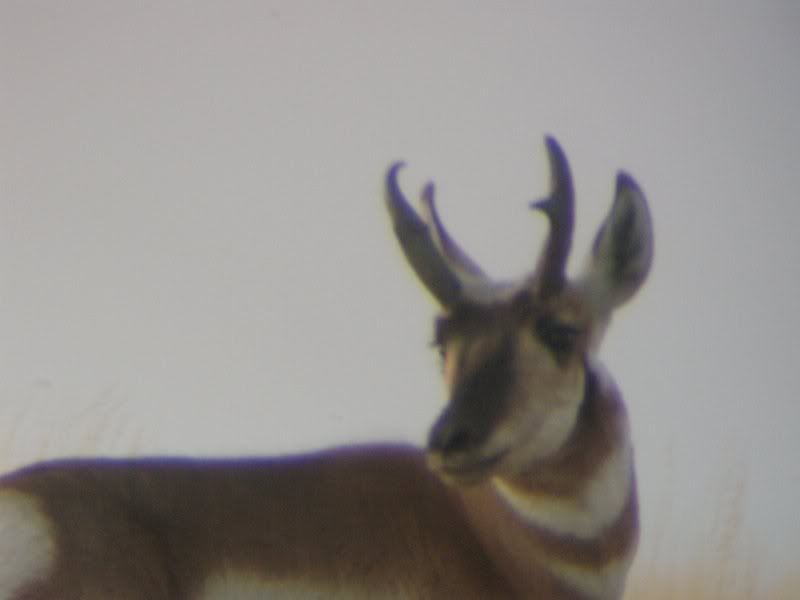 Well this morning I got up early and decided to find some brush and wait and see what showed up and the waterhole. I got there early and found a spot that was thick enough to cover me. I had my gun loaded and I set the sights as close as I could for the distance to the water hole 89 yards. Now I know what some might say, but Ron you built that rifle for LONG range. Yes I did but I have wanted another antelope since the last one I got in 1992. I was not about to risk a long shot when a close one was possible, so I settled in for the long wait. As I sat there waiting I wondered if my friend ever made it but I never heard anyone shoot. I assumed that he made it but I didnít know for sure. At 8:40am I looked over my shoulder and here comes a herd. Three does, the small buck and a good one. I looked him over with my binoculars for a little bit and decided that he was a pretty good buck. I had seen a couple that were bigger but not by a great deal. I eased my Renegade up onto the home made shooting sticks and thumbed the hammer. I set the trigger and held it on him for a couple of seconds that felt like minutes. The does had all drank and he was the only one left to take the water. All of a sudden he jumped and trotted off a couple of yards. I look up and another buck is coming in hard and fast. I didnít have time to look at him with the binoculars I had to trust that I was doing the right thing. The buck was at a hard angle away from me. I was going to have to hold a little farther back to angle the bullet through the chest. I held the pin steady on the buck took up the slack in the trigger and BOOM, the smoke blew back in my face but I heard the unmistakable W H O O O P of the bullet as it found it mark. Looking quickly I saw the buck still on his feel but he was wobbly. I started to get ready to reload, but the 460 gr bullet had sealed the deal. Down he went and the does just stood there. The other buck came in hard and fast, he never went for water he wanted the does. He came in took the girls and headed out and would have never given me a shot. I think that second buck would have came in and both big bucks would have took off running each other around had I not took the shot. I think I got lucky that I got my shot when I did. I took my pictures and loaded up and headed home. I am very happy with this buck. I did see some that were larger but not many. I just hope I donít have to wait for another 16 years to get another tag. Ron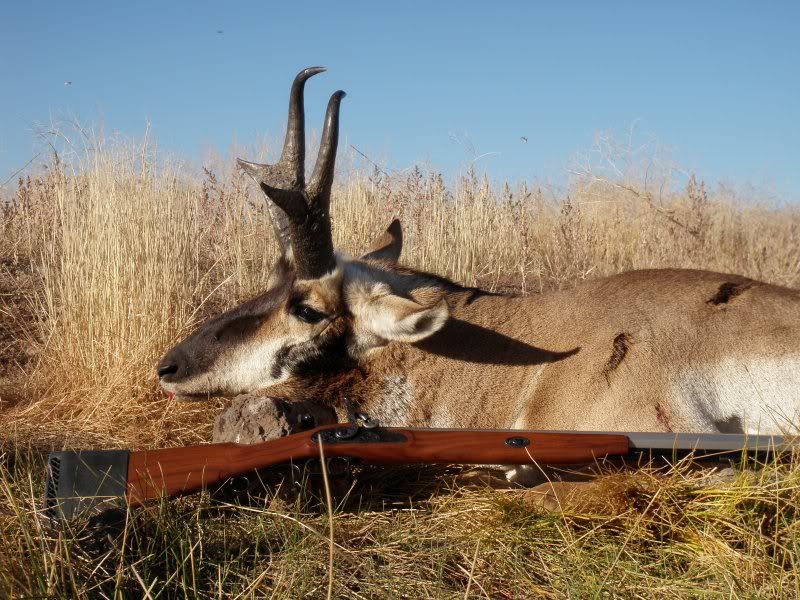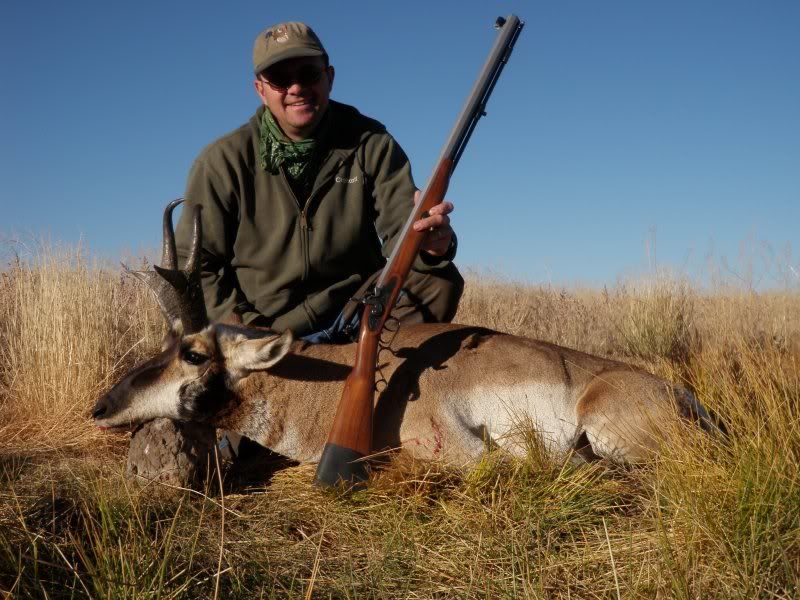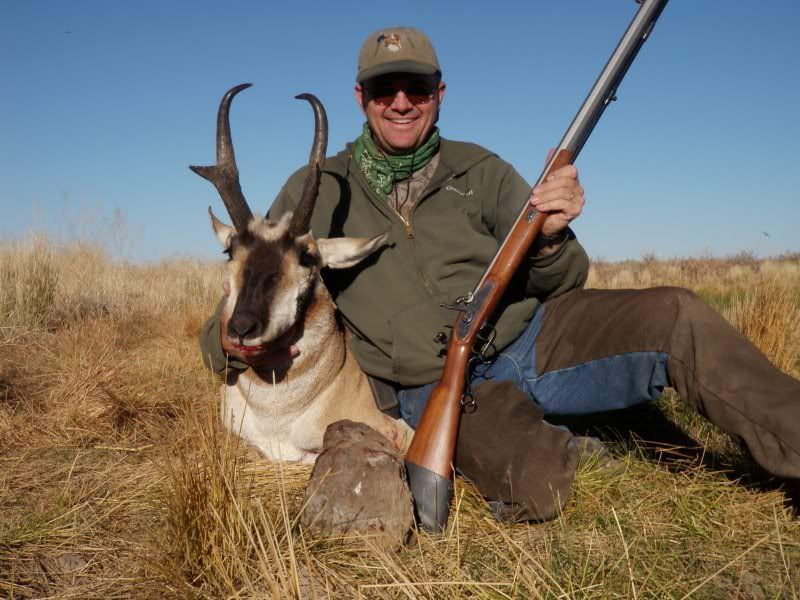 09-26-2010, 03:58 AM
Nontypical Buck
Join Date: Aug 2008
Location: Rapid City, South Dakota
Posts: 3,732
---
You yourself would cook it just like you cooked them many deer you have eaten. The thing about pronghorn is they can be the stinkiest smelliest critter you have ever killed; the smell seems to stay on one's hands for a week or so. The amazing thing to me is a big buck that stinks like nothing else in the field, when taken to the kitchen, can be a delight.
Myself, i have never been able to cook a nice buck deer in the kitchen, and handle the cooking smell, and then eat it. Whereas the buck antelope smells fine, and is delicious. I have been known to cook and eat buck deer around the campfire, but not at home.