Remington Genesis
01-24-2010, 01:14 PM
Remington Genesis
---
I have still been tossing around the idea of getting an inline to use for rifle hunting during rifle season. I was looking at one of my magazines and found some Remington Genesis muzzleloaders on closeout sale. I can get a camo and stainless on sale for $250 normally $399. I can also get just a camo with the blue barrel for $199 normally $349.

Would be a good idea to buy a Genesis? Would it be a good gun? I heard they discontinued them.


Thanks


Kirk
01-24-2010, 02:11 PM
---
I also have a Genesis and have no complaints with it at all. Tradition Yukon parts fit them. Mine is a stainless steel with black stock. It has a scope on it, and is a great shooter. There are other rifles out there to consider as well. You might want to look into the new T/C Impact and be the first to try that out and report back to us. Its under $300.00
01-24-2010, 02:20 PM
Nontypical Buck
Join Date: Dec 2007
Posts: 1,517
---
Well, I have mixed feelings on this. I have one I got at Cabela's on sale little over a year ago. It's the camo stock and blued barrel. I wish I had gotten the stainless barrel but the only one they still had in stainless was the one with the thumb hole stock which I didn't want. I paid right around $100 after coupons and rebates. I think for $100 it was a pretty good purchase. However, I'm not sure that I would pay much more than that. I think for the price you listed I'd probably buy something else.

When I first got mine I was a little disapointed. I hardly used it and it rode in the truck with me probably 3 or 4 times. It was barely used and not at all abuse. I noticed it had a couple scratches in the bluing already. I don't mean like light scratches I mean deep ones you could see where it had scratched through the bluing. I then noticed there were a few tiny and I mean tiny knicks where the came had chipped off the stock. I had read about the finish especially the bluing coming off very easily but hadn't paid much attention that the reviews of that since it was only $100. I did find it to be pretty cheap though. I ended up just putting it up in house for a while. When time came to hunt with it I went and sighted it in using 295 Grain Powerbelt Hollow Points and 2 50 grain Pyrodex pellets. It shot very well and I really enjoyed shooting it. I end up using it as my hunting gun during muzzle loading season. The last few days of the season I let a friend borrow it as his scope had gone bad on his muzzle loader. I think he really liked it also as he tried to buy it from me and told me how much he liked it. After using it to hunt with my opinion greatly improved of it. It just was a great feeling gun, fit me well, and handled well. It seemed to also shoot very well. My biggest complaint about it for hunting was that the ram rod being a 2 piece one took a while to reload as you had to unscrew it then rescrew it back together. I found that if I took it out and left it assembled in the tree stand it was a lot faster to reload although I never needed to use it again while in the stand. However, that was only a minor complaint and most guns I've seen seem to have 2 piece rods.

Anyway, after for a week during the season I loaded it and never had a chance to shoot it so I just left it loaded for the week. I finally got around to just unloading it about a week later and it seemed like it had some rust in it. Ever since then patches just come out with a little bit of brown on it. I think I got most of it out. Looking down the barrel I can't see any and I got the patches coming out pretty clean. I took it to shoot to see if it still shot well after what appeared to have been some rust in it. It still shot great.

I will say after using it a decent bit during hunting season then letting a friend use it at the end of the season it had a few scratches in the bluing but nothing much and it held up a lot better than I thought it would. Didn't look bad at all after the season.

I also really like the fiber optic open sights. After seeing how well I liked the gun when hunting with it and how well it fit me I wish I had gotten more than one when I got it since they were such a good price.

I actually just shot it some more the other week. I changed to some Federal Fusion bullets and had to adjust the scope as they shot a little differently. It seemed to shoot these even better than the Powerbelts accuracy wise. I really enjoy shooting this rifle.

Overall, I don't think it's the best quality rifle out there especially not the quality of the bluing. However, for $100 I think it's great. Other than the quality of the bluing I really like it. That's the only thing holding it back from being an amazing gun in my opinion. It was also $100 like I said so I can't complain too much.

Overall I'd rate it a 7 or 8 out of 10 I think. I really like it and for $100 I love it but I think once you get in the $250 range or so you could probably find something else that's a little better quality.

The stainless barrel might would fix the problem of having crappy bluing too. I'm not sure how the quality of it is. I think if I got another I'd try the stainless.
01-24-2010, 02:28 PM
Nontypical Buck
Join Date: Dec 2007
Posts: 1,517
---
Here are the pictures of the chips in the camo I was talking about.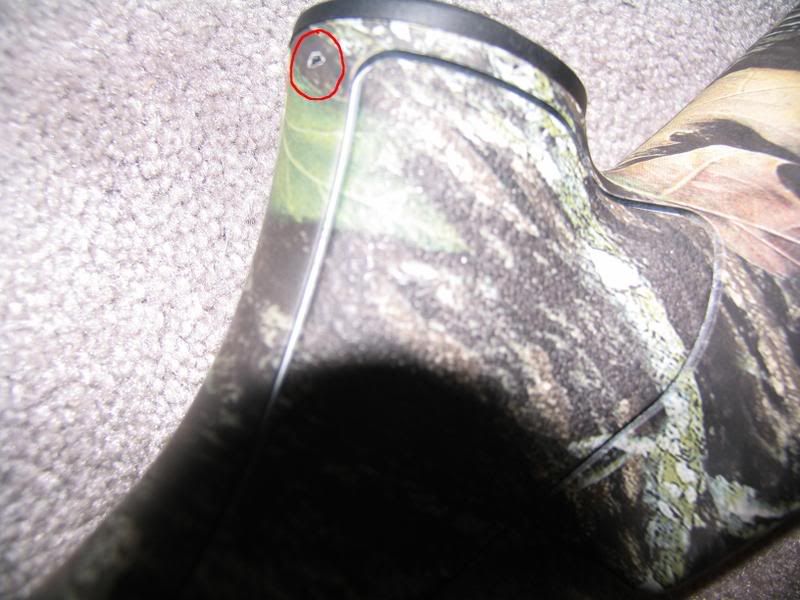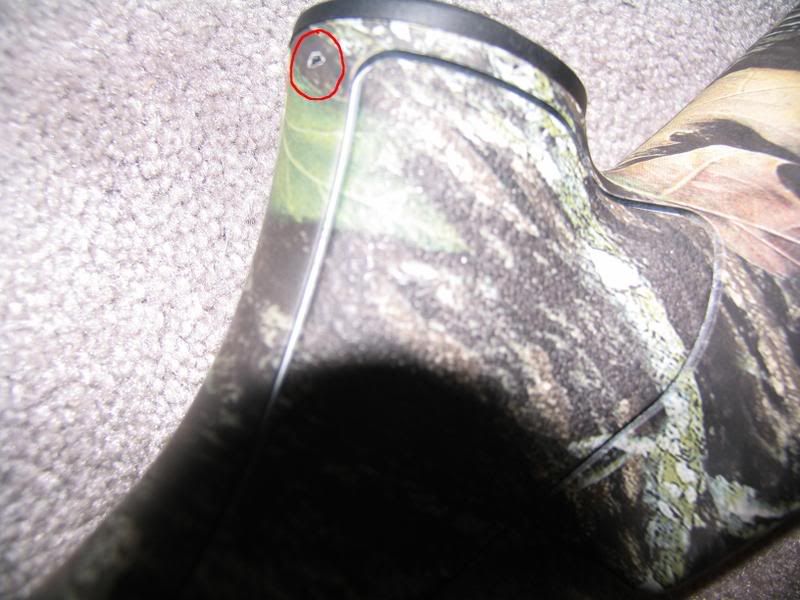 At first I was disappointed since it was so new and hadn't really hardly been used but I think it must have been that something rubbed against it or something as when being used during hunting season it didn't seem to get much worse. If it came off in any other spots I haven't noticed or payed attention.
Here is the target I shot after seeing the brown on the patch that looked like rust. It was at 100 yards. I shot off sandbags on a card table. The card table isn't the steadiest thing in the world but seems to do ok. I shot better groups than this with the Federal Fusion bullets too when I tried those. I'm not sure that I wasn't moving some but I still don't think the groups are bad at all for what it is. I didn't clean it in between these shots either. It had been cleaned so the first shot was on a clean bore and then I shot these 3 one after another without anymore cleaning. I think it shoots pretty decently.
01-24-2010, 02:46 PM
---
Please don't listen to MD he pushes CVA every chance he gets.
I have the Buckmaster edition of the Genesis and love it.
Fluted barrel....SS.....Camo. It has shoot anything I put down her and with good groups. The FPB's 350g worked real well at 100yds. The only little things were every couple shots i'd wipe down the firing pin area, and the ramrod seems short real short to me. Cleaning it was easy bp comes out with the tool supplied. The price thats up to you. I paid around 200 with the remington rebate from Natchez.
01-24-2010, 03:00 PM
---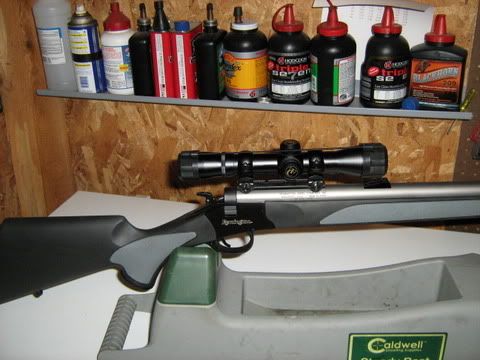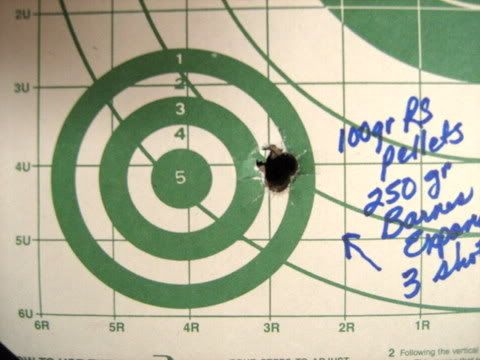 This is the best group my Genesis every shot for me. This was at 63 yards. Also I feel my Genesis is not a fussy rifle. I do not mind the swing open cam breech and there is very little blow back in my rifle.
01-24-2010, 03:14 PM
---
Cayugad,
Are scopes on muzzleloaders legal for hunting in Wisconsin? Just curious since they are not in Minnesota...so I only shoot open or peep sights. But, I have no complaints on accuracy or quality of my genesis as stated earlier.
01-24-2010, 03:23 PM
Nontypical Buck
Join Date: Dec 2007
Posts: 1,517
---
Yeah I think I would have really liked the Genesis a lot better had I gotten the stainless barrel. The bluing on the Genesis is my only big thing I don't like. It could have been a lot better job. I'm not crazy about the ram rod either but it's not that bad at the same time.

Overall, it is a good gun or so far anyway, however, I'm just not sure that there aren't guns that are just as good or better out there in the price range he is looking at.

For the $100-150 we were getting them for from Cabelas there wasn't anything better anywhere near that price that I know of.