Paper patching bullets for hunting part 1
11-19-2009, 04:26 AM
Nontypical Buck
Join Date: Mar 2008
Posts: 1,101
Paper patching bullets for hunting part 1
---
Since first writing this I have updated it a little. I first posted this quite a while ago but from time to time I am asked to give some info so I will post it again.
__________________________________________________ ______________________
Part 1
Here is some very poor quality pictures and a description of how to wrap a bullet; sorry I am not a pro at writing.
Before I got to this point, I poured probably 200 bullets to get 75 perfect ones. I grade them for looks and weight. Any bullets with visible flaws are melted again and every good bullet that I keep is +or - .5 grains of the target weight sometimes I get even pickyer and go for +- .3 This gives me a constant product, AKA bullet, compare that to TC maxiballs or maxihunters. The lead I use is from a company called Rotometal. I get the pure lead, and it measures right at 5 to 6 BHN on my hardness tester. I used to use a bottom pour lee production pot for pouring lead. I quit using the bottom pour because the bullets didnít come out like I wanted. I went to ladle pouring the bullets and the bullets come out a LOT better and the bullets are filled out better and the weight is more consistant.
Some guys wrap their bullets with wet paper. Most of them have undersized bullets, and are getting a bullet that fits perfectly after wrapping and are not sizing after they wrap the paper on the bullet. I would like to get a mould that would throw a bullet .446 and about 380 to 400 grains. RCBS has a mould like that but I have WAY too many moulds right now. I need to sell a couple I donít use first.
Back to wrapping the bullets.
A lot of guys use a bullet wrapping board. I just use my fingers. In this first picture you can see the size and the shape of the paper, the paper adds about .08Ē to the diameter of the bullet before sizing.
In these picture you can see the way I am starting the bullet into the wrap.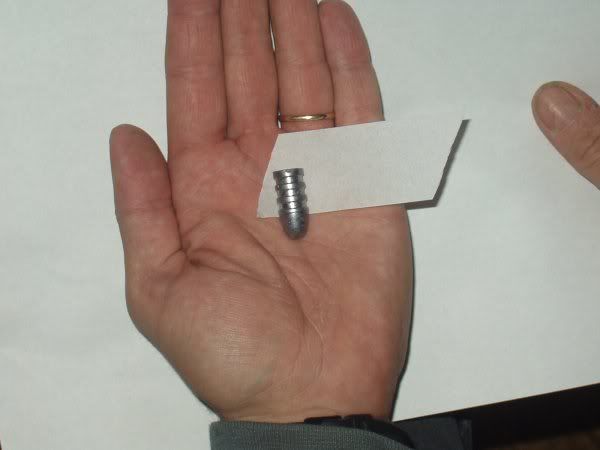 As I roll the bullet on I keep the paper tight as I can. When the paper rolls all the way on the two ends should meet and not overlap.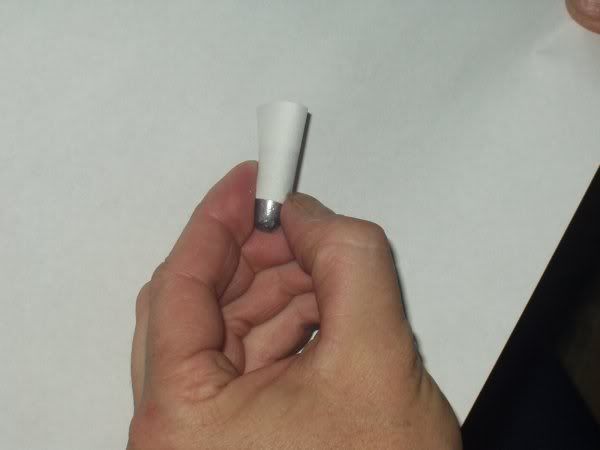 When I get the ends to meet I start to twist the tail.
With a hollow base bullet you can then push the tail into the base of the bullet. This picture is quite blurry sorry.
When I get to this point I run them through the sizer die and this is what the finished bullet looks like for the 45 cal 386 gr lee 459-405-HB and some others.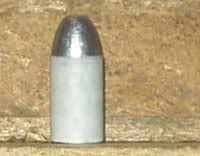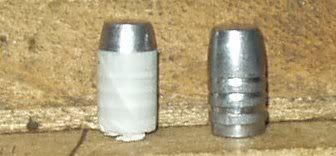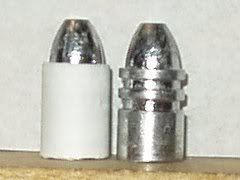 Posting Rules
You may not post new threads
You may not post replies
You may not post attachments
You may not edit your posts
---
HTML code is Off
---