Really New Knight Vision
06-18-2009, 02:31 PM
Really New Knight Vision
---
Some of you already know that Grouse sent a new Knight Vison out to the west to me. My project was to reduce the length of pull on the stock and to install an upgraded recoil pad for him + he said I could shoot shoot it.
I think I said in the orginal post the gun was a lot better than I thought it might be, even then I was surprised how well this gun appeared to be made and of course it has a GM barrel so that is a plus.
The first one shot great - but did have an internal problem as it would not set the primer off. I took it apart (simple) to see what might be wrong. At the time I decided it would be an easy fix - but since it was brand new I decided to send it back to Knight. I asked Tom to call Knight in Alabama and make sure that warranty work would still be done, he talked to Gordy and then Gordy called me and asked if he could just swap out the rifle and send me another + he would cut the stock and install a new recoil pad. I was a bit concerned because the barrel on the returned gun was good... related that to Gordy and he said he would make sure the new gun shot equal to or better than the one I sent in.... so Tom you must still have some pull with Gordy @ Knight.
New gun arrived last week... I looked at it and was getting realy to clean it up but apparently Gordy must have shot it in the tunnel because it was spic & span clean. Since I was out of decent scopes I had to put a Klowa scope that I had bought in Sasebo, Japan in 1965... it was a staight 4x with a post and crosshair. It was on my dads Savage 300 for years and I was sure it was still in good shape - but it looks weird. Laer bore sighted it and now it was ready...
Headed to the farm this morning with the rifle, got the grand kids here so I had to make it a short quick trip. Set up a 25 yard and started shooting...
Group#1 - were the first three shots from the new barrel - shot 2 primers and ran a windex patch - loaded up and started shooting... I was happy with that first group.
Group#2 - I did adjust the scope up - just a bit to far - but then I shot 3 Lehighs and they went so good decided to shoot 2 more.
As you look/work your way around the target I think you will be able to tell what I was shooting.. I did try the .400/200 grain Lehigh in the barrel - still hoping that I could get them to shoot in a 1/28 barrel with a normal charge of T7.
Anyway - think this gun will work just fine Tom...
This is the winter wheat field @ the farm - normally I can shoot all the way up this shallow draw...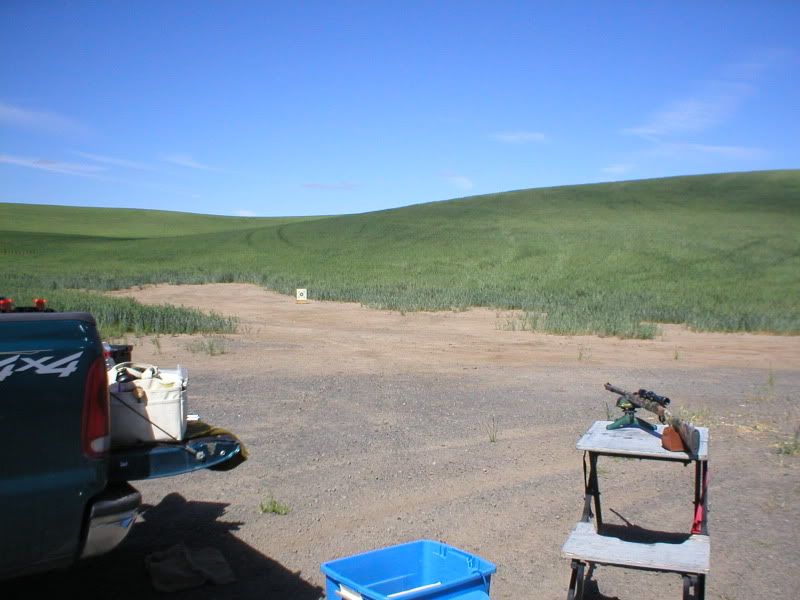 This a close-up of the breech area after all the shooting today, sorry it is a bit blurry, but you can see the blow-back was minimal with the new breech plug.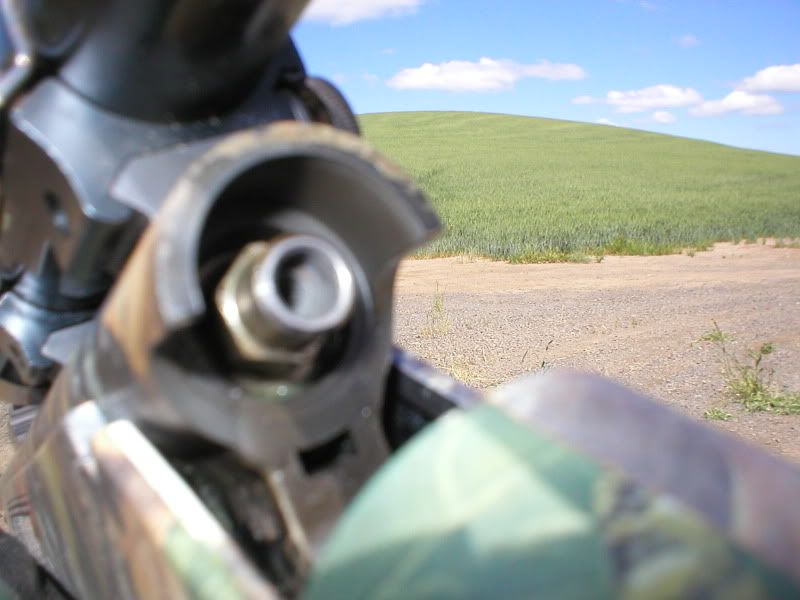 Here is the target - I shot it very rapidly but it really does show promise and I think this is a better barrel than I sent in.... Thanks Gordy....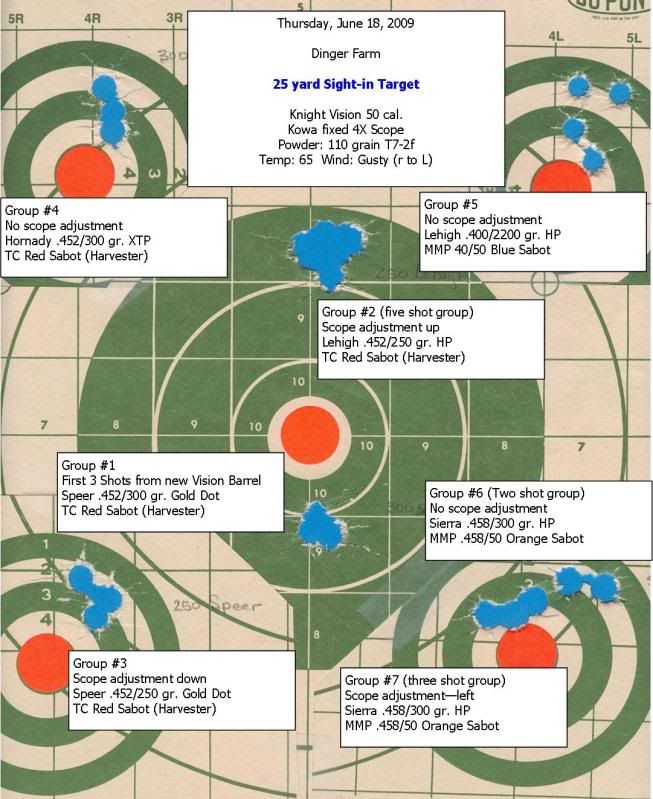 06-18-2009, 02:47 PM
Boone & Crockett
Join Date: Apr 2007
Location: River Ridge, LA (Suburb of New Orleans)
Posts: 10,855
RE: Really New Knight Vision
---
Looks like a pretty good starting point
Sabotloader
. Are you going to shoot it at longer range before you send it back? Are you
really
going to send it back???
06-18-2009, 04:10 PM
RE: Really New Knight Vision
---
Semi

For the first time out of the box - it did alright especially with the Klowa Scope - I have not shot a post and crosshair for years... the post extends just above the crosshair and I have to remember I am holding 6:00 on the post not the crosshair.

I hope to get out and extend the range - just do not know when... and you can see I can not shot extended ranges at the farm right now... do not think they would appreciate me creating a walking trail up through their standing wheat.

It will go back to Grouse...

We have had all 3 grand kids here this week (9 yrs, 7 yrs and 20 months). The two older ones going to a University of Idaho Basketball camp so they have severely cut into my free time, which I gladly give up, but it has reduced my shooting plans. They are headed home Friday afternoon so my next project is to get some velocities on the 45 Elite/Extreme with various powder charges both T7-2f and 3f. I have pretty good hnadle on what to expect from a 50, but the reduced combustion space in the 45 creates more pressure than the 50 and it does it faster, but what it really does I do not know... Never owned a 45 cal before....


06-18-2009, 04:48 PM
Boone & Crockett
Join Date: Apr 2007
Location: River Ridge, LA (Suburb of New Orleans)
Posts: 10,855
RE: Really New Knight Vision
---
Time with Grandkids - Shooting - Time with Grandkids - Shooting? No contest. Shooting is fun but it will always be there. Grandkids, especially young ones, are a fleeting joy.
06-18-2009, 07:06 PM
RE: Really New Knight Vision
---
Grouse45

No, I did not try any .459/277's - did not have any with me but they will load just fine in this gun. It will tighten the sabot up a bit also.

The sabots that i was using were the old (very old) TC Red Mag Express. They were from back in the days when Harvester had the contract and they were the old style plastic. I am sure the HPH-24 or the Harvester Short Black will be a little tighter in the bore.

Thread
Thread Starter
Forum
Replies
Last Post
Posting Rules
You may not post new threads
You may not post replies
You may not post attachments
You may not edit your posts
---
HTML code is Off
---