Teflon Tape or Anti Sieze?
01-27-2009, 06:09 AM
Giant Nontypical
Join Date: Nov 2005
Posts: 6,585
RE: Teflon Tape or Anti Sieze?
---
If you are trying to control blowback in one the tape works best, if blowback is really well controlled as in a Triumph a light coat of Birchwood Casey Synthetic oil. I personally find the tape a pain but for Traditional guns and controlling blowback it is best. Lee
01-27-2009, 07:12 AM
RE: Teflon Tape or Anti Sieze?
---
Now this might sound like over kill... I use both. I wrap the plug with Teflon Tape and then I smear a little Slick 50 One Grease on the tape. I then have no problems getting the breech plug back out. I had some bad experiences with stuck plugs when I first got into inlines and I learned fast that over kill is not a bad thing when it comes to breech plugs.
01-27-2009, 07:29 AM
RE: Teflon Tape or Anti Sieze?
---
In the early days when I got my first inline I overtightened the breechplug and had a heck of a time getting it out. No, I did'nt reef it down, just tightened it to where it was really snug. From then on I now just hand tighten it and put some anti-size on it and after shooting it comes right out with no problem, and there is no problem with blow-back. (SO HOW TIGHT IS TIGHT WHEN TIGHTENING A BREECH PLUG???) How tight do other's tighten it? Ron
01-27-2009, 07:36 AM
Nontypical Buck
Join Date: Jan 2008
Location:
Posts: 1,408
RE: Teflon Tape or Anti Sieze?
---
I really think this one comes down to personal preference. Both work equally well IMO at keeping the plug from sticking. Personally the messiness of the grease is worse than the tape residue, so I use tape. But the grease works just as well.
01-27-2009, 08:19 AM
RE: Teflon Tape or Anti Sieze?
---
Breechplug
I do run mine in snug - not tight... I have always had a little fear about a slightly loose BP taking on the pressure of the discharge... and Murphys Law...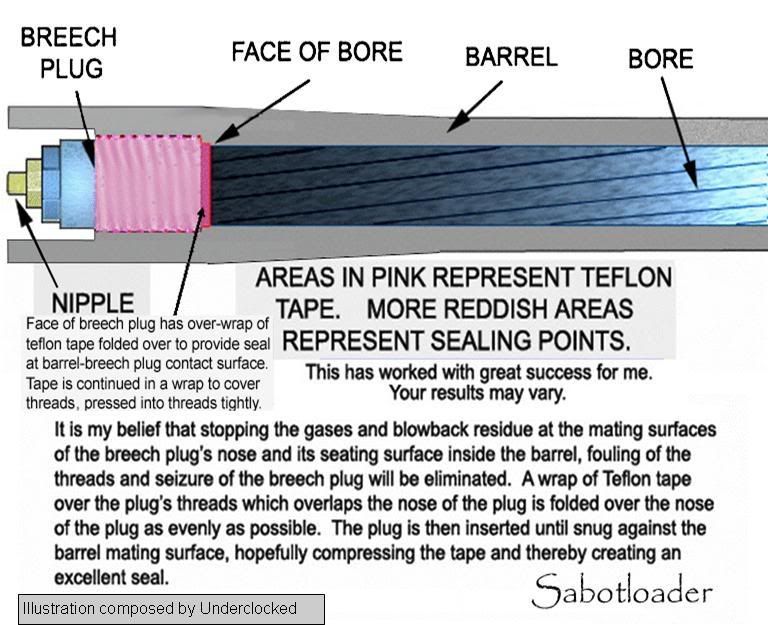 One single layer of the correct tape for your BP is all I use... Sometimes it it is the regular white plummers water tape, and sometimes it is the thicker higher pressurepink tape.
01-27-2009, 08:26 AM
RE: Teflon Tape or Anti Sieze?
---
Thank's for the info Mike, Im gonna get some of that (pink) tape and try it as I've never tried the tape befor. I just hope my buddies dont see the pink tape on my ML or I'll never hear the end of that one!