250gr GDHP
01-21-2009, 03:25 AM
Nontypical Buck
Join Date: Dec 2005
Location:
Posts: 3,246
RE: 250gr GDHP
---
ORIGINAL: Nolehoe

Anybody know what the BC is for Speer GoldDot HP 250gr. is? If I remember correctly this is the 45 Colt bullet. (.451)
Note the huge difference in the BC. This means shoot thru and more energy on target. My experience with 250g class bullets is they don't shoot thru. I want that for blood trail.
01-21-2009, 05:58 AM
RE: 250gr GDHP
---
Thanks sabotloader

Hey chap,my favorite bullet to hunt with is the Barnes sf 245(BC-.203) I've yet to not get a pass through. GD might be a different story though, i haven't hunted with them yet. Do you know how many fps you lose goibg from 250 to 300 at muzzle with same charge?
01-21-2009, 06:16 AM
Giant Nontypical
Join Date: Nov 2005
Posts: 6,585
RE: 250gr GDHP
---
Nolehoe
Right at 100 fps with Blackhorn, a lot more with other powders , have to say which powder because it varies a lot some will drop close to 250 fps with certain combinations. I believe that the fit of the bullet sabot and barrel is involved [you need them tight for blackhorn any way and thats how I always use them] and also the strength of ignition enters into it with 777. Lee
01-21-2009, 08:47 AM
Boone & Crockett
Join Date: Apr 2007
Location: River Ridge, LA (Suburb of New Orleans)
Posts: 10,916
RE: 250gr GDHP
---
Heck
Nolehoe
, I got a five shot average of 1670 fps with 300 grain Gold Dots and 105 grains of T7 out of the short barrel of my TC Omega X7. If you can't kill it with that bullet at that speed, it can't be killed.
Here's the trajectory for that load when sighted in "dead on" at 125 yards.
01-21-2009, 09:23 AM
RE: 250gr GDHP
---
Nolehoe
Of course I can not guarantee it (cause there are no reall guarantees in this world) but I believe the 250 GD will pass through a whitetail most times unless a major bone structure is hit. Whitetails anyway our white tials are really thin skinned animals. The 250 is a great bullet to 150 yards, it will expand to a given point and continue to drive through the animal, but a more important part it will do the same thing at 10 yards.
I am shooting the 250 GD @ 1860 fps with 100 grains of T7 and the 300 GD at 1750 fps. I would use the 300 for elk and ifthe shots are going to be 175 yards plus.
Actually either bullet is very effective - they will never be able to duplicate exactly what a Barnes or my Noslers can do - but they do not cost nearly as much either...
Here is a picture of the typical expansion - these were torture tested @ 100 yards into a saturated dirt (Palouse clay) water bar..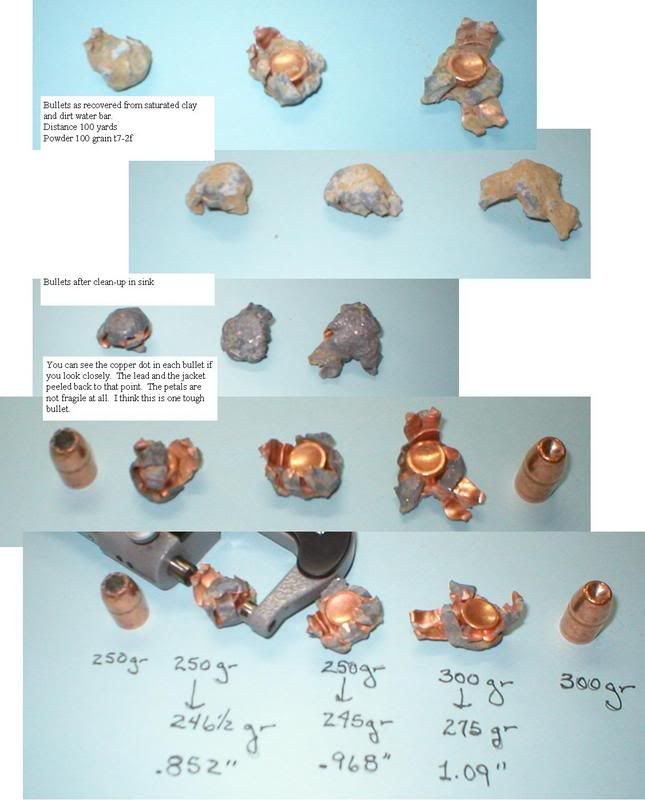 01-21-2009, 09:33 AM
Giant Nontypical
Join Date: Nov 2005
Posts: 6,585
RE: 250gr GDHP
---
I have taken 5 deer and several hog with them; all but the large boar [240pounds which is large for here] were pass through the large boar that it did not pass through was shot through the front shoulder and the bullet came to rest in the ham on the other side after it broke the hip bone, all were through the chest a couple inches above the heart and all were bang flops. Lee
As added info I use 110gr of BH209 for slightly over 2000 fps from my Triumph, which is the only gun I have hunted with since I got it. Lee

01-21-2009, 10:09 AM
Giant Nontypical
Join Date: Nov 2005
Posts: 6,585
RE: 250gr GDHP
---
I have all ways sighted for 2.5to 3 inches high at 100yds my dead on is about 165 and the PBR is close to 200yds since there is only one place where I may need to shoot that far I load 250 SW for that spot they shoot the same POI at 100 but much flatter at 200 I also get one hole groups with the same POI as the Gold Dot 250 at 100yds but my load for the SW is 120 gr of BH209which gives me a 2135 fps average. Lee