Speer 300gn GD Velocity
12-19-2008, 09:00 AM
RE: Speer 300gn GD Velocity
---
Redpep
The Speer 300 grain Gold Dot is no longer made in .451 - they changed the nose configuration it 2 years ago and it now made as a .452. They (speer) does offer a .451/300 grain but it is not a Gold Dot, it is a Uni Core bullet. The .458/300 grain is also a Uni-Core bullet.
45 Revolver UCSP 45 Colt HV
45 cal. Flat Nose HP (45-70; 450 Marlin)
This is the Gold Dot...
45 Revolver Golt Dot HP 454 Casull
I can not find the listed velocities on the Speer site but you can look up the velocities of the gun suggested and come up with a good idea.
Here is Gold Dot spec sheet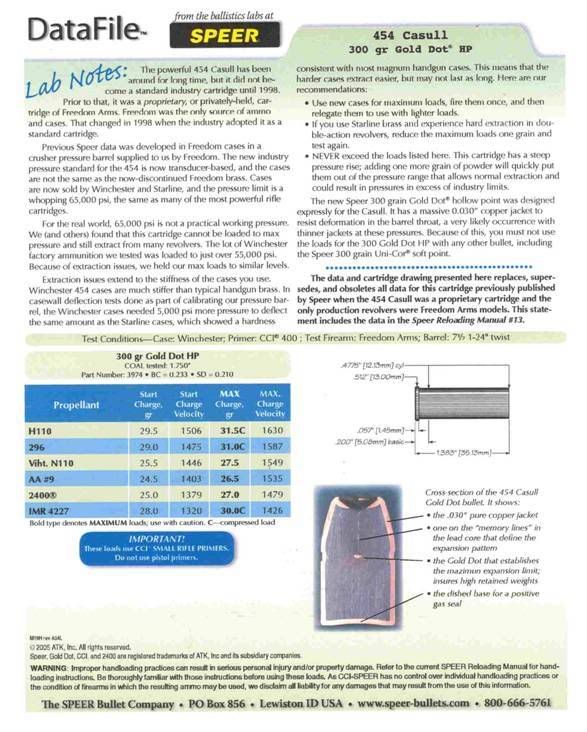 Hope all of this posts....
12-19-2008, 10:09 AM
RE: Speer 300gn GD Velocity
---
I like the Speer .458 HP which I think is Uni Core. It is a 300 grain and out of an Orange MMP sabot is very accurate. I have not shot anything but Sabotloader was explaining to me that this should be an excellent big game bullet.
12-19-2008, 10:20 AM
RE: Speer 300gn GD Velocity
---
Redpep
I take it you are using the 454 casull
I am - and also the the 250 Gold Dot for deer - there are a lot of peopleusing these now... CG even uses the 300 grain from his rock sparker... The Gold Dot is a 'poorman's' Nosler Partition.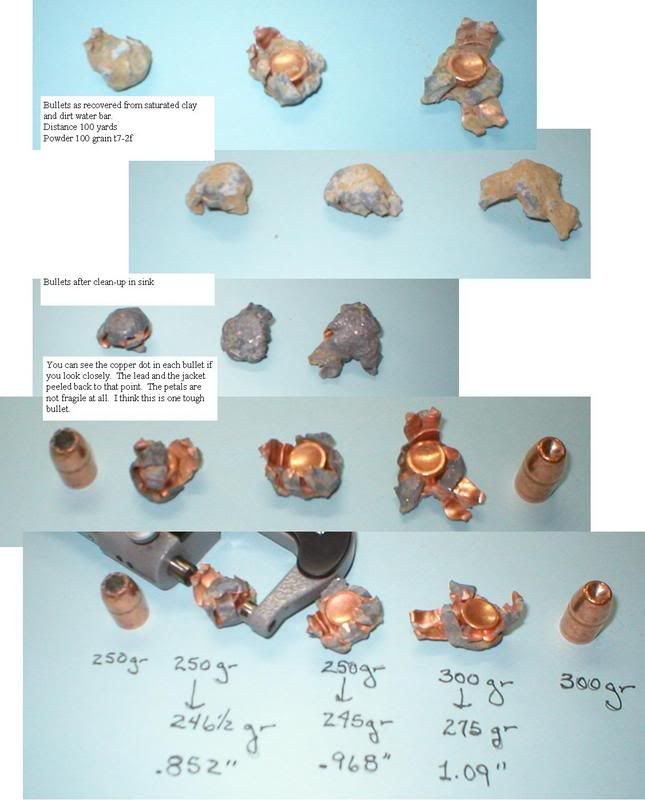 That .458 Special Purpose bullet that Cayugad found (built for a Marlin 45/70) is a Uni-Cor ( bonded ) bullet and it would be an excellent bullet even for big biggame. I do not know how Dave found this bullet but it was a very good discovery and from his tests - it shoots very well + plus it is a rifle bullet builf for hunting... and I do not know about you but any time I hear 45/70 I am thinking Buffalo stopper even though I know they used a heavier slug...
12-21-2008, 02:32 PM
RE: Speer 300gn GD Velocity
---
Redpep
Your data file post, is that from the reloading book or did you find that on line?
It is not from a book - I bought a ballistic program from Barnes several years ago and have it installed on my computer...
This is an on-line calculator
http://www.handloads.com/calc/index.html
Thread
Thread Starter
Forum
Replies
Last Post
Posting Rules
You may not post new threads
You may not post replies
You may not post attachments
You may not edit your posts
---
HTML code is Off
---