Cabelas haul UPDATED W/PIC
09-28-2008, 04:54 PM
Nontypical Buck
Join Date: Dec 2006
Location: Illinois
Posts: 2,828
Cabelas haul UPDATED W/PIC
---
To make a long story short my trip to the wedding in Crown Point, IN went well. Except for the Sportsman Warehouse in Lafayette IN couldn't deliver on the hold of BH209 for me. I stopped up the road after the reception at the new Cabelas in Hammond IN. Really nice store, I've never stepped foot in a Cabelas before. Picked up some BH209, W209 primers, Harvester sabots and some more 300gr Expander MZ with the orange sabots. Suppose to start raining here tonight thru Monday. I'll intend to get out mid week and get some shots in with the BH209. Range report will be coming.....
On a side note, I looked for the Speer Gold Dots to try out and they had no Speer bullets in the store. I may have to order some to try as well.
09-28-2008, 08:35 PM
Giant Nontypical
Join Date: Nov 2005
Posts: 6,585
RE: Cabelas haul
---
Good for you, let us know what sabot and what your barrel size is. I believe we should gather the barrel size and what sabots with what size bullets fits to gether in a barrel that size and have a monitor set up a perminant page with it. Lee
10-01-2008, 01:46 PM
Nontypical Buck
Join Date: Dec 2006
Location: Illinois
Posts: 2,828
RE: Cabelas haul UPDATED WITH PIC
---
UPDATE....I went out to my Uncles farm this morning, temp around 54 and wind 12-15 with gusts out of the North. Shooting straight into the wind. I had loaded up tubes of 80, 90, and 100gr of Blackhorn. Using my favorites, 300gr Barnes MZ Expander with Crushed Rib sabots, and new Winchester W209 primers. The Remington Kleen Bore primers would not ignite which didn't surprise me after reading other posts and their web site. All shot at 50 yards. The middle target was with the 80gr.#1 shot was on a clean barrel. Black dot to lower left was 90gr. I can only shoot to 50 yards out there so I'll need to travel to the sportsman club 1.5 hours away to go out to 100+. Anyhow clean up was good, 5 patches with Hoppes #9 and two dry patches and clean. I think the 90gr is the clear winner. 100gr wasn't impressive, I think 90gr is the sweet spot with that bullet/sabot combo. Next time out I will pop a couple of primers before loading to see where the first shot hits. Other than that I'm happy with the Blackhorn. I don't think I'll be using it for target practice ($$$)but it should make a excellent powder to hunt with and not have to worry about cleaning right away.
10-01-2008, 02:02 PM
Nontypical Buck
Join Date: Dec 2006
Location: Illinois
Posts: 2,828
RE: Cabelas haul UPDATED WITH PIC
---
Actually, I measured both groups, if I'm doing it right? The difference between 3 and 6 on the 80gr charge and 2 and 6 on the 90gr charge is exactly 1 1/8. Doen't look like it but I measured center to center on the holes furthest apart. I can live with that. I don't think the deer can...
10-01-2008, 04:35 PM
RE: Cabelas haul UPDATED WITH PIC
---
I have a Wolf too and tired 80 and 90 of BH also with a 250 SST and Harvester SB sabot. I noticed very little difference in group size between the two, a touch over an inch at 75 yards. Clean up was a breeze. Nice to see someone else shooting a Wolf. Good shooting!
Doug
10-01-2008, 04:58 PM
RE: Cabelas haul UPDATED WITH PIC
---
the three to the right was adjusting the scope. Needless to say I am pleased with my wolf and the combo I have found, sounds like you are also! Again good shooting.
Doug
[img][/image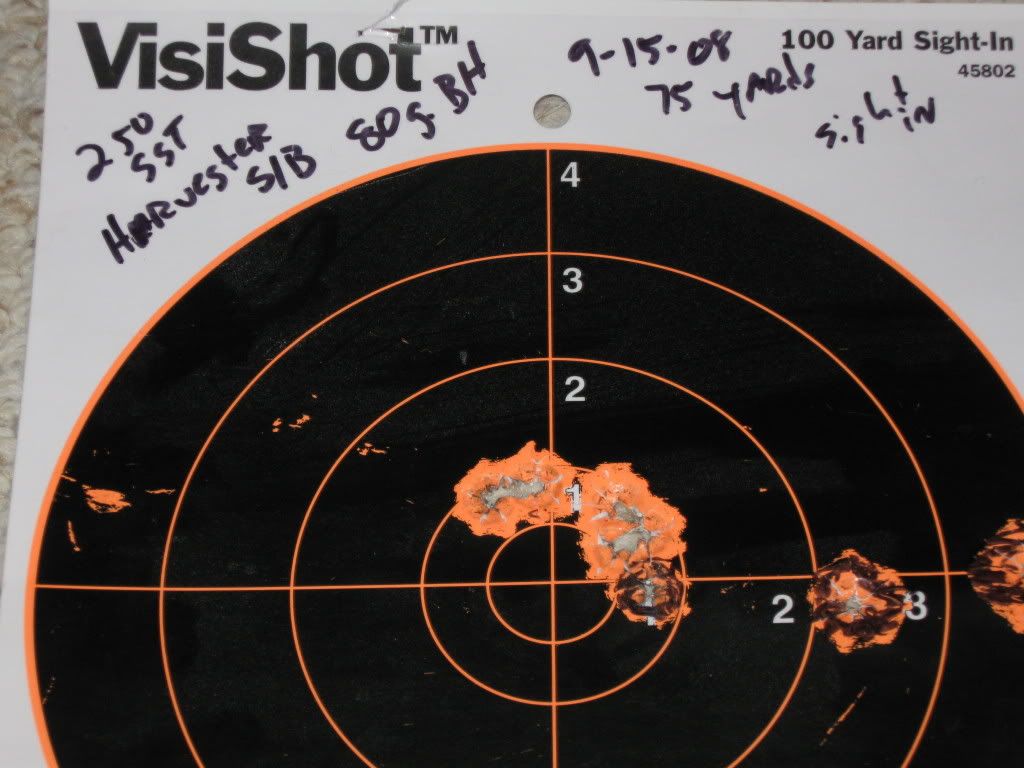 Thread
Thread Starter
Forum
Replies
Last Post
Posting Rules
You may not post new threads
You may not post replies
You may not post attachments
You may not edit your posts
---
HTML code is Off
---