Scoping a Renegade+Hawken
06-29-2008, 10:05 AM
Scoping a Renegade+Hawken
---
I am looking into scoping both my .54 Renegade and my son's .50 Hawken for this fall as my eyesight isn't up to iron sights any more! What mount doI need?[not high see thru]I thought TC /Weaver made an offset [to clear hammer] mt that replaces the rear sight? I don't want to drill a bunch of holes as the .54 has a 1-70" GM pipe.What is the TC #9996 mt? I called TC but they were no help......Harold
06-29-2008, 10:09 AM
RE: Scoping a Renegade+Hawken
---
06-29-2008, 10:40 AM
RE: Scoping a Renegade+Hawken
---
FoxRidge Outfitters used to sell the off set mount for the Hawkins and Renegade. You remove the rear sight and the small screw at the back of the barrel near the tang. The base mounts to that. Some advise, put quick release mounts on the scope. It will help when it comes to cleaning the rifle. You pull the scope and can still give it a water bath and scrub the bases easier...
I have some plates but am not sure how they would work for you. Checking them, they are a plate the attaches to a White Mountain Carbine, Pennsylvania Hunter orRenegade. Ibelieve thisplate then allows you to put a base of somesort on the different mounting screw holes on them. I found a place that had a bunch of them and bought them out.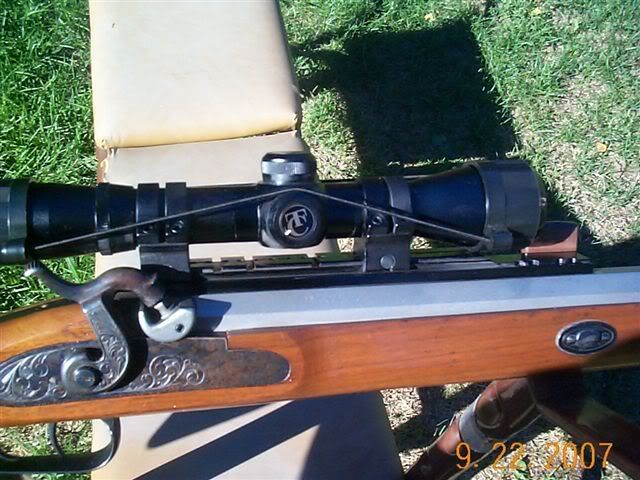 That one listed on the auction looks like a off set base. But is is made by Weaver so I could not swear to that.
06-29-2008, 12:20 PM
RE: Scoping a Renegade+Hawken
---
Weaver made the original mts for TC , that much I got from TC.Do the quick release mts maintain thier zero when taken on and off?Micheal's made a threaded nipple that had surgical hose attached to siphon the barrel without scope removal.Sounds good in theory at least.............Thanx Harold
06-29-2008, 05:12 PM
Giant Nontypical
Join Date: Nov 2005
Posts: 6,585
RE: Scoping a Renegade+Hawken
---
Pioneer2
I had a plastic hose rig I used on a Kentucky and one I used on a under hammer; I made them all they were was a old nipple that was burned out drilled out so the hole where the on the end where the cap goes was that size all the way through then I mounted the clear plastic hose on it with silicon adhesive. They were not real fast but they worked quite well. To use them I took the shooting nipple out and put the modified one in and poured boiling water through a funnel into the barrel it drained down through the modified nipple into a can the I worked the barrel with a ramrod with a jag and an air tight patch so it would suck the water back out of the can and into the barrel then push it back out again. Lee
06-30-2008, 02:22 AM
RE: Scoping a Renegade+Hawken
---
07-02-2008, 09:09 AM
Typical Buck
Join Date: Jun 2006
Posts: 882
RE: Scoping a Renegade+Hawken
---
07-02-2008, 04:21 PM
RE: Scoping a Renegade+Hawken
---
if you do a search on ebay and gun broker look for holden ironsighter mounts. just like the one in the picture above. ive purchased them my new englander dirt cheap. i believe the company still sells as well as many other firearms not made anymore them but only direct from them.
Thread
Thread Starter
Forum
Replies
Last Post
Posting Rules
You may not post new threads
You may not post replies
You may not post attachments
You may not edit your posts
---
HTML code is Off
---