Omega scores twice this week! Ok. once more!
12-01-2007, 07:08 PM
Spike
Join Date: Oct 2006
Location: Northern Indiana
Posts: 60
Omega scores twice this week! Ok. once more!
---
Shot a nice doe last Sunday with my TC Omega with 2 pry pellets, TC Mag Express (XTP) 300 grsabots. Shot the doe at 40 yards through both lungs, she bucked ,ran about 80 yards in a semi circle out in the field and fell. Got down out of the tree, the blood was great with the snow on the ground. about a 5 ft wide spray to where she layed. Got complete pass through. She dressed at 132lbs, good eatin!
Went out this morning ,though maybe the ywould be moving with the winter storm coming here in the Mid West. About 730 am, here come a doe with 2 bucks right behind her. I thought ,whichwever buck steps in the woods first is going to go in the freezer. Well, this guy stepped in first, didnt have a real clear shot, but thought I could make it, its real thick in the woods I hunt. Took the shot,face full of smoke. I see the doe and one buck high tailin it out of there. Smoke clears in the direction of the buck I shot. Never saw him run, though, oh no I missed and headed the other way and didnt see him leave becuase of the smoke.
I got down out of the tree ,walked over to where I last saw him. There he was , down! Never took a step. I hit him alittle higher than I though, but he dropped on the spot. Still got a complete pass through.The TC Mag Express 300 gr did its job. He's a 9 point dressed out 162 lb. I'll be eatin good this year!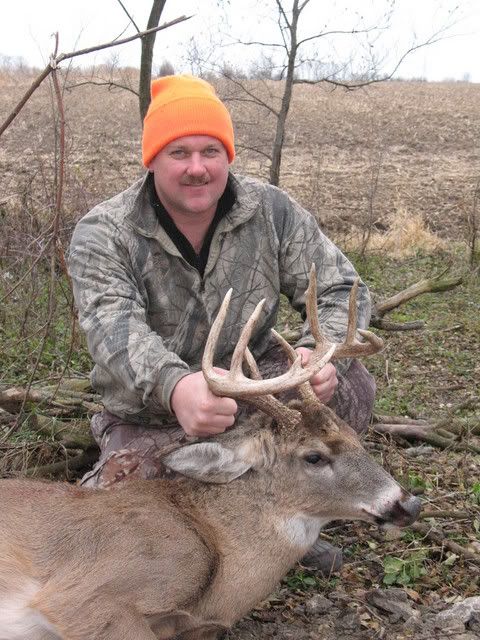 12-01-2007, 07:36 PM
RE: Omega scores twice this week!
---
Congratulations on the great hunting report. Those T/C Mag Express work real well it seems. That is some real nice deer you have there. You will be eating well this winter. Nice going..
12-01-2007, 11:09 PM
RE: Omega scores twice this week!
---
Very nice !!!!!!!!!

I also shoot the .45 xtp 300 Mag sabots. I have seen two elk taken with them , one ( my sons ) shot at 80 yards dropped in it tracks , one shot at 142 yards ran 50 yards and dropped . I shot a small mule deer buck this year also with the same bullet/sabot dropping it . I just recieved 100 rounds in the mail and don't plan on changing.But i am going to try some crush ribbed sabots with them .I sure wish we had a hunt left this year. Nothing until September of next year !!!!!!!!
12-07-2007, 08:00 PM
Spike
Join Date: Oct 2006
Location: Northern Indiana
Posts: 60
RE: Omega scores twice this week!
---
I'm still up in the air about the TC mags. I started a post sometime back, asking what was the differance between the TC Mags XTP300gr and the Hornady XTP 300 gr bullets. From what I understand the Hornady's will expand easier because of only the one "band " around the bullet. The TC Mags have two, which would keep the bullet from expanding so fast.I guess that is one reason I got complete pass through on both deer with the TC bullets. I was always told that you want all the energy from the shot to stay in the animal. Thats where the bullet mushroom affect comes into play.
I'm not complaining at all about the TC Mags, I recovered both deer very very easily. I just saying that if I wanted no pass through and better expanding bullet , should I go to the Hornady XTP's? One thing I was surprised at, was that the buck I shot at 60 yards was a complete pass through and he dropped in his tracks. In my pass experiences, apass through meant the deer was going to run a short distance then pile up.
Well, tomorrow is the muzzleloader opener here in Indiana. We have a one buck limit here. So, I'm going out and see if I can get another doewith the Omegain the morning., We have some snow on the ground and should be a blast. We dont eat beef in our household. Nothing but deer for 18 years now.
12-07-2007, 08:25 PM
RE: Omega scores twice this week!
---
If its not broke.. don't fix it.

It sounds like the load you are using is working very well for you. Always remember, shot placement is also part of the question. It appears that you know where to place that thing and that is one reason you are having such good results.

12-08-2007, 12:59 PM
RE: Omega scores twice this week!
---
Real Nice Buck there!

ML opened today here in IN. I've been sick but am going out tomarrow for sure, I'm a little leary of the height of my stand having this flu bug crap. Been a little dizzy...took a nice 8point with my Omega during firearms season. There great shooters for sure.

chris