Lyman 57SML & a 17AEU
06-05-2007, 08:06 PM
Lyman 57SML & a 17AEU
---
Okay fellers, I went and did it.
I bought the Lyman 57sml and the Lyman 17aeu for my Trade rifle. After some quality time at my work bench, they are both mounted.
I'm going to the range this Sunday to shoot and tweak the 57sml. It's going to be fun!
I love going to the range with my smokepole ( to tell the truth, it's the only one I take anymore, it's so much fun!).
My question to you fellas is, ....does anyone use the 57 and the 17? What are your thoughts and experiences? What insert do you use in the 17? Hell, it comes with 8 of em.
Mac
06-05-2007, 09:39 PM
Nontypical Buck
Join Date: Aug 2005
Location: New Mexico
Posts: 1,081
RE: Lyman 57SML & a 17AEU
---
I Have that exact setup on my GPH. It works very well and is easy to use. Right now I'm using the insert with the hole in the middle, just line up the center of the target in the center of the front sight and then center it all in the rear sight. Here is a .28" 3 shot group at 75 yards that I shot the first day I had it to the range with that sightsetup. That group is as good or better than what I get with a scope on myinline rifles. In fact the only gun I own that I've bettered that group with is my 7mm with an 18x scope.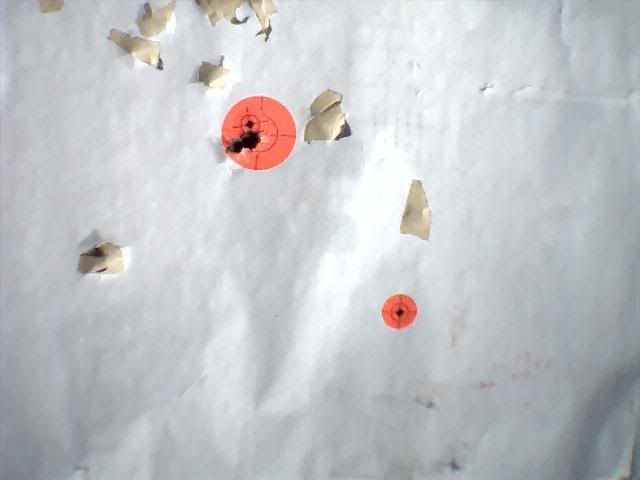 06-06-2007, 01:31 AM
Nontypical Buck
Join Date: Aug 2006
Location: Rivesville, WV
Posts: 3,192
RE: Lyman 57SML & a 17AEU
---
I have that rear sight on my Lyman. I have peep sights on alot of my rifles. However I do not like your front sight choice. I have too much trouble picking up light in hunting situations with that type of front sight. I prefer a tall, narrow body, white front bead. I use the smaller bead. I like my front bead to be at least.433 tall. I even like the .466. Height is not a problem since you already have the adjustable rear peep, plus you are probably only wanting to shoot out to 200 yards. 200 yards is no problem with the set up I am describing.
It is not that I dislike your front sight choice-I just can not get the light that I need to hunt with. I also like the larger peep, or the twilight peep. Tom.
06-06-2007, 04:31 PM
RE: Lyman 57SML & a 17AEU
---
Thanks for the replies, fellers.
Tom, I had some concerns about that very thing with the front site but decided to try it.
I hadread posts discussing some disagreement on another website on whether the 17 would be a good hunting sight. The pros and cons were about 50/50.
My thinking is- here in Northwest Florida, the shots I take are rarely over 75-100 yds. Pretty thick brush in this part of the state. Few long shots.
I'll stay at the range til dusk this Sunday and continue to shoot until I feel the advantages given by this setup are gone.
Ourhunting regs here are 1hour before light and 1 hour past ( in the WMAs).
I have no problem changing the front sight to a post if I feel it's not accomplishing what I want.
Either way, I'm going to have a blast!

06-06-2007, 04:52 PM
Join Date: May 2006
Location: Tri Cities, Washington
Posts: 1,616
RE: Lyman 57SML & a 17AEU
---
I havepeep sights on my White Ultra-Mags and am going to put one on my new White Lightning. I have a Lyman 17 that was given to me and I am thinking about puting it on the new Lightning to give it a try. I hunt in open country, not in trees or brushy low light conditions. Only early morning and late evening might be a problem. Like Mac, I'm going to try it and see.
dmurphy317
Have you tried the fine cross-hair insert? It is not made by Lyman, can't remember who makes it right now. [:@]
06-06-2007, 04:56 PM
RE: Lyman 57SML & a 17AEU
---
06-06-2007, 09:03 PM
Nontypical Buck
Join Date: Aug 2005
Location: New Mexico
Posts: 1,081
RE: Lyman 57SML & a 17AEU
---
I haven't seen that one before but I like the idea. I wasthinking oftrying a fine post insert next to see if it works as well as the one I'm using now. I may have to get those inserts to give me some other options to try. Thanks for pointing them out.
Thread
Thread Starter
Forum
Replies
Last Post
Posting Rules
You may not post new threads
You may not post replies
You may not post attachments
You may not edit your posts
---
HTML code is Off
---