Knight TK2000
03-30-2006, 05:12 PM
Knight TK2000
---
Hey,
I just ordered the new TK2000 to turkey hunt with this year.I don't know if anyone else is shooting one of these or not, but if socan you recommend which powder to use and how much? I have read that this shotgun is capable of 85% patterns at 40 yards. I don't know what I will get out of it though.

03-30-2006, 07:00 PM
RE: Knight TK2000
---
If I were to purchase an inline shotgun.. you have picked the same one I would. I too, have read of the patterns that shotgun is able to produce and they are most impressive to say the least..

Good luck with your shotgun.

04-01-2006, 02:06 PM
RE: Knight TK2000
---
excaliber43,
I haven't shot my TK2000 for awhile. The turkey population around my area has beendown the last few years, but it looks like it's on the recovery now. I'll probably apply next spring for a permit.
Anway I keep records and the best/tightest load I found was 110gr. Goex FFg.the Knight 3 1/2" shot wad, 2 1/8oz. #5 copper plated shotand the Knight styrofoam over shot wads.
I tried Triple 7 FFgand I couldn't get it to pattern well.
Good luck and let us know what works for you.

ENCOREMAN

04-01-2006, 07:52 PM
RE: Knight TK2000
---
EX, I have been shooting the TK2000 for a couple years now. I shoot 100 grains Triple 7 fffg, 3 1/2" shot cup, custom wad padding(I designed), over powder wad, and a over shot wad. But, with all guns, they shoot differently. IMHO, Don't use no more than 100 grains of powder. From all the input I have received from TK2000 owners, all you will get is a blown pattern.
PS: here's a pic of a bird
"HAMMERED"
with the TK2000!!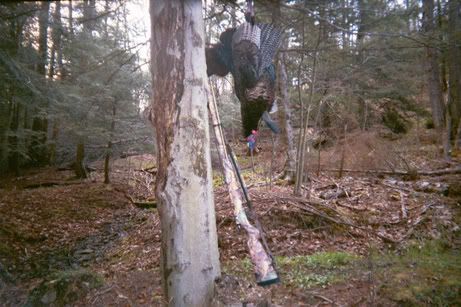 04-02-2006, 08:59 AM
RE: Knight TK2000
---
Turkeyhunter1,
Think about it.....Your100gr. load ofFFFg, Triple 7 is hotter than my best load of 110gr.s Goex FFg. I agree with you 100% that to much powder can increase the size of your shot pattern.

04-04-2006, 12:37 PM
RE: Knight TK2000
---
I have one and they are fun to shoot. The new one has a thumbholed stock which I would like to get. Here is a link of my results I have had.
http://www.modernmuzzleloader.com/phpBB/viewtopic.php?t=1492&highlight=tk2000
I will be shooting again this weekend to get ready for the opener in a few weeks here. I will be shooting to not only see the tightest pattern but really see how far it will pattern. Some guys I know have shot 50 yard birds in fields with no problems. I will see, I can't see a bird's head that far and refuse to put a scope on the gun as it can kick hard and that scope may catch you in the schnoz. Good luck you picked the best modern 12 ga you can get.
Posting Rules
You may not post new threads
You may not post replies
You may not post attachments
You may not edit your posts
---
HTML code is Off
---