Barnes
07-13-2005, 06:45 PM
RE: Barnes
---
I also shoot the Barnes Expander 250 grain in my Knight Wolverine II and the accuracy is exceptional. When I practice I use the 240 grain T/C Mag Express XTP's . They shoot very similar. Then before season I recheck the rifle with the Barnes and hunt with them.
07-17-2005, 08:00 AM
RE: Barnes
---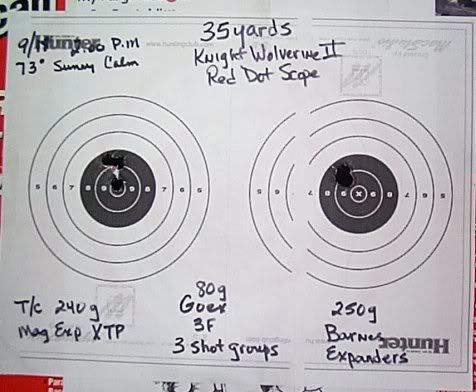 I have to agree with Randy. The Barnes Expanders for some reason really do shoot excellent. I did not get a chance to see the effect of them on a deer last season due to lack of cooperation on the deer's part. Another fellow up here shot a nice buck with the same bullet only he was shooting 110 granis of powder and the wound channel that bullet made was most impressive. Again, I look at them like the powerbelts. They are too expensive to play with on the target range. I usually get a 25 (I believe it is) pack of them in late summer, sight in the rifle and then use the rest for hunting, although I have been having some excellent luck with the Buffalo Bullet SSB in 375 grain for accuracy and might stick with them due to cost alone.
07-17-2005, 11:53 AM
RE: Barnes
---
The Barnes Expander MZ is still the most lethal MZ projectile I have ever used. They aren't legal here during the regular MZ season, but we use them in New Mexico and during the Colorado rifle seasons. They blow a hole through an elk like a .300 Winchester.
Thread
Thread Starter
Forum
Replies
Last Post
Posting Rules
You may not post new threads
You may not post replies
You may not post attachments
You may not edit your posts
---
HTML code is Off
---