Elk Hunting: Decades of Experience & Wisdom
03-02-2019, 03:54 PM
Typical Buck
Join Date: Jul 2005
Location:
Posts: 661
---
Sorry Cal. I wasn't trying to create a problem but apparently am. I thought your concept was great and don't want to take away from it. For the people I asked questions of, please consider my comments and questions withdrawn. No further responses are needed. There are other websites where it's easier to get the information without creating all of this drama. I wish you all good hunting.
03-02-2019, 05:04 PM
Fork Horn
Join Date: Apr 2008
Location: Up on the Milk River
Posts: 308
---
My biggest piece of advice to give a new elk hunter, hunt private ground if you can. With the pressure put on elk on public lands, hunting is difficult at best, times , close to impossible. With the advance of technology so comes competition for public land elk. A person can leave Minneapolis in the morning, and be elk hunting that afternoon near where I live just north of the Missouri breaks here in Montana. People have a lot more disposable income and the time to use it then they did say back in the 60's and 70's. Elk hunting has become a big business, to states agencies, outfitters, ranchers, call makers, firearm manufacturers, the list goes on and on, but lets not forget TV and internet shows. BIG BUSINESS, convincing, YOU, that if you choose them or their services, you will tag an elk, and usually they show big elk being taken. I have become part of this business, leasing land to hunt here in Montana. I grew tired of the parade of other hunters, hunting the same ground, camping where I have seen elk come for water, on every ridge top, the sound of atv's moving in, it grew very tiring. Having access to private ground usually means you have little or no competition, depending on circumstances, that is a huge plus. I have found elk that are not pushed, are really a lot like whitetails, though their patterns are more on a weekly pattern then on a daily pattern, at least where I have hunted. Another plus of less pressured elk on private, if you hunt smart, you will not necessarily push them off of the land you are hunting. I have seen more then 1 elk taken on several occasions, if you are capable with your weapon and knock down an elk with your initial shot, there is a reasonable chance, they will mull around for awhile, thus, if you are hunting with more then just you, another animal or two can be dropped. I have actually had dozens of elk mull around within a quarter of a mile when field dressing an animal, even seen them come back out to timber as dark approached. I know it is not easy finding private land to hunt, and in most cases, certainly not cheap. Most hunters dream of hunting elk in remote mountain areas, and that county is gorgeous, I love spending summer days exploring and nights besides a warm fire, but come elk season, you will find me usually in the foothills of mountains, areas that have some agricultural workings, i.e. cattle, alfalfa, wheat , hay , or blessed with irrigation, in the west, this is a huge plus in most any type of hunting. So, if you have to work a second shift or job, wait an extra year or two, borrow from a rich uncle, or blessed be, marry into a western ranch, hunt private ground, you will not regret that decision....take the family on a summer camping trip up to Glacier or Yellowstone, but hunt elk where elk are at home.
03-02-2019, 07:06 PM
Nontypical Buck
Join Date: Aug 2008
Location: Rapid City, South Dakota
Posts: 3,725
---
All my elk hunting was in Montana around Wisdom, Missoula, and Great Falls.. It began quite a while ago, back when an elk tag cost $1. One trick we learned was to hunt government land above deeded land.. Elk truly like grazing on ranch land, but seem to have a need to move off sometime during the day. Never did hunt a ranch, but sure did get into elk above in the timber.
03-04-2019, 09:10 AM
Nontypical Buck
Join Date: Aug 2008
Location: Rapid City, South Dakota
Posts: 3,725
Elk Country
---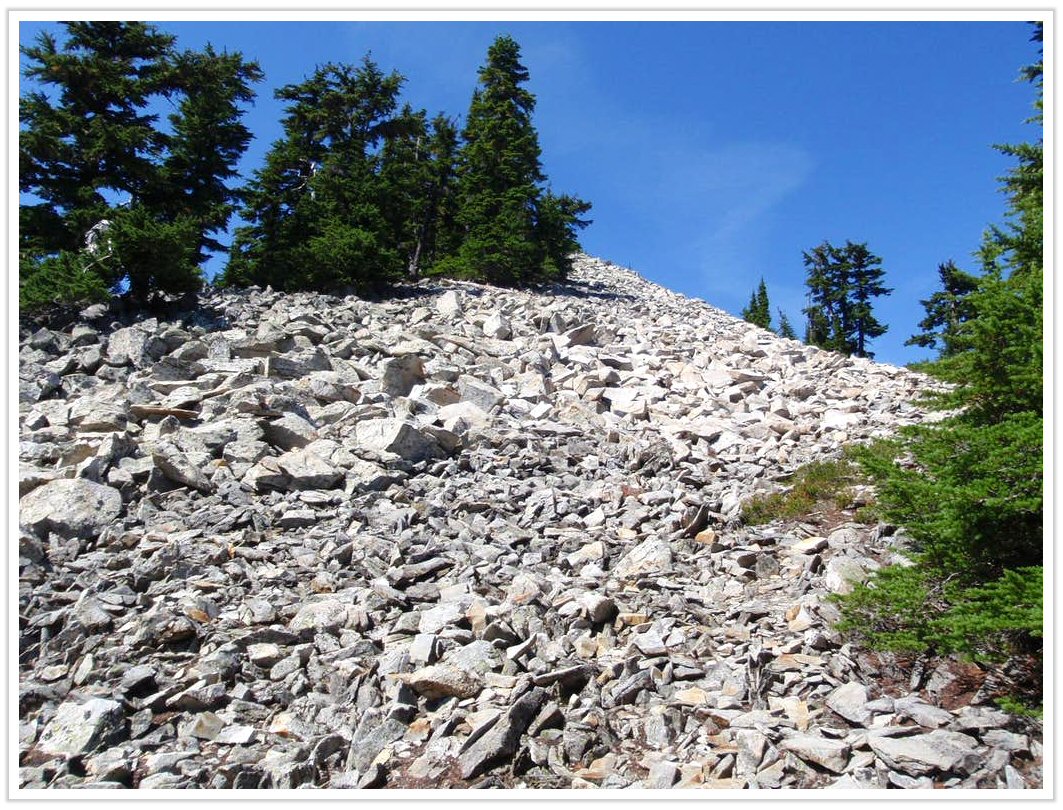 We avoided rocks like these religously. Our part of Montana has quite a bit of this type structure on top of some of the mountains. One year we followed elk that went into the talus field. They had trails made through the rocks, and as long as we stayed on the trails, it wasn't awful. We figured the elk were there to avoid hunters. We learned elk actually live there. Elk were able to navigate the sea of rocks. Elk have a network of trails. Hint: follow the trails. . Not so much me, the old guy, but the boy made friends with the rocks, and actually hunted there intentionally. It worked too. He has packed several elk out of the rocks. One year all of the spots i like to hunt didn't produce; i killed an elk in the rocks.
.
03-04-2019, 03:48 PM
---
Since I killed my first elk back in 1966 and have killed one most years since then, I guess I qualify as one of those geezers with decades of experience. I can write about my experiences all day long, but I don't know how good I could be in telling a new hunter how to hunt an elk. I've lived and worked most of my adult life in elk country and have watched herds of 150 or more from my front window.

There is a load of good advice in the 30+ previous posts in this thread, and I don't necessarily disagree with some of it, I just don't do it. For example, I'll sometimes carry a print of a topo map or Forest Service land ownership may, but I have never carried a compass or GPS unit.

I guess my first piece of advice would be to be in good shape, both physically and mentally. I've seen elk in valley floors and everything in between up to timberline. You need to be able to walk over that next ridge and you have to want to walk over it.

Carry enough gear with you so that if you have to you can survive a night in the woods, but I have never hunted elk with my camp on my back.

Elk like open country, but they don't like people. They are primarily grazers and often will be out feeding in meadows at daybreak and sunset. If its hot or if they have been spooked, they will hold up in the thickest and darkest timber. A good tactic is to glass meadows and other openings, especially at first light, from a high vantage point. I have killed a number of elk by very slowly sneaking through the dark timber during the heat of the day. The scrub oak and aspen hillsides like is found in much of northeastern Utah and western Colorado are a favorite elk habitat.

Like in other hunting you should be very familiar and comfortable with your rifle. You should zero your rifle and verify where it is hitting at 200, 300 and maybe 400 yards off a rest on a bench, then practice, practice, and practice at those same ranges from field positions, prone, sitting, or resting the rifle on a bi or tripod or tree limb or backpack. I have killed my share of big bulls, and I am primarily a meat hunter now. I like the behind the shoulder, 1/3 up in the body shot. An elk's heart/lungs vital area is about a 15" diameter circle. We have steel gongs that size at our range, and I practice on them at least once a week for 2-3 months before hunting season opens. Head and neck shots can be deadly, but they are a very small target. I am not a fan of long range and Hail Mary shots. Elk are too magnificent an animal to let run off wounded. A gut shot elk can run for miles and will usually not be found.

Elk are not armor plated and any rifle in the .270 Win-7mm Rem mag-.30-06 class with a good hunting bullet will easily kill an elk, IF you put the bullet in the right place. I prefer slightly heavy for caliber bullets for elk. I have killed and have seen elk killed with cartridges below and above these, but I think that it is more important to shoot a rifle that you are comfortable with and are able to accurately placing your shots.

Undisturbed, elk like to walk on trails. One of my favorite elk hunting tactics is to slowly follow game trails. Walking on trails is also quieter than just blindly walking through the woods. Elk like to walk on the crest of ridges and you will often find their paths there.

When elk bed down in the woods, they tend to face downhill, looking for danger. However, it is easier to drag or carry your elk (parts) down to your vehicle.

For twenty some years I had my own horses that I used to pack my elk camps back into the woods and to carry my elk out. Dragging elk out with a horse will work, but the dragged elk likes to get stuck behind trees. I've had to carry a few elk out on my back, but I have never boned an elk out in the woods. It is VERY important to open up and dress out an elk as soon as possible, and preferably hang the quarters to cool. I usually don't skin the quarters until I process the meat as the skin helps to keep the meat clean and I won't have to cut the crust off the exposed meat. Putting the quarters in game sacks will help to quickly cool the meat and will keep it clean.
An un-gutted elk left on the ground overnight, even on snow, has a very good chance of souring and spoiling.

Don't forget to take a small camera with you on your hunt. I don't have pictures of my first dozen or so elk because I didn't carry a camera with me. Years ago I took a friend Shiras moose hunting near West Yellowstone, MT. Riding in on the horses in the dark the first morning, my friend whispered to me that he had forgotten his camera. So had I. At first light we came to a meadow with a bull moose in it. That moose turned out to be (at that time) the 4th highest B&C scoring moose ever shot in Montana. And we didn't get any field pictures of it. Also make sure that your camera batteries are fully charged. I have stories about that also...

So enough of my rambling and good luck, as luck has played a very big part in much of my hunting.
03-05-2019, 03:24 AM
Super Moderator
Join Date: Dec 2017
Location: fla
Posts: 596
---
all good advice, thanks
03-05-2019, 04:50 PM
Nontypical Buck
Join Date: Aug 2008
Location: Rapid City, South Dakota
Posts: 3,725
---
Years ago we used to haul out camp after hunting season ended. These days it seems we have been snowed out every year early, and one had better haul camp out before season ends.. Global warming is causing more snow where we hunt. Seems like it may be best to locate elk earlier than we did in the past by finding tracks in the snow.
Game trails also reveal the presence of the elk that made the trails. Game trails can also be used much the same way as tracks in the snow, not just to provide easier, and quieter walking.
.
03-06-2019, 09:57 AM
---
Posting Rules
You may not post new threads
You may not post replies
You may not post attachments
You may not edit your posts
---
HTML code is Off
---