Season's end...
10-30-2016, 07:33 PM
Typical Buck
Join Date: Apr 2005
Posts: 612
Season's end...
---
DEER
This year was a contrast to last year. Opening day last year I saw 13 bucks on opening day, by 1:30 in the afternoon. Three of those were shooters.
This year I saw 8 small bucks in four and a half days of hunting. Preseason confirmed that the bucks were there, and there were plenty of fresh tracks around. They were just timbered up and nocturnal. It also was pretty warm.
I'd still-hunted a bedding area all day on the 26th, but didn't see anything of interest. Except for elk of course, the area was crawling with elk!
I was working back down toward the truck. The air had cooled and it was getting nice and crisp. It was almost dark when I spotted the telling white smudge of a muley's rump at the bottom of a steep clear cut, right next to the dark timber. I put some glass on it and determined it was a shooter. He was feeding behind a small pine and by the time I pulled up (it was about a 150 yard shot) I only had his chest behind the shoulder and rump visible. I'm not a great freehand shooter, but was able to finally steady enough for a confident shot. I took the shot. He stepped forward behind the tree and I could just see his rump. After about 6 seconds or so, he ran down into the timber.
I donned the trusty headlamp as it was pretty much dark at this point and worked down to the edge of the timber. I felt sure of the shot. As I got down on the edge of the timber I heard crashing through some deadfall. It worried me. A healthy deer would normally stot or bound, so I assumed it was my deer. I waited for some time and continued down. I then heard a deer bound off. Now I was really concerned.
While nice for hiking out in the dark, I found my little LED headlamp was fairly useless. I searched or hair and blood where I thought he was when I took the shot. Nothing. I went to where I heard the deer run through the deadfall and searched. It was a tangled up mess. I couldn't find any blood and determined the best course of action was to back out for the night and come back up in daylight.
I didn't sleep that night. My thoughts just kept going to big racks and dead deer. I worried that I'd mortally wounded him, but that he had run off without a blood trail. I figured I would find him eventually, but worried about the meat.
I went up about an hour after light to allow the sun to come up and brighten things up. I went back and again looked for blood or hair. Nothing. No sign in that tangled up mess of deadfall. No fresh tracks that stood out as big, anywhere. I looked and prayed for a good hour and was discouraged. I sat down and thought it through and decided that I'd made too much of an assumption. Maybe it wasn't him that ran through the deadfall and bounded away. Maybe it was another deer that was in the timber with him that I hadn't seen.
I decided that in the darkness and with the excitement of the shot that I may have been mistaken about exactly where he had been at the time of the shot. I decided to start working further over, past where I thought he had been. I worked over in a line search from the edge of the clear cut into the timber 80 yards or so. After five minutes or so, I noticed a gray bump further over. Glassing it confirmed that it was him. I was ecstatic.
I expressed my thanks and dressed him out, opening all four quarters completely to expedite cooling. The bullet entered a little far back, nicking the paunch, cutting a 6" chunk of the liver off, destroying a lung, nicking the heart (leaving a 3/4" hole there) and lodged in the far shoulder.
I then went back home and loaded some of my goats, saddles and panniers; as well as some butchering supplies. The goats are always game for a hike in the woods, so they were pretty happy to be on the mountain. I saddled up the two big ones and took a younger one along for the stroll.
They don't really know deer, so were hesitant on the approach. Once they got close and got a good whiff, they lost interest. I finished quartering the deer out and then boned out the rest.
The hind quarters went in the panniers of my three year old goat (the strongest of the group). The front quarters went into the panniers of the other. I thought they might balk, as this is the first time they packed meat. They didn't blink twice about being loaded up. The rest of the boned out buck went in my pack.
We cut to the logging road and started down to the truck. They acted as if they didn't have a load; running ahead 50 yards and then stopping to eat as I came up. When I was past a ways, they'd run to pass me and stop for a snack again. Can't wait for an elk for them to pack.
Ah... there he is!
" />
Packing out.
" />
Home and a break from butchering for a pic.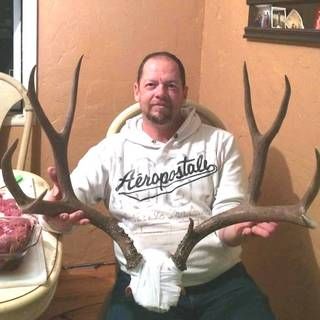 " />
All the meat was fine. Threw the tenderloins and a roast on the smoker. Oh yeah...!
ANTELOPE
Last weekend, my eldest son and I headed down to area 99 to hunt antelope. It had been six years since he had been down with us. He had two doe tags and I a buck and two doe tags. The area was an open access area this year and the lack of visible antelope reflected it. We did find that a little walking and glassing turned plenty up. The first evening we glassed several groups, but didn't find any that were situated so that we could get close enough for our range. The next morning, my son shot a doe. I followed the herd where they crossed a ridge to see if I could get a shot.
I wasn't able to connect for a shot on that group, but found a buck that I thought was pretty decent and worked in on him. I ranged him at 198 yards, shot and heard the tell tale whomp of the bullet connecting. He just stood there. I was getting ready to shoot again when he turned and started trotting away. I didn't have much time, and didn't range him again. I judged distance and held high and fired. He dropped with that shot. I ranged it then at 422 yards. Not a shot I would normally take on an antelope, but knew I'd hit him with that first shot. Turns out I'd shot high and clipped the top of a vertebra. I'm surprised he showed no visible reaction.
When my son and I reconnected, I found he'd shot a second antelope when a group wondered back in where the first was. We got our goats loaded up and back to camp, had a lunch and went back out. We saw several groups during the afternoon and settled on a group to work in on. We were watching them when another group came up out of a gully or something and I got a solid shot for another doe. The next morning we went out and put a stalk on a group for the final doe. Sunday was spent skinning and breaking them down and putting them on ice. It was a great time with my son.
The goats with our home away from home in the background.
" />
The buck. The pictures don't do the mass justice.
We finished processing the antelope Tuesday.
ELK
Wednesday evening, I figured on a bit of a hike to prime me for the next few days of elk hunting. Got back into a clear cut and spotted a bull bedded at the top of a clearing. Google Earth would later indicate he was about 1200 yards out. I busted my butt down into the bottom and back up his side. I was coming more directly beneath him than I preferred, but felt compelled to get in on him before he got up for his evening snack. I knew I was close and peeked around a tree to see him staring at me. I didn't take the time to range him but figure 100-150 yards. All I could see was head and a couple inches of neck. I shot off hand and he turned and disappeared. I knew it wasn't a CSN shot, but he acted hit. I busted up to where he had been bedded. No sign. The trees were about 30 yards back and I looked to a spot where I thought he would've gone. There was blood on the trail. I ended up tracking him for a couple of hundred yards and finished him off.
I dressed him out and broke the pelvis and front shoulders down to open him up to cool and hiked back out.
" />
" />
The road into the area wasn't really driveable for the mud and clay and I was thinking I'd have to walk the goats (pack goats) in about five miles to him. It would take us two round trips to get it out. I then remembered a friend offering to pack when I got an elk down. I thought, why not? I called him the next morning and told him I had an elk down. He said he would pick me up in an hour with the horses.
Heading up to get him. I'm thankful for friends who help old fat guys with bad backs...
" />
Broke down and loaded up
" />
The pack out. The only way to get an elk out, if not accessible by a vehicle!
It has been a good season and I feel blessed by the bounty of it. Good times with family, beautiful country and great meat. I am fortunate to live in such an area.
---
Last edited by wyomingtrapper; 10-30-2016 at

07:38 PM

.
10-30-2016, 08:41 PM
---
"It has been a good season and I feel blessed by the bounty of it. Good times with family, beautiful country and great meat. I am fortunate to live in such an area." Trapper
That pretty much says it all ................ Congratulations !!!
11-13-2016, 03:36 PM
---
You know Wyomingtrapper, i can't believe that this thread isn't on fire? You did a DIY Hunt, not a pre-payed outfitter hunt and you were successful, with multiple animals in the freezer! Awesome job Wyomingtrapper
I know your eating delicious venison!