Trophy Rooms / Man Caves
04-26-2014, 05:49 PM
---
About 25 years ago I added an approximate 30'x35' two story addition to my house. The top floor is one open room with 10' side walls and a 14' high ceiling center. That is my main Trophy Room, but unfortunately, it wasn't big enough. I've expanded into my Living Room, and I have plans to remodel it with more wall space.
Here's some pics of my main Trophy Room.
Left side of the east wall...
Right side of the east wall. It includes a wet bar with a small refrigerator.
Left side of the south wall...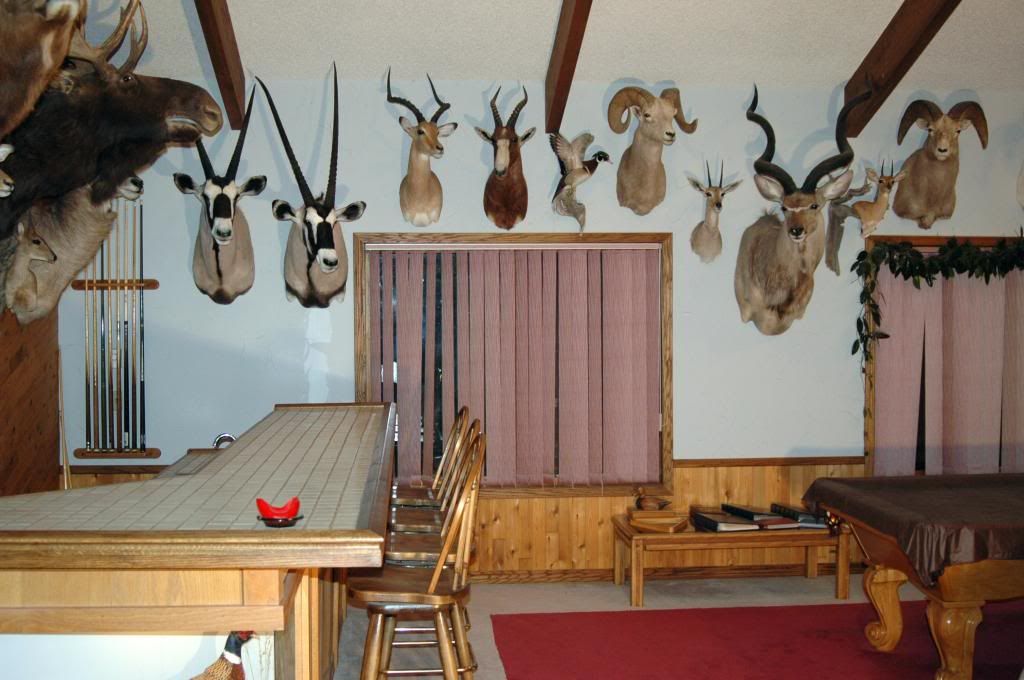 Right side of the south wall...
The center of the west wall...
The left side of the north wall...
And the left side of the north wall...
---
Last edited by buffybr; 04-26-2014 at

05:52 PM

.
04-27-2014, 03:34 PM
---
I'll agree that I'm probably one of my taxidermist's best clients. I've kept track of my taxidermy costs, and the cost of all of the mounts in that room plus the other 9 mounts that I have total less than the cost of a new Ford or Chevy pickup. I made all of the pedestal bases for the pedestal mounts.
Most of the North American animals that I have mounted (all of the deer, antelope, elk, moose, bighorn sheep, mountain goat, black bear, Alaskan caribou, birds, and fish) I got on DIY hunts on public land. The taxidermy on each of those mounts cost me more than each of the hunts. The Alaskan caribou cost me air fare and a nonresident license, but all of those other animals listed only cost me gas money and resident Colorado or Montana licenses.
As for the Trophy Room and the living quarters under it, I did probably 70-80% of the construction work myself. Basically everything except the carpeting. I hired a couple of $10/hr laborers (25 years ago) to help me with the concrete, carpentry, sheetrock, and windows, and a few guys from work helped me raise the glue-lam beams. That put the total cost of that house addition at about 25-30% of what it would have cost me if I had hired a contractor to do the work.
05-07-2014, 08:36 AM
---
First thing that came to my mind !!!
I thought maybe you took some pictures while you were at Cabela's - LOL
Congratulations Buffy....... I am sure you have had many memorial hunts !!!
---
Last edited by Sheridan; 05-09-2014 at

07:58 PM

.