4everbowhunts 2010 Fall Bear
11-19-2010, 02:36 PM
Spike
Join Date: Mar 2008
Location: New Brunswick,Canada
Posts: 20
4everbowhunts 2010 Fall Bear
---
This is the story of my fall bear hunt.Since I didn't have any non-resident hunters coming I decided to hunt myself.Our 2 week archery only bear season opened Sept.13th.It was a nice day and I climbed into my stand at 12:45p.m. and climbed down at 8:15p.m.when Fred came in to get me(We do this so as not to give away the fact there is a hunter on stand) with no activity at all except for squirrels and birds.The reason I climbed in so early is we had trail cam pics from 2 days prior with 3 bears in from 2-2:30p.m. and 2 of them were pretty good bears.
On Tuesday it was a wet day so I climbed into my stand at 3p.m. and by 5:30p.m. my tree leaked so bad that I was soaked so I left and hoped for better weather the next day as it would be my last day to hunt.
On Wednesday I was Ĺ mile from where I park when a torrential downpour with hailstones started.This was 2p.m. and by 3:15p.m. it was over and the sun started shining so I headed to my stand site and was settled in by 4p.m. There was no action until almost dark when a nice bear came in and although it was very respectable, it wasn't the big one I was after.Since this was my last night to hunt I decided rather quickly to take him.I drew back my Bowtech Tribute and sent a Rage 3 blade tipped Easton Axis arrow on its way.At 8:15p.m. Fred arrived at the stand and we followed the blood trail, which was awesome to follow, but we had to quit for the night because I figured the bear had gone to far already.
We marked the last spot we found blood with flagging tape and tied more on trees on our way out to guide us back in the morning.It was 11p.m. when we arrived at our vehicles.
Thursday morning at 8:30a.m. Fred was walking over to one of the short trees in the clearcut we had tied tape to the night before when he called out to me he had found the bear.Not sure I heard him right I asked him to repeat what he said and when he did the excitement set in.The bear was 50 feet from one of the trees we marked coming out and Fred almost tripped over him.We would have only had to trail him about another 75 yards from the last blood we marked and we would have found him last night.After several high fives and some pics the task of loading him on Fred's 4 wheeler began.It was hard with just the two of us to load him but we got it accomplished and after several hundred yards picking our way around stumps etc. in the clearcut we were on the road at his truck.We then made our phone calls and headed to the DNR station to register the bear.Prior to skinning the bear out we weighed him and he was 342 pounds.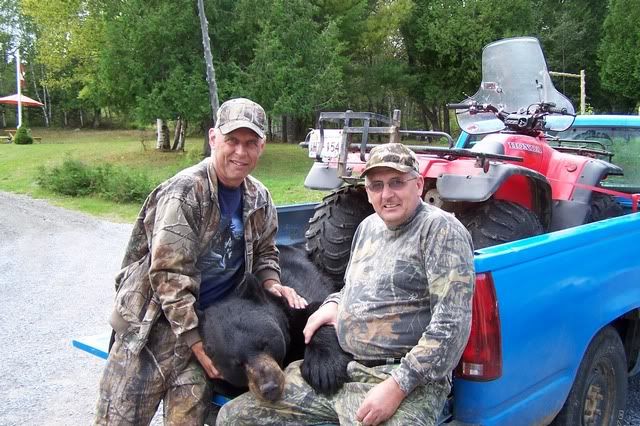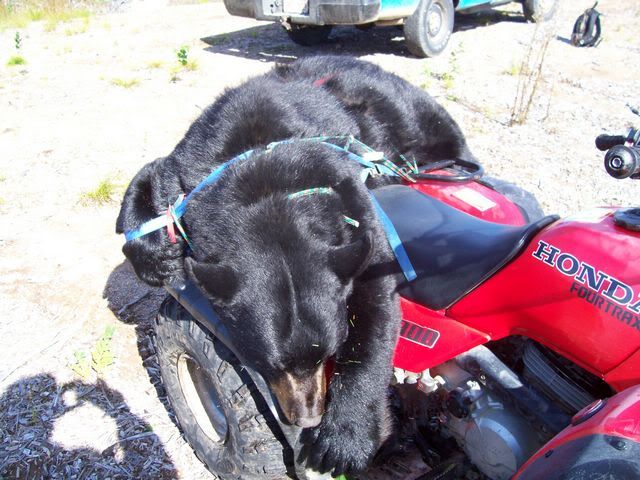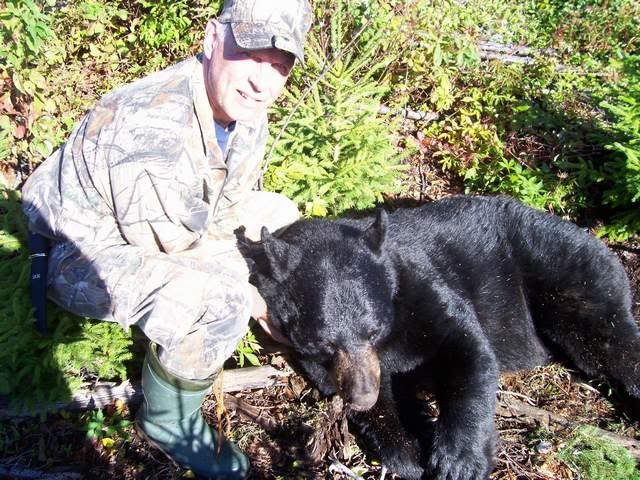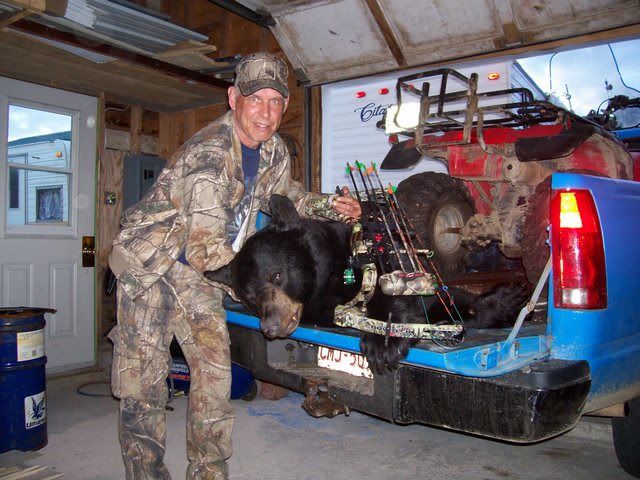 ---
Last edited by 4everbowhunt; 11-19-2010 at

02:39 PM

.
Posting Rules
You may not post new threads
You may not post replies
You may not post attachments
You may not edit your posts
---
HTML code is Off
---