Elk Hunting Backpack Question
02-26-2011, 06:32 PM
---
I guess I can update this thread to say that I'm more than happy with my Eberlestock Just One pack. It packed out 3 elk and a mule deer this year without a hiccup.
This load ended up very low, but it was more due to my poor packing skills than any fault with the pack itself.
It was the head plus a front shoulder plus everything that started out in my pack (I killed him at 8:00 opening morning).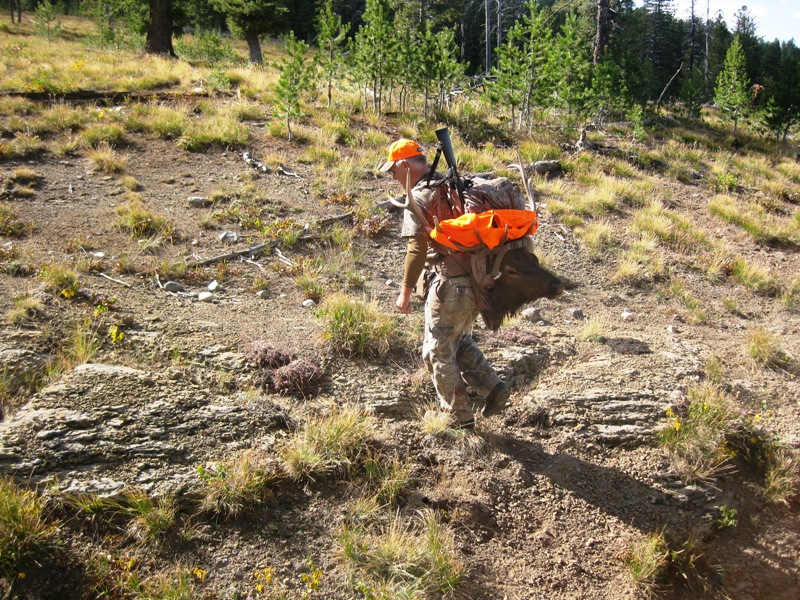 No picture with it loaded on my back, but here's the second trip with a front shoulder and a hindquarter loaded up in the pack after I emptied most everything out from inside. It carried well enough that I didn't bother with the external frame packs in the truck, just came back in with the Just one pack.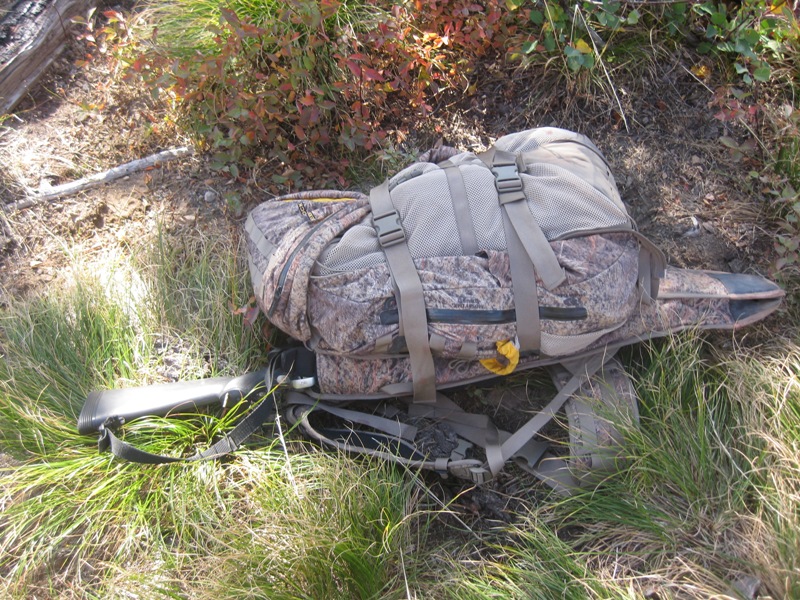 I packed out most of my friends Wyoming elk too and then started the pack out of my New Mexico elk.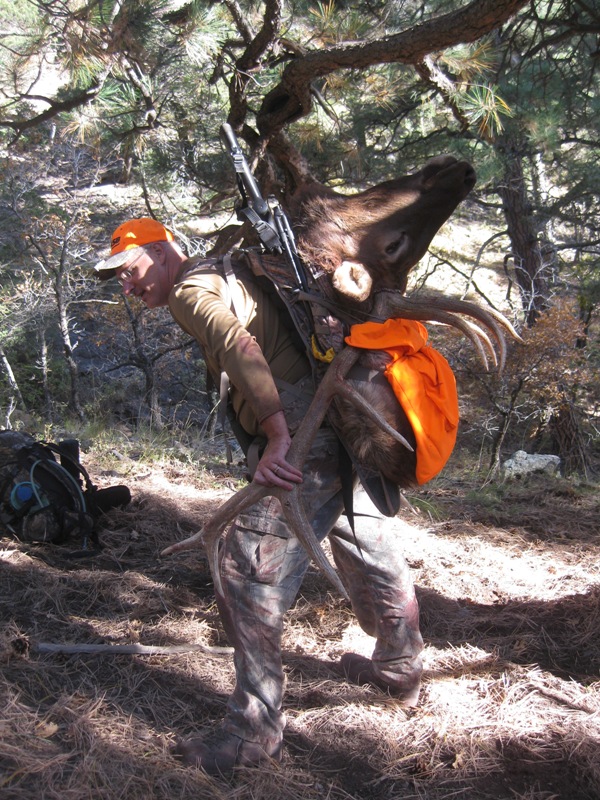 The pack again could have handled this, but I couldn't and ended up hanging it up in a tree after about 1/2 mile. I was hiring some folks to go back in and carry the quarters out anyway so I had them bring the head out too.
Last pack out was my mule deer. I took him out in 2 trips and it was a breeze. I'm sure the pack could have handled him coming out in one trip, but I decided to take it easy. He was a pretty big bodied deer too, easily 250lbs on the hoof.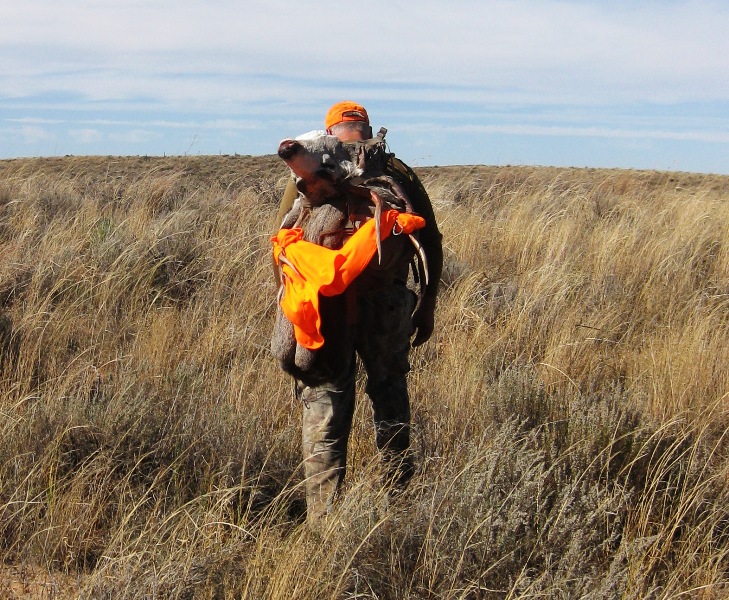 Hopefully I'll get a chance to figure out the best way to carry out elk antlers by doing it several more times over the next few years.
The pack is great, wears very comfortable. I tend to not keep the rifle in the scabbard during daylight hours when I have an unfilled tag in my pocket, but it works great for hiking into the woods in the dark to get where you want to be at first light.
I'm sure most of the other packs mentioned are great too. I won an Outdoorsmans pack recently and I can't decide if I want to sell it or keep it and use it.
02-27-2011, 10:30 AM
Fork Horn
Join Date: Mar 2007
Posts: 194
---
npaden. Not sure if its any help or not, might be. Wont be much help if a European mount is in mind. For deer or elk I seldom carry the actual head out for the weight of the head and ackwardness of having the horns attached to the head. If the cape is kept I cape it out in the field put in a garbage bag and put in my pack, cut the horns off strap to my pack, and leave the head behind. I carry a Wyoming saw or hatchet to do this and is also nice to have in case I get stuck on the mountain over night too.
02-28-2011, 02:03 PM
---
I use the Wilderness Wanderer Hunter Pack. Company is out of my home town of Kamloops, in British Columbia Canada.Great hunting Pack, well made, and address everything needed for a convienience comfort and durability and design and strength.
---
Last edited by Jeff Ovington; 02-28-2011 at

02:09 PM

.
02-28-2011, 07:46 PM
---
I don't like having weight up on my shoulders. It's a lot more comfortable to have the weight resting on your hips. Weight up high just throws your center of gravity off and makes you more tip prone. That said that pic is a little deceiving. The weight is really up against my back, because that's where the meat is inside the pack. The head doesn't weigh very much.
I packed my wife's sheep out last fall in an Eberlestock J1 and I was really impressed. I really liked the wide straps and the roomy pack. I don't think I'll get rid of my Badlands any time soon.
03-05-2011, 08:22 AM
---
i like my cabelas alaskan outfitter frame pack.

pros: it's well planned out and has all the features you need for a spike camp hunt (not for day hiking or short packs)

cons: lots of weight, somewhat noisey.

to fix the weight problem, i've cut everything off that pack i didn't need. i took a tubing cutter to the frame and made a spotting scope mount out of the extandable frame (applied for a patent for the mount). the down side of this, is that the pack is mangled from what it once was. but it suits my needs just fine.

(cut foam padding, extra straps, rain cover, freighter pod, backpack straps on the camo part. probably 5 pounds of accessories)

all of my gear, including sleeping bag, pack stove fuel, food and water is under 40 pounds. i've been perfecting this setup for several years.

sometimes i wish i could start over with a different frame and stuff, maybe next year.
03-05-2011, 10:22 AM
Fork Horn
Join Date: Jan 2011
Location: Northeast Texas
Posts: 214
---
Words of wisdom: Carry ONLY what you aboslute need. My first trip out on my first elk hunt I had way way way to much stuff!!! I went the next day with 2 bottles of water, 4extra shells and small binoculars. The next day I left the binoculars in camp. I ONLY needed the water but I just couldn't leave those extra shells. Good hunting. Jim
03-31-2011, 07:20 AM
Spike
Join Date: Dec 2007
Location:
Posts: 42
---
03-31-2011, 08:38 PM
---
Honestly my wife and I both have packs from REI. There packs are expedition packs that are used for mountaineering and serious backpacking. Gregory and Arcteryx make some of the best packs out there with some of the best comfort features. Osprey packs actually come with a waist belt they custom fit to you while in the store. Though the packs are not camo they are muted earth tones. For the comfort they are about the best you can get and have all the features needed to really get into the deep woods. On a side note I get something of a sick satisfaction when the mostly anti-hunting associates in REI ask what I will be using the gear for and then give me the look of death after telling them I am a hunter.
04-02-2011, 03:15 PM
---
I got a blacks creek Canadian for Christmas and love it. It has a detachable day pack, lots of pockets and can carry a gun or bow. Seems to have enogh room.for a 3 day or so hunt. I would have went w badlands but the waist belt didn't go.small enough for my 30 inch waist.

Lol I have also gotten the death look from REI staff, makes me laugh inside every time.