Pics of another wolf kill, showing just how much they eat
04-21-2009, 07:59 AM
Fork Horn
Join Date: Nov 2005
Location: James Bay Frontier, Ont. Canada
Posts: 337
RE: Pics of another wolf kill, showing just how much they eat
---
Here's a pathetic sight...well for me anyway. This cow was about ready to calve, which is about 2 weeks early for my area. We watched her for 2 days, trying to protect her. But I couldn't stay there 24 hours a day. Went back early this morning and this is what I found. But one of the wolves died! Guess he ate too much (lead).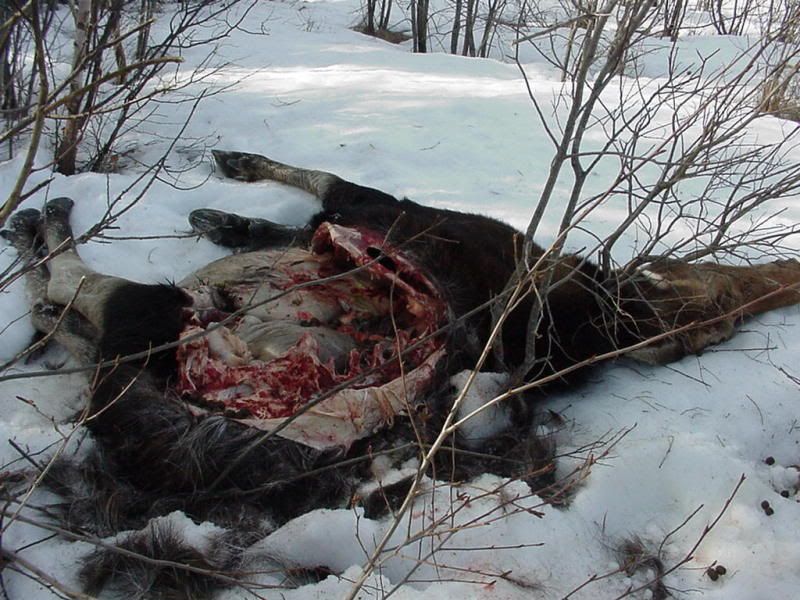 04-23-2009, 02:09 PM
Fork Horn
Join Date: Apr 2009
Location: apache junction az.
Posts: 138
RE: Pics of another wolf kill, showing just how much they eat
---
last year a friend of mine got a respectable mulie in unit 1 in eastern az. he shot it close to dark and had to go back in the morning, when he found it the only thing left was the bones and the horns, even the horns were knawed on. they'd reintroduced the mexican wolf into az acoupla years ago, since then they've had to build shelters for students waiting for the school buses. i've seen the game and fish or the forest service putting up hot-shock wires arround ranches with sheep just to keep out the wolves. go figure.
04-23-2009, 02:32 PM
RE: Pics of another wolf kill, showing just how much they eat
---
Guess they ate all of this poor little guy.........................no it seems not.
[/align]Archived Story
Wolf suspected in dog killing; owner spotted animal near Dean Stone Mountain
By ROB CHANEY of the Missoulian
[/align]The death of a small dog near the base of Dean Stone Mountain has wildlife authorities looking for wolves on the southern fringe of Missoula.
Grace and James Olson reported seeing two wolves on their property near the top of Gharrett Street just after Cola, their Pomeranian-Chihuahua cross, went missing Saturday morning. The dog was found a little while later, with its throat ripped out.
"When my husband went to get the mail, he looked at the deer in the pasture and they were just going nuts - running every which way," Grace Olson said. "He looked a little more and saw a wolf right in the middle of them. And a few minutes later, one (wolf) ran right in front of him. Then he came back to house, and the deer were all gone. He called for Puppy, but he wasn't coming. We found him at the bottom of one hill on our property."
The incident took place between 7:30 and 8 a.m. Olson said she'd never seen or heard wolves around their four-acre property before. However, Cola had acted unusually threatened a few nights previously, and was unwilling to go outside.
A Montana Fish, Wildlife and Parks warden investigated the scene Saturday morning, but was not able to find any tracks or other sign in the dry ground. Cola was buried before a necropsy could be performed. He was 11 months old.
FWP biologist Liz Bradley said on Monday that a wolf could be responsible for the incident.
"We just don't know, but it certainly could be (a wolf)," Bradley said. She was combing the hillside for other signs of wolf activity Monday afternoon, and had not found anything. But the Olsons' description of the incident fit with known wolf behavior.
"They have done it before," Bradley said of wolves taking dogs on the edge of towns. "They have such a strong territorial instinct, and they have been known to come close to houses before."
Bradley said other South Hills residents reported seeing a trio of wolves about three weeks ago near Rimel Road. But there have been no other confirmed reports of wolves attacking or threatening people or animals in the area.
Animal owners are allowed to shoot wolves that are harassing or threatening their pets or livestock, although firearms use is prohibited within the Missoula city limits. Anyone seeing a wolf is encouraged to report the sighting to FWP at 542-5500.
Bradley said if it turns out wolves are inhabiting the Dean Stone Mountain area, they will likely be hazed away. Mid-April is when wolf packs den up. Bradley said if wolves are confirmed there, she may attempt to radio-collar one and learn if it's part of a larger group.
"If it becomes a human safety concern, with wolves living too close to people," Bradley said, "there'd be no question about removing those wolves."
Grace Olson said her property is fenced well enough to keep most neighborhood dogs away, but not wolves. Wildlife has been a mostly pleasant fact of life at their home of 16 years.
"We've got coyotes here, and I've got pictures of a little fox that got rabbits out of our bushes," Olson said. "A few years ago, we had a black bear out here. We've never seen a lion.
"My main concern about the whole thing is I want other people to be aware for their kids and animals out in this area. They need to be on the lookout."
[hr]
[/align][/align][/align]
Thread
Thread Starter
Forum
Replies
Last Post
Posting Rules
You may not post new threads
You may not post replies
You may not post attachments
You may not edit your posts
---
HTML code is Off
---