OTC Antelope Tags?
12-11-2008, 10:53 PM
RE: OTC Antelope Tags?
---
OK Guys I need to chime in here. I have hunted all the states mentioned and am familiar somewhat with the laws in most and am intimate with the laws in Wyoming and Montana.
All of them are draw only for lopes for non residents. Some are 100% guarenteed draws. However in Wyoming there are some areas that are very hard to get access due to private land that have tons of leftover tags that become OTC tags after the first and second draws. In the areas I outfit in there are hundreds of leftover tags and most times thousands. In fact most years there are tags left after the season is over. Most of the leftover tags are in the northeastern corner of the state. Again access is very tough due to private land. The trophy quality is exceptional and the numbers are fantastic. In fact the game and fish is saying the population is way over target. Somebody would accuse me of soliciting if I posted my site here so I won't but if you search for antelope outfitters you will most likely find me. There are some areas of public ground but you better be good at the map reading. Good luck guys. I would be happy to help with any questions.

12-13-2008, 07:37 AM
RE: OTC Antelope Tags?
---
Well it's not ALL lottery for antelope. You can buy leftover leftover tags off the net as soon as all the DOW draws are done. The list is usually long and lots of the leftover tags are on private land. But it CANbe done. I got on a great huge ranch east of Pueblo this fall (with 60 other hunters
) and had a great time. I didnt kill one but lots of the other hunters did. I did snuck up on two that were 1.5 miles away but they were gone when I got there. But I am persistently unlucky. Good luck on your hunt. I think for OTC tags WYo is probably best as they have more antelopes than residents.
12-14-2008, 09:19 AM
Fork Horn
Join Date: Aug 2008
Posts: 112
RE: OTC Antelope Tags?
---
There are plenty of units north of Casper over to Gillette Wyoming that are a draw, but have leftover tags every year. There are tons of antelope and enough quality bucks. The reason there are leftover tags is that much of the land in these units is private. You can access many of these rances for a trespass fee of only a few hundred dollars. Yes, it costs a little to hunt that way, but you're generally going to have a higher quality hunt, with few to no other hunters. In each of those units, there is also State Trust lands that are public. If you have a good map, you can find plenty of places to hunt that are mixed in with all the private.
12-16-2008, 12:37 PM
Join Date: Aug 2008
Location:
Posts: 12
RE: OTC Antelope Tags?
---
ORIGINAL: A11en
Salukipv1 - you're right about Colorado. In 07, I hunted mule deer for a week (3rd rifle season). I saw at least 200 mule deer andabout 40 elk. While in the valley, Isaw 100 Antelope everyday. I was told by a resident it take about 7 years to draw a tag.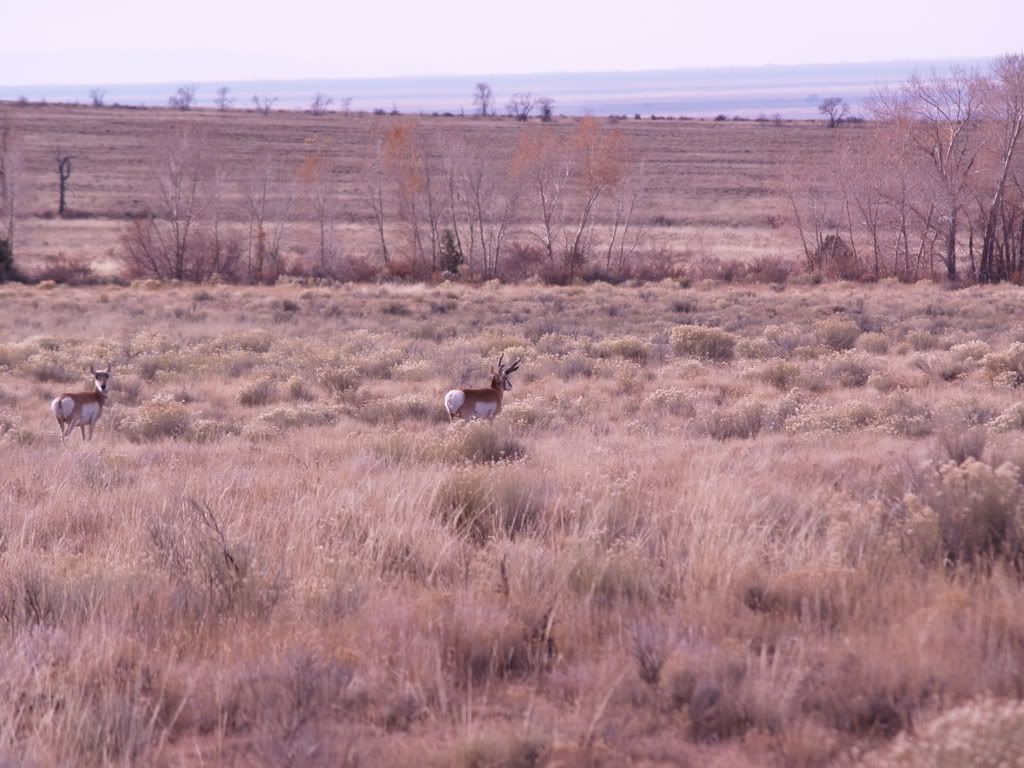 this one looks like a champ!
Thread
Thread Starter
Forum
Replies
Last Post
Posting Rules
You may not post new threads
You may not post replies
You may not post attachments
You may not edit your posts
---
HTML code is Off
---