First Bull Elk (Very Long Story)
09-29-2008, 12:02 PM
First Bull Elk (Very Long Story)
---
Well, I'm finally starting to get my desk uncovered and still have a TON of work to do to get caught back up, but I really want to get this posted and so I might as well just do it.
After work on Thursday the 18th, we drove through the night to meet up with my friends I was going to hunt with. One of my friends didn't get off work until around 6:00 pm so we hung around a bit and relaxed and then we all went out to dinner and then we headed out with the travel trailer in tow. It ended up being a longer drive than I expected. I actually slept an hour or so on the drive and I needed it because I drove most of the way from Lubbock, and only got an hour or so of sleep on Thursday night.
We got to where we were going to setup camp at 11:00 pm and thankfully no one was in the spot were we wanted to park the trailer (the entire campground was empty) and we had it setup and got to bed at 1:00 am Saturday morning.
The alarm was set for 4:45 am and we were on the trail in the dark at 5:30 am. It was dry and dusty and as we were hiking in on the trail we made out some very fresh grizzly bear tracks on the trail. The prints were so clear you could see the wrinkle lines in the paws. It looked like a large sow and a 2nd year cub.
We left the trail and skirted a small lake and it was rapidly approaching shooting light. We turned our headlamps off when we left the main trail. The brush was pretty thick and it was pretty difficult to walk quietly. We got to some fairly fresh wallows and bugled. Nothing responded. We went down the valley and found some more wallows and lots of sign that elk had been in the area recently. We bugled again and this time we got a response!
My friend moved down the hill about 30 yards to bugle and his son and I setup in the brush near some trees about 10 yards apart. A few more bugles back and forth and we could hear the elk moving toward us! At the time I only thought 1 bull was coming in but they heard 2 different bulls. It was pretty heavy brush and I only had 2 small openings where I could see more than 20 or 30 yards in front of me and I kept checking between them. I could hear the elk moving in and then I saw a cow elk move through one of my shooting lanes about 100 yards away. A bull was right on her tail, but hung up just out of my shooting lane. I could just see his head as he turned to look in our direction I knew he was a shooter. I wasn't sure how big he was, but he was bigger than a raghorn and that was my goal, to shoot a 5x5 or bigger.
He hung up in the trees for nearly a minute where all I could see was the very front of his head. Then for some reason the cow elk came back through the opening, moving back up the hill. The bull turned to follow, and as he turned to follow he came out into the opening for a split second and I figured it was now or never and pulled the trigger. It was a severe quartering away shot and he was turning quickly so I probably shouldn't have taken the shot, but I did. I was using a small pine tree as a rest but there wasn't any branches to use so it was pretty close to an offhand shot. It had all happened so quickly that I still had my backpack on. I didn't hear the bullet hit and the bull was nearly out of sight when I shot so I wasn't even sure that I had hit it. I said that I made a bad shot and my friends son shhh'd me. They had heard the other bull and thought they might have a chance at him. After a few minutes they decided that the other bull was gone and we went to see about the one that I had shot at.
I marked the spot where he was when I shot well, but where he was when I shot was an area that had a bunch of short brush with a ton of red leaves and partial red leaves with spots that looked like blood spots. It was going to be next to impossible to find a blood trail if I hit him. We spread out and started in the direction he was going when I shot and a few seconds later we saw him trashing in the brush. He was down! I shot him again behind the shoulder and it was over. He had run about 30 yards after he was hit the first time.
We took a bunch of pictures of him and then got to work. I decided that although he was a respectable bull that I would still hope to shoot a larger bull some day for a shoulder mount so we weren't going to cape him, but my friend said you can get good money for an elk cape from the taxidermist, so they set about capping him while I quartered the hind legs and backstraps. After about 30 minutes of working on the cape, they discovered that they had accidently cut through on one spot on the neck so that project was abandoned and we finished quartering him and got the tenderloins out. When we were walking in, Mike mentioned that some rain would be good and regrettably he got his wish. About the time we started working on the elk it started raining and rained off and on the rest of the day an into the night.
Here are a few pictures of him: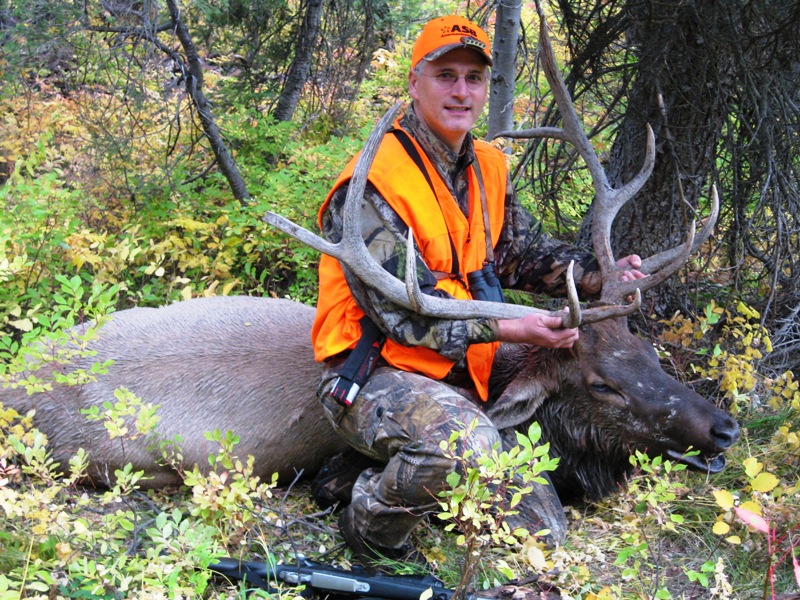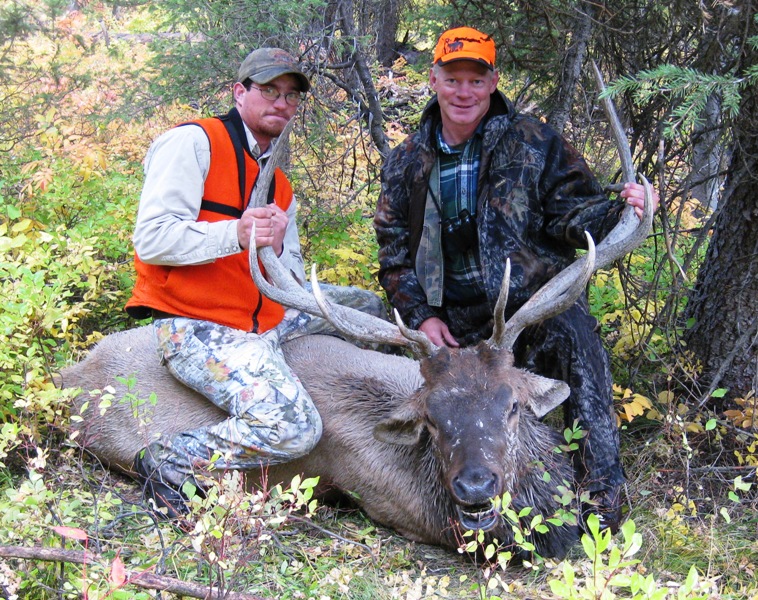 We put a shoulder, backstrap and tenderloin from each side in plastic bags and got them setup on backpacks. We moved the hindquarters about 200 yards away from the kill site in case the scavengers found it before we got back. We were about 1 ½ miles from the trail head with about 2/3rds of that being through brush and fallen timber. Packing him out was tiring but uneventful for the most part. My friend fell once and said he hurt his back, but I think he was just trying to get out of carrying one of the hindquarters back on the return trip! We got the pack frames out of the truck and used those to haul the hindquarters out and they worked really well. We were back in camp at 1:30 pm.
Here's a picture of us packing him out: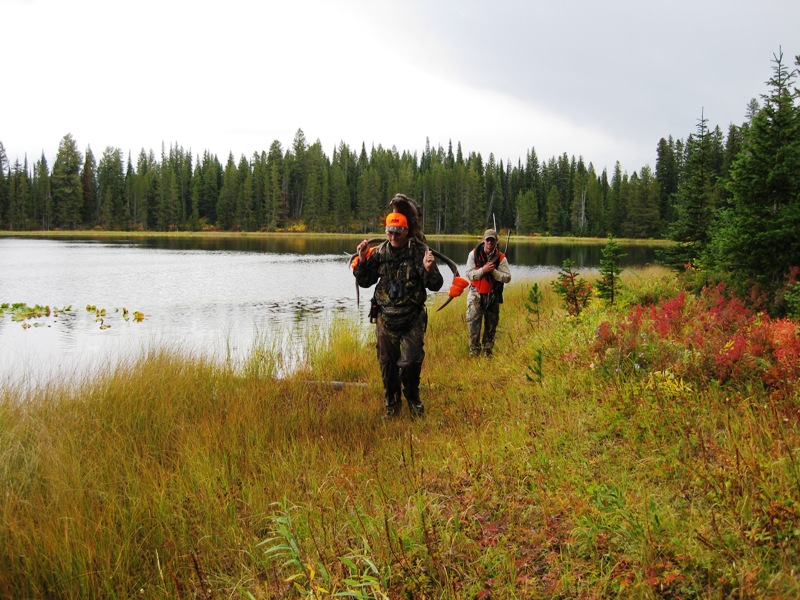 Here he is hanging back at camp. You have to have them 10' off the ground to keep the bears from getting them.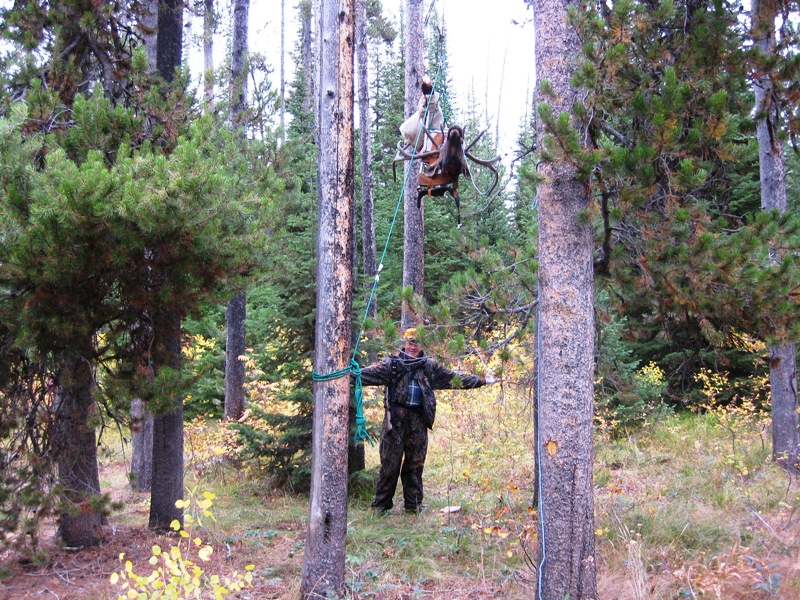 We hunted hard the rest of the week and although we had a few bulls come in within 100 yards of us, we couldn't get any to commit the rest of the way and in the area we were hunting, 100 yards might as well be a mile, because you couldn't see them in the thick brush and trees. We got a couple really good chances at a large bull, but on the 5th day he ended up getting shot by a hunter using an outfitter. We had been on him in the exact same spot the day before and had sprayed a bunch of cow in estrus scent and they came in that morning and used a cow in estrus call and he came right in.[&:] He was a VERY nice symmetrical 6x6 bull that they estimated at right around 360" (trust me that's big!). It was pretty depressing knowing that we had come so close to closing the deal on such a beautiful animal but had come up short.
There was quite a bit more hunting pressure in the area than they were used to. 2 outfitters are hitting the area really hard and we saw a couple other hunters in there as well. Their secret spot doesn't seem to be that secret anymore. The elk are concentrated in an area about 3 miles long and a couple miles wide in spots, and there were 5 elk that we know of taken out of there while we were there. This area borders Yellowstone National Park, so I'm not sure if more elk will filter back in next year or if this spot will eventually be hunted out or what. Talking with one of the outfitters, they said that 5 bulls were taken out of that area during the first week last year as well and so far it seems to be sustaining the population pretty well.
Friday rolled around and we decided to come home a day early. They decided to stay another day and on Saturday my friends son was able to close the deal on a nice 6x6 bull. They had hunted hard all day and were driving back to camp around 6:15 pm and 2 cow elk ran across the road in front of them. Calling it a road is giving it much too much credit, this is barely more than 2 dirt tracks through the forest. They got out of the truck, planning on shooting one of the cows, and all the sudden a nice 6x6 bull comes out after them! After spending a week beating the bushes they end up having an elk run right in front of them! From the story I heard, it sounded like there was quite a bit of lead in the air but the end result was a nice bull on the ground.
Here's a picture of his elk: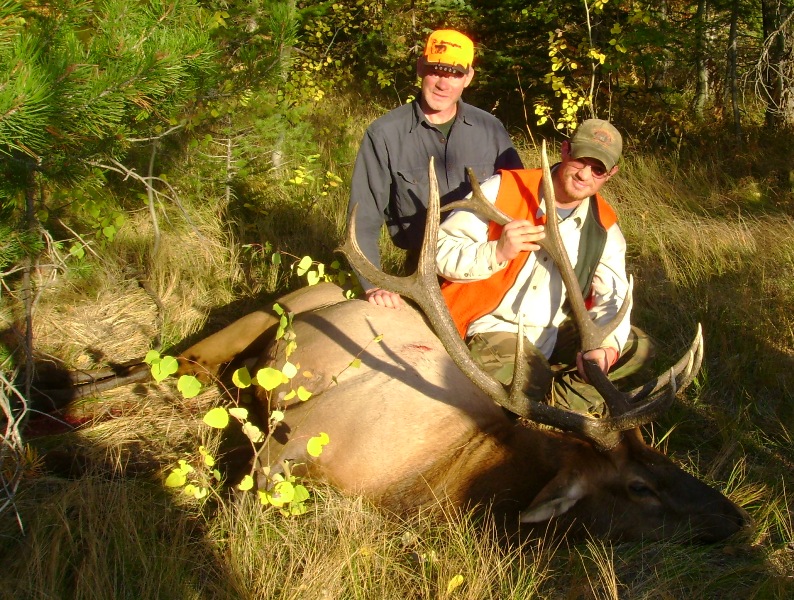 The scenery was beautiful and I got PLENTY of exercise. All the exercising paid off and I really didn't have any problems at all. It was pretty wet for a few days and I ended up wearing my backup boots more than my regular boots because they got so wet but I didn't get any blisters and my rain pants worked very well.
There were some really nice open meadows, but the elk didn't seem to be anywhere near them this time of year. They made for some beautiful views though.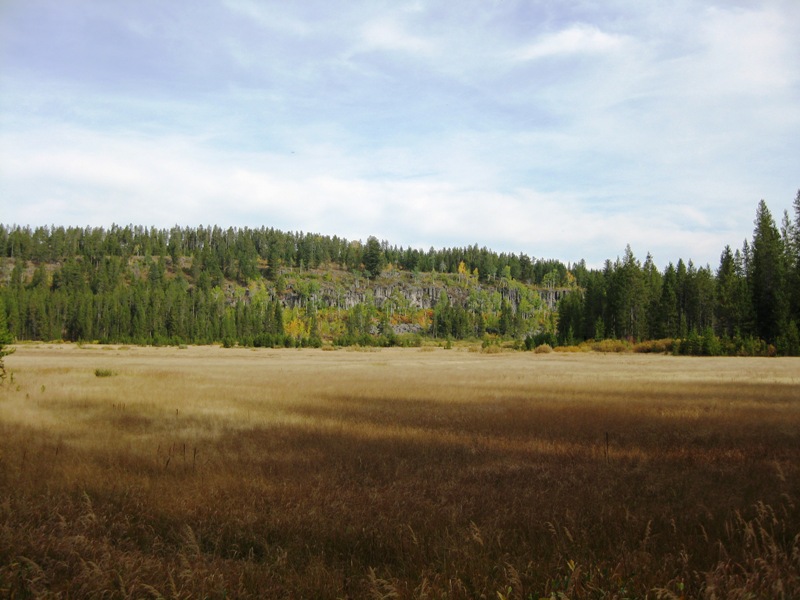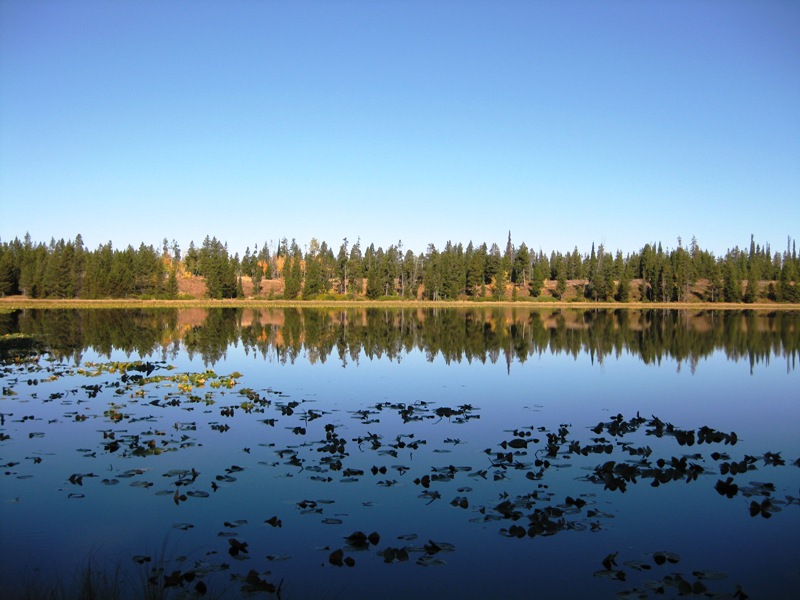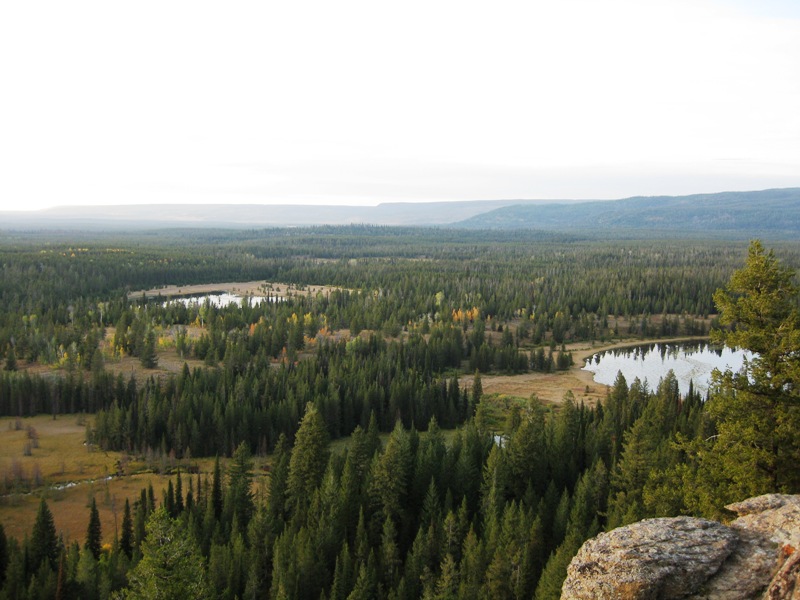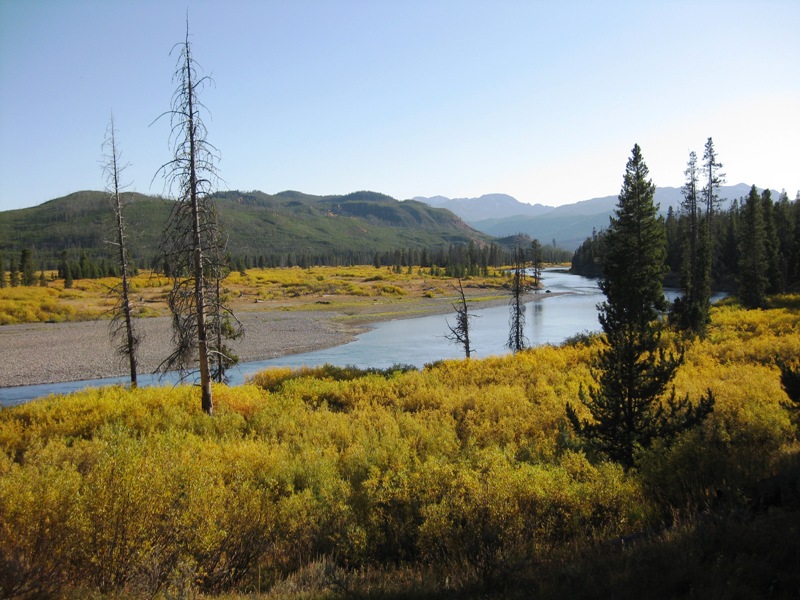 There were quite a few grouse. They said that the wolves have made such a dent in the coyote population that a lot of the small game animals are really making a comeback. Of course the wolves are doing their best to keep the elk population in check though. We did hear wolves howling a few days and there was no doubt that the elk have learned to shut up when the wolves are in the area.
Here's a picture of a grouse that I thought was neat: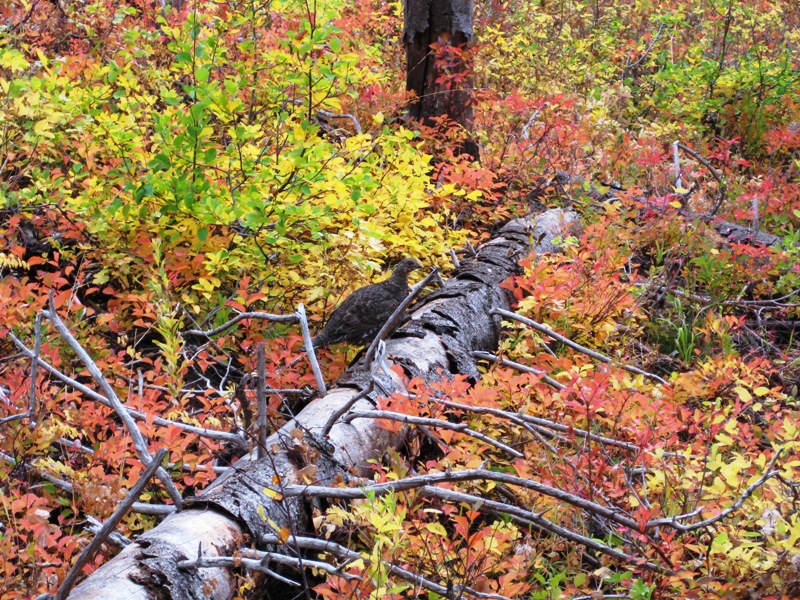 Thanks for reading my long winded story, but I wanted to get it all down on paper while it was still fresh in my mind. I kept a journal with a paragraph or so written down each day, but mostly just the facts of what the weather was like and what we saw and heard that day. I think that is about it for now.
If you are interested in seeing a few more pictures that I didn't include here you can see some more in my photo gallery here - http://padens.com/v-web/gallery/album07?page=1
Nathan
09-29-2008, 03:59 PM
RE: First Bull Elk (Very Long Story)
---
Thanks for the comments. I had a great time although I wish my friend's son could have shot his elk while I was still there.
I spent 3 hours butchering on Saturday and 5 more hours on Sunday, but the first Elk steaks are going to be consumed tonight.
I spent a little extra time cleaning up the meat as it got a little dirty packing it around, but mostly it just took a long time because it is a LOT of meat. I have to cut it and package it myself, the wife doesn't get into that part of it. The vacuum sealer helps quite a bit doing it myself, I'm not very good with freezer paper and tape. I also cut up some of the roast/stew type meat into jerky strips and cubed up the hamburger meat into small pieces and put it on wax paper on cookie sheets and put that in the freezer to run through my new meat grinder. That took some extra time too. We bought 25lbs of 80/20 regular hamburger at the store and are just going to mix the elk meatwith itafter I grind it on a 1 to 1 ratio and that will give us some 90% lean ground beef/elk. I've done that with deer before andit is hard to tellany difference from regular hamburger.
I didn't weigh it, but I'm sure I've gotover100lbs of steaks and roasts in the freezer plus around 60lbs of jerky and hamburger. (I did weigh the 25lbs of jerky to make sure I used the right amount of cure). The roasts that I call sirloin tips (no idea what they are really called - they are a big roast off the hindquarter) were about 10lbs each by themselves. The shoulder roasts were about that size also. The backstraps were probably 15lbs each. Iguess I might have closer to 150lbs of steaks and roasts!
I was very happy to end up with a bull on the ground. I gave myself a 50/50 chance going into it and was pretty happy to end up with a decent bull.
He has a 37 5/8" inside spread but his main beams were only 34" and he has one weak eye guard so he only scored 244 6/8" gross and 236" net but I'm still happy with him. This gives me a starting point to work up from. If I had shot that 360"+ monster I would have a harder time convincing myself that I would ever have a chance of getting something bigger.