First bear....... archery
06-10-2008, 10:30 AM
First bear....... archery
---
Well here ya go. My first archery bear DIY in MB. We set the baits early and they weren't hit for a long time. When they were hit we had several bears (4-6) hitting it. I only had a chance to sit 4x's and saw bear 2 of the 4 times. The other 2 hunts were foiled by humans, one with a guy that got his car stuck on the fireguard rd and another when 3 guys were just strolling through the woods. The last night of the season I had to work until 7pm and got to my bait at about 815. I sat until 930 when the first bear came in. Just a tiny one and it wouldn't even hit the bait it just milled about for a half hr until another came in. The bigger bear showed up and sniffed the spot where the little guy last sat and then did a B-line to the bait. Light was fading fast and as soon as he got there and turned his head to the bait I loosed my arrow. A good hit. He ran as I watched. As soon as he ran off the litle one was back on the bait. I was trapped or so I thought. I waited until 1030..... pitch black and kicked the platforn of my treestand. The little bear took off. I climbed down and waited for my buddy to show up.
So armed with a trusty flashlight we began to track. He went just over a hundred yds and was dead.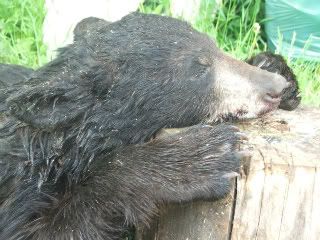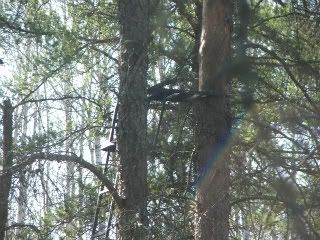 06-10-2008, 10:32 AM
RE: First bear....... archery
---
He was just over 5' and prob 200lbs, he green scored just under 18". He will hit the book for archery bear here in Mb if the skull doesn't shrink too much. I need 17" + to get in the book
06-11-2008, 07:46 AM
RE: First bear....... archery
---
Congratz on it. My dad got his first bear last year, no clue what it scored but it has one huge head. It was just about 6 feet and weighed a little more than 250, estimated. We sent the bear teeth in for age testing and it turned out to be 11 years old.
Thread
Thread Starter
Forum
Replies
Last Post
Posting Rules
You may not post new threads
You may not post replies
You may not post attachments
You may not edit your posts
---
HTML code is Off
---