Team 2 ☆☆~ Holler back ~ ☆☆
05-17-2017, 04:58 AM
Bird 2
---
Man I've been really struggling. 11 days without a gobble. ...I've been hunting a huge area. Takes over an hr of driving time from one end to another. And my 30 yr hunting partner is experiencing the same. And in a different area.
But finally birds are acting semi normal.
22.4
3/4 & 7/8
9 3/4 Bd
NWTF Score 58
I ticked his only hen off.
Warning to all hens. Don't talk to me I WILL GET THE LAST CLUCK.
EVERYTIME!
I have more tags and till May 31 st to hunt.
I also forgot my thermocell. In fact it's bad going to carry 2.
and I hate hot weather.
it plain sucks
JW
---
Last edited by JW; 05-30-2017 at

01:54 PM

.
05-18-2017, 03:38 AM
Bird 3 down
---
And last 2 weeks kicked my butt!
Saw this group last night in the rain.
We did battle early as again I was the aggressor.
2 yr old I think as I haven't crawled out of my blind yet.
Correction a 3 yr old!
I'll melt it's pouring.
Less than 15 yards.
BD 9 3/4"
Sp Rt 1.0" Lft 1.1875
wt 20.8 oz
NWTF 61.875
---
Last edited by JW; 05-30-2017 at

02:09 PM

.
05-21-2017, 06:00 PM
---
Another bird down A 20 dollar investment for my 10 yr old grandson. And his 5 yr old brother called it in and didn't know it.
The state of Michigan has a 21 dollar tag to mentor 9.10 or 11 yr old new turkey hunters. That was his Non Resident cost.
A very good deal.
19 lbs 14 Oz
9 7/8s Bd spurs 7/8s
A very healthy 2 yr old.
Jw
Was quite a hunt - one I will never forget
These two boys actually called the bird in as each was trying to outdo the other on my box calls. If they got too agressive in calling or far too squeaky I stopped them and instructed what I wanted to hear.
I sat back and was really pleased with the tones and turkey talk these two youngsters could do.
Only to look out the back of the blind to see a very nice tom standing there 20 yards away.
The rest was history!
JW
---
Last edited by JW; 05-30-2017 at

02:39 PM

.
05-27-2017, 03:32 PM
---
Uncle Nicky on the board...late season NJ bird. Weight-17#, 10.25" beard, 3/4" spurs, certified at the check station, 52.5 NWTF score. I worked hard for this rascal, shot him at 7:00 PM, looks like he's been having a good time with the ladies. I'm done for the spring season, looking foward to fall turkey hunting with my dog.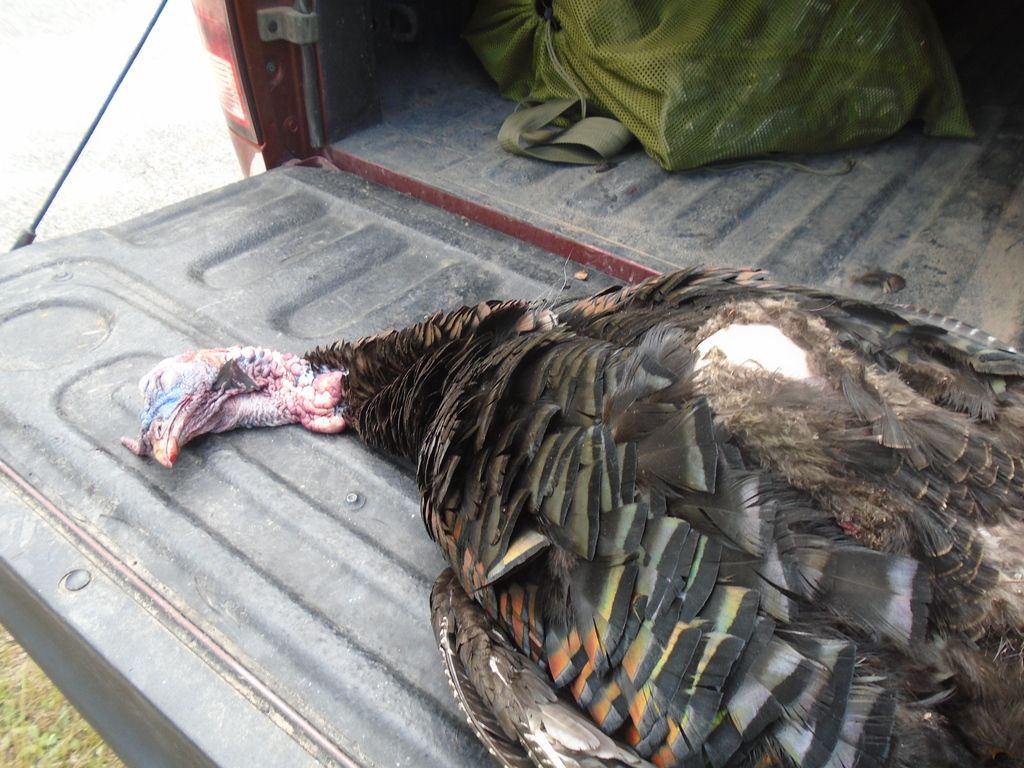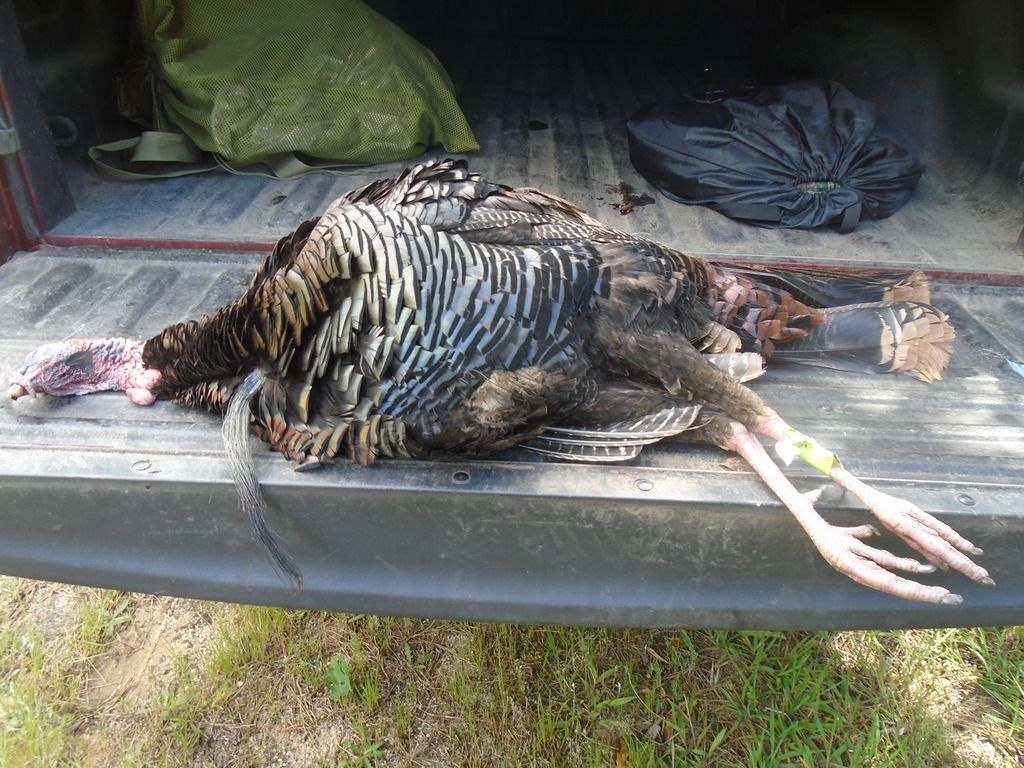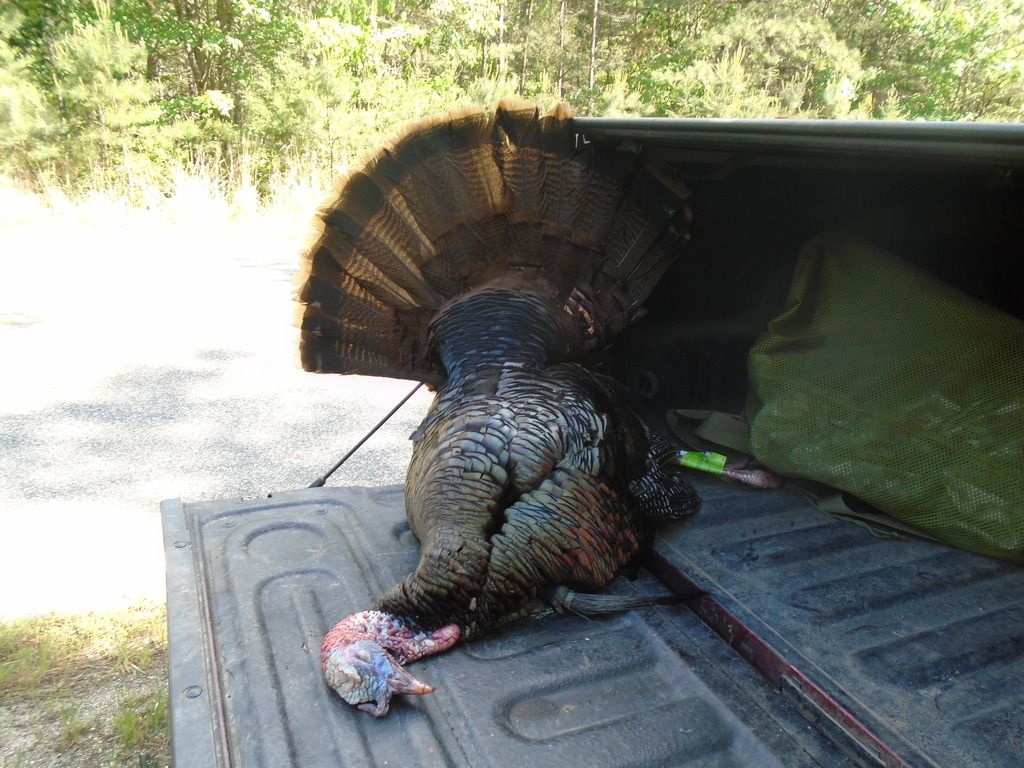 ---
Last edited by Uncle Nicky; 05-27-2017 at

03:35 PM

.
06-05-2017, 06:30 PM
---
Well boys it was fun but I think we are a few birds short. Was a far tougher season for me this yr than last. I went 15 days without killing a tom. 3 hunters -seven tags. Wow!
And then we hit 5th season in Wisconsin and I was part of 8 kills in 7 days.
First 2 days back home and in bed by 7 AM. Was just that easy.
So it was fun. But all things come to an end.
Glad to be on a team with you guys....maybe next yr.

JW
Posting Rules
You may not post new threads
You may not post replies
You may not post attachments
You may not edit your posts
---
HTML code is Off
---