Team 4- Locked & Knocked
09-08-2015, 10:51 AM
09-08-2015, 11:46 AM
---
As far as team captain or team name I really could not care less....LOL. I am good with whatever everyone else wants to do. All I want is for this next 3 1/2 weeks to go by so I can sling some arrows.

-john
09-08-2015, 11:56 AM
---
Welcome ArtyJoe and Damon. 5 down and 5 more to go!!!!!

Team 4

5 down and 5 to go.

ArtyJoe
MissionCRAZE1
DoubleLung55
Damon
Car
Zubba
Iayotehunter
ManofTheFall
TX_Hoghunter
DTC
---
Last edited by ManofTheFall; 09-09-2015 at

08:20 PM

.
09-08-2015, 05:22 PM
---
So far we have Iowa, Wisconsin, Texas, Ohio, and Missouri represented. All of these states produce some pretty nice bucks every year. When do all your seasons start? Here in Ohio it's September 26th. I'm not completely ready yet but I am getting there. This Saturday I will be spending most of the day in the woods cleaning up stand sites, hanging one more stand and putting out some corn and apples in 2 different spots and putting up a camera. Then besides shooting a lot and practicing I will probably check the camera 2 times before the season starts. Hopefully I will get some good pics I can post for you guys.
---
Last edited by ManofTheFall; 09-09-2015 at

12:51 PM

.
09-08-2015, 06:10 PM
---
We start October 1st in Iowa. I have one more stand to hang and I'm ready to go. I've contemplated placing this stand for four years and have finally put enough time and effort into figuring how to access it and hunt it to come up with a plan. I have some giants running around this year. I have to bucks that will go 160 on camera already, however I have two bucks on my mind from last year. One was a 180" 6x5 who was starting to become a 6x6 and he should have blown up this year and the other has a perfect 10 that would have went mid to upper 160s. They both made it through the seasons last year, just waiting for them to show up on cameras again.

I am happy with MOF as team captain. Since I created the first post in the thread I'll keep the scores of the individuals in our team up to date the best I can.
09-08-2015, 09:09 PM
---
Sounds great Curtis. If you nail one of those big boys that will definitely put us in the running. I haven't seen any good ones on camera yet but I usually don't until about the second week of October. I have seen a couple bruisers just watching some fields and the one farm I hunt exclusively the owner has told me about a monster that has been frequenting his back yard. He said he comes out by the one poplar tree that I have one of my stands in almost every evening. It would be awesome if he sticks to that pattern on opening day. Looking forward to a great season.
09-08-2015, 09:12 PM
---
Any body else have any more names to add to the list? I like Team Locked and Knocked the most so far.
09-09-2015, 07:07 AM
---
I hunt in Missouri. Our season opens September 15. Wow! Less than a week. Here is hoping for some cooler weather.
I have been chasing a buck that I call Willow for 3 years now. The score is Willow 3, ArtyJoe 0. Hoping to change that this year.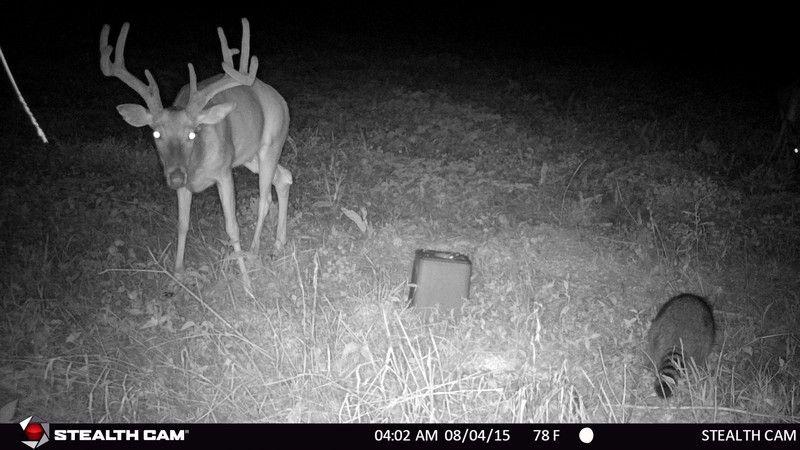 " />
09-09-2015, 10:07 AM
---
My season starts on Oct, 3rd. I did not get cameras out until a couple of weeks ago. I might go down in a couple of weeks to see what is running around. I have been on this lease for now 6 years. I should have amble targets in the 120 to 130 range. Outside shot at a 140 to 150. From the house it is a 12 hour round trip so I might not check cameras until the season starts......LOL.

-john
09-09-2015, 12:54 PM
Team 4
---
Zubba checking in. I'll be hunting Iowa again this year. And actually leaving tomorrow for Colorado to chase elk. I'm good wother any name and captain.