Team 2 Sunrise Shooters
03-14-2012, 04:05 AM
Spike
Join Date: Dec 2006
Location: Massachusetts
Posts: 25
---
Oneshot checking in. I'm so glad I made it this year, last year was a rough one. This year will be a great one. I just came in form my back porch after hearing the hens going crazy and then hearing more toms talk back to them than I could count. With all that siad. HI teem.
03-14-2012, 06:54 AM
---
Welcome to the team Gilly! Good to have ya. Looks like we now have our 10th dead bird!! All thats left to do is take care of a few minor details and we'll have this thing wrapped up!
Gilly ya got em right out your back door! Thats awsome!! I see you got a monster a couple yrs ago, can't wait to see what ya bring to the table this season!

Man, sun shinin this morn and gonna hit 60! If it wasn't for this sick kid on the couch i'd be out right now checkin the scene. If the weather stays like this i'll be lookin around this weekend. Can't wait to hear that first gobble of the year!!!
03-14-2012, 08:47 AM
---
Birds are gobbling pretty good in MO now. Starting to get some trail cam pics of some strutters. I've got 1 double beard on camera that I need to try and keep DTC Jr away from. That bird would help our team score for sure. Got one on camera this week that looks heavy and has good spurs. I will try to post some pics later for you guys to drool over.

Btw, DTC Jr is mending ok from the miss.lol He still won't watch the video of it.
03-14-2012, 09:27 AM
---
This pics are from 2 different farms we have. So far have 2 toms on our alfalfa, 5 toms with the double beard, and 2 toms on our other farm. We have a few options this year but I am not seeing many jakes.
03-14-2012, 08:09 PM
Spike
Join Date: Dec 2006
Location: Massachusetts
Posts: 25
---
Thanks guys. I am hunting in Mass. While I was typing my post this morning I realized I could hear a hen that sounded like she was on my front porch. I went out to see and she was in the tallest tree in my front yard. I watched her call for about five minutes then she flew over head clicking to the toms. If that doesn't get your blood moving nothing will. The season won't open soon enough here I can tell you that.
03-15-2012, 06:00 AM
---
Man Gilly, are ya even gonna have to put yer cup of coffee down and get yer shoes on to get one this yr??
When does season start in Mass?
Lookin like we'll be in the 60s right up thru most of next week here!
Not only is turk season firin me up, looks like i'll be able to get the boat in the water soon too!
My kid is just about back to 100% from the flu, Moms doing well in the hospital and should be home by the weekend, and spring is in the air!!! I love it!
Really anxious to see whats goin on at my one spot, had one that eluded me 2 yrs ago, then nothing was done with the feild for a while and the spot wasnt any good. Last yr they planted corn their and hopin its really good this yr. No pressure at all there and i also deer hunt it and i'm almost positive that this guy is still around. Should be about a 4 yr old bird this yr, man would i love to get on this one!!! Here he is 2 yrs ago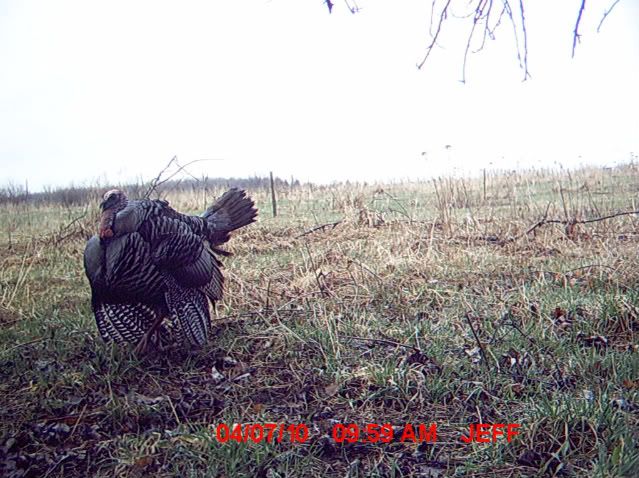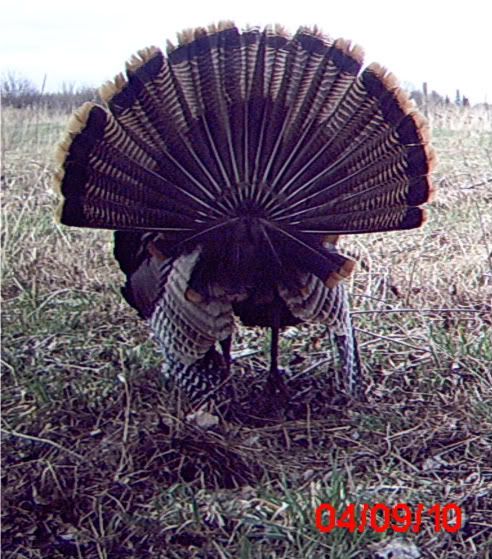 I got him to about 60 yrds that yr and couldn't quite make it happen, Had my Dad with me another time, i misjudged the distance and had him shoot and he missed. There has never been more than just a few birds at this spot and during the last 2 bowseasons i've heard him gobble so i'm sure its him. Last spring the feild was a mess, waste high grass and never seen a bird there. This yr its all corn stubble and i'm hopin he'll come around again. I know he don't look all that impressive in the pics, but with 2 more yrs on him he should be a dandy!!! I named him Hollywood cause i got tons of pics of him, like he was always posin for the camera. I'm lookin for one last pose from Hollywood, with me kneelin right behind him!!!!
---
Last edited by j76; 03-15-2012 at

06:51 AM

.