Team #10 - Chasin' Tail Check-in
10-31-2012, 07:56 AM
---
I am not at the point where I can pass on a 170 inch deer even if I see a bigger one behind him. I live in IL a 2 buck state. I will take the 170 and hope I can come back and take the bigger one later.
Here are some better pics of the dead deer I found in Wayne County.
10-31-2012, 08:12 AM
Banned
Join Date: Mar 2011
Location: ohio
Posts: 637
---
congrats henson on the does. youngfart i know what you are talking about. ipassed an old buck a couple years ago would have grossed around 155. i am all about killing old deer but man i really wanted the 175 inch 9 point i had almost killed on both days prior to that so i knew he was in the area. yep never killed the 9 nor got a shot at that old buck again either. seen them both many times and had lots of cam pics but no shots. both deer disappeared after season and i have no idea where they went
10-31-2012, 08:47 AM
---
Little Cheif
What would you do if the cicumstance was you in my place and a 5x6 170 inch was @ 12 yards and your at full draw and you look to your left and there stands a buck that makes the 170 look small with 2 huge droptines ? If it happened again, I would stop again. If you seen that buck which I have on 2 more occasions and once more in the same circumstance, but the 170 was at a jog as was the droptine buck. I'm praying that the 3 of the 4 quarters that I hunt on are bow hunting only and I'm the only hunter,the other quarter has 5 hunters that all shotgun hunt. They shot a buck I named Star 2 years ago that was a non typical that would score 170 easy but was nasty to look at. I was hoping he made it one more year.
Rocky
Dang Rocky. That would be almost impossible for me to answer with any cetaintly until I found myself in that situation. I like to think that I'd do the same thing you did, but I just don't know for sure.
I do know one thing, and that is that I'm looking forward to Ohio starting Saturday. It'll be the first time I've ever hunted in a location where 140" class deer aren't that uncommon and a 160" to 180" is actually a possibility. Maybe not for me, but it's a possiblity for someone. Hey, anything could happen during the rut, right?
I hope that drop tine buck is still around and that it all works out for you. Good luck!
10-31-2012, 09:51 AM
---
It definitely has become an easier thing to do, especially when I think of what they will become in a year. And with QDM being pretty prevalent among landowners in the county, it helps knowing that i'm not the only one passing on these bucks. I was drawn back on a 150class buck last year and waited for him to take that infamous last step that never happened. A lady on a neighboring property took that buck on the opening of bow season this year and I was in the bar when she came to register it. 174". Pretty awesome to see what a year can do. I am headed back up this weekend and I am hoping that my patience and will power on passing that buck pay off!
11-04-2012, 04:35 PM
---
Ok guys I am back from the lease. It was a pretty good weekend. The buck looks a little better than he scores I think. I put some quick numbers on him but the neasuring tape was a little thick and hard to work with.. I will get final numbers tomorrow but he will come in somewhere in the mid 130's. I will take a doe next trip. My season here does not end until the 3rd week of January.
-john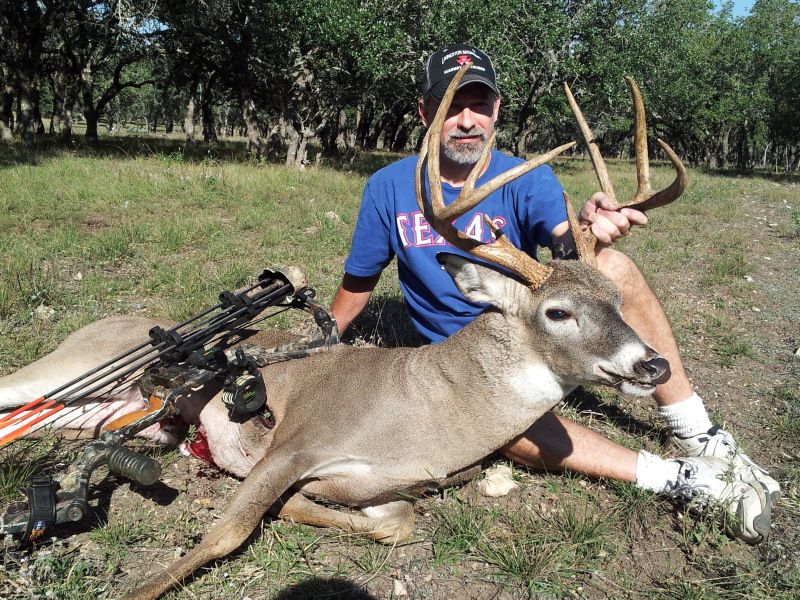 11-04-2012, 08:46 PM
---
Congrats Tex. Must be nice to be wearig shorts. Come on up here LMAO. Bucks are still jostling wich I find hard to belive, sat al day yesterday and saw a spike and one doe, Brutal for a 11 hour sit. There not chasing yet,could be a late rut. Happens every once in a while.
Rocky
11-06-2012, 05:35 AM
---
Thanks guys. I entered him this morning. He ended up 132 4/8. Weirdest thing was his main beams. One was over 21 4/8 and the other was 18 4/8. Never had that much of a difference in main beam length like that before.

Good luck to everyone else and I will knock us down a doe at some point.

-john