View Poll Results: Should points be awarded for does?
No, leave the contest as is.
2
16.67%
Yes, 50 points per doe.
6
50.00%
Yes, 20 points per doe.
4
33.33%
Others (post in thread)
0
0%
Voters: 12. You may not vote on this poll
Official Team 5 Bloodtrail Brothers Thread
11-07-2012, 12:53 PM
---
Awesome, congrats Rack! let's hear the story.

Glad to hear they're moving, what part of WI are you hunting? I'll be in a tree this weekend, just gotta hope a doe leads one by....

Good luck team!!
11-07-2012, 06:22 PM
Nontypical Buck
Join Date: Feb 2003
Location: Isle, MN
Posts: 1,469
---
Nice job arty.

I'm hunting around siren, frederic, and webster. My story is pretty boring. Hunting a narrow patch of woods with tons of rubs and scrapes. Same spot i missed the 10 point a couple weeks ago. About ten to 5 last night i saw the buck with his head down. Didnt think he was going to give me a shot but he turned directly toward me. Gave me about a three yard shot. Spined him unfortunately. Pretty boring story but a fun hunt. Drag was a nightmare. Half mile completely up hill.
11-07-2012, 06:31 PM
---
Not a hit lister but I am running out of time as the Orange Army invades the Missouri woods this Saturday.
Got into the stand at 3pm this evening. My stand is up on a ridge with a trail that leads to a 3.5 acre food plot planted with Pennington Rackmaster. The plot is 30 yards behind me and the North wind is in my favor.
On the way in to my stand I sprinkled a few drops of Golden Estrus urine in an open shooting lane. Good thing I did as this guy came trotting up the ridge right on my trail at 4:15. He was moving quickly, heading right towards the food plot. Once he hit the urine he stopped. He gave me a perfect quartering away shot.
My arrow hit a little more forward than I liked but I knew it was a good hit. Both of his front legs were not working as he headed straight back down the ridge with his chin on the ground. He ran, then rolled, a couple flips and he was done. All within my sight. He went maybe 60 yards.
Normally I would not shoot a small buck but I am going for my first Missouri 6 pack slam ( a buck and doe in the first half of bow season, a buck and a doe in the rifle season and a buck and a doe in the second half of bow season) so I had to get a buck down before this Saturday.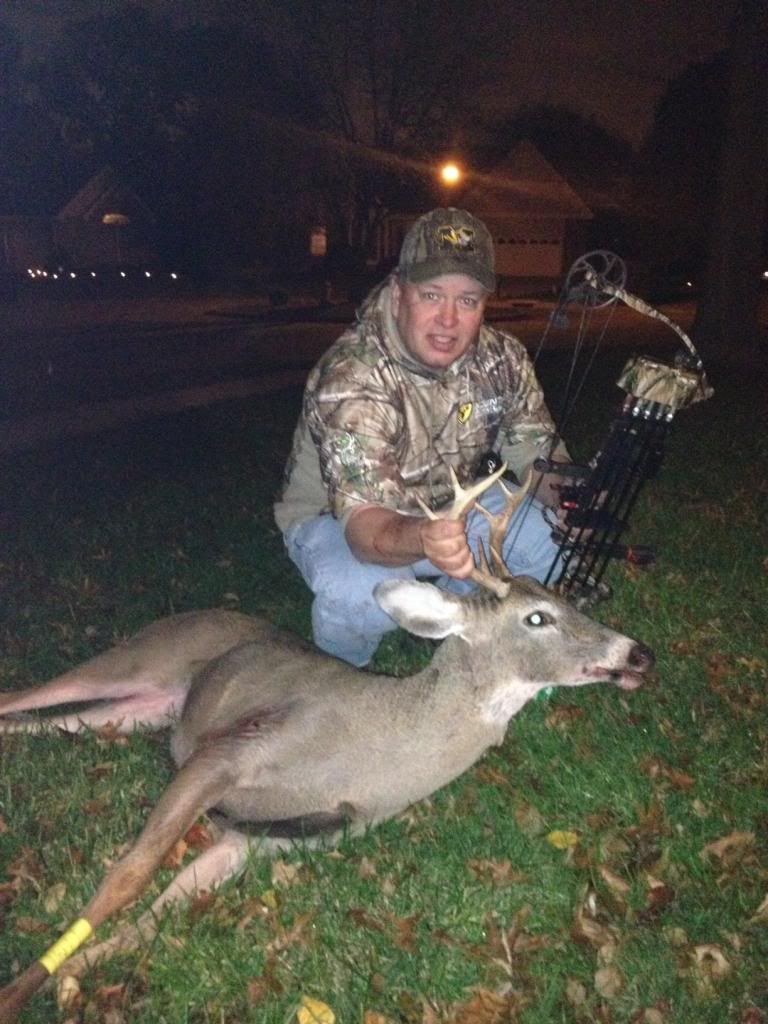 11-08-2012, 05:53 PM
---
Good job on the deer so far. I have only had a few chances to get out so far. The last week or so would have been great but between work and family, time in the stand has been limited. This weekend starts our rifle season so hopefully I can get some more time scouting/hunting and start thinking about where to place stands for the second rut to get back out with the bow.

Good luck all.
11-09-2012, 07:30 PM
Nontypical Buck
Join Date: Feb 2003
Location: Isle, MN
Posts: 1,469
---
Here's a picture of my buck. I'll score him later this week and add him to the scoring thread. i'm beat. been hunting solid since Saturday. Bringing my daughter up for one more try tomorrow afternoon and Sunday morning.
I had a run in with a different 8 point on Thursday morning. he was 10 yards and broadside. only had a doe tag left.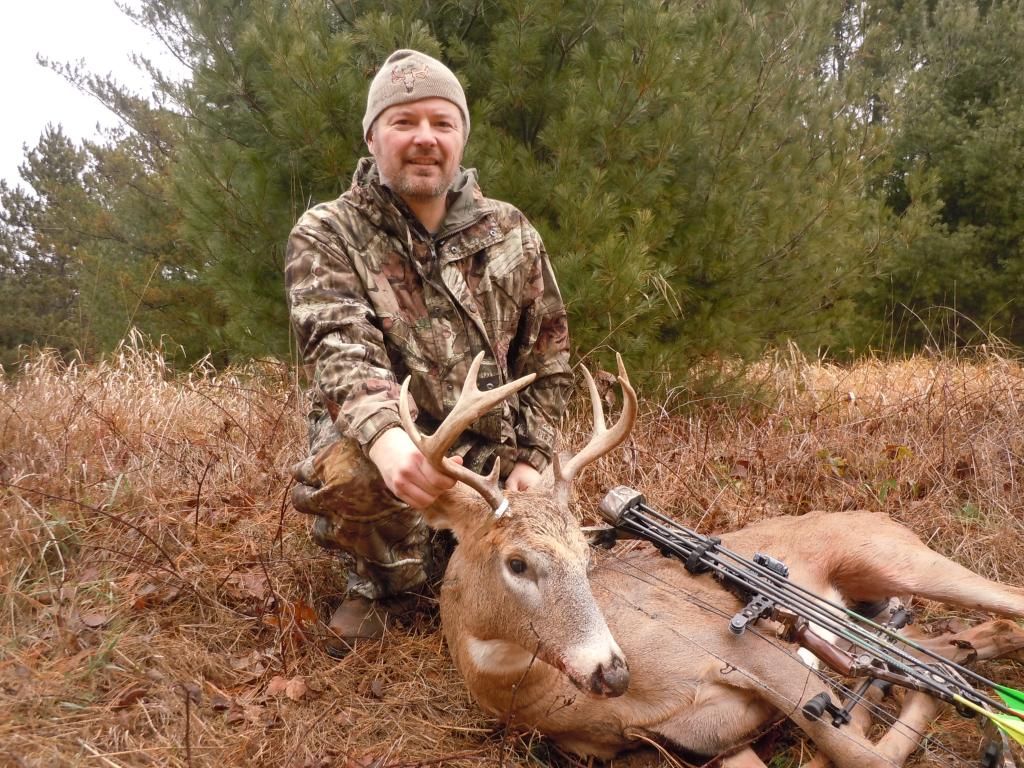 11-14-2012, 10:33 AM
---
Nice buck Rack, and congrats on the doe Strut.
Saw this 8pt twice last weekend (smaller buck in photos), passed on him the first morning and he tempted me the second time but never would have had a shot.
This weekend is rifle opener, which runs through 11/25. Archery opens back up after that and I'm hoping to get in quite a few days during late-season because I haven't been out as much as I wanted during the 1st season. At the least I'll hope to fill the freezer in December/early January.
Good luck everyone who's out there hunting!