GR8 VIII's Official Team Thread
11-08-2011, 04:57 PM
---
Looks like the bucks are moving pretty good. I saw 6 or 8 different bucks over the weekend. Only one shooter on friday morning... a nice ten pointer but he just didnt give me a clean shot. I almost got ran over by a small 8 point. When walking to my stand sunday night I jumped a group of 4 small bucks. They all took off in different directions and a little 8 pointer ran 5 feet in front of me while I was kneeling on the ground lol. Pretty cool experience... as for this week I am stuck in ohio until saturday at least. Cold front is moving in tomorrow night should set up for a great weekend. Got another good one on camera.
11-09-2011, 07:52 AM
---
---
Last edited by Brent B; 11-09-2011 at

07:55 AM

.
11-09-2011, 08:43 PM
---
My full day hunt was a bust. Had a couple small guys come close but even though I wanted to shoot, I just couldn't do it. Wind was terrible though so thats why movement was slim to none I guess? Rifle starts this weekend so if I get 1 opening day then I'll get right back out there with the bow. Still have til Dec 31st.
11-10-2011, 05:45 PM
---
Nice buck pics Brent!

Mottz - restraint carries its rewards.
-----

I had a doe pass by, looking at her back trail on Sat morning, but only a spike showed up - boy my heart was pounding, lol. Then my partner, hunting about 400 yds away, called me at 0730 and said he hit a buck. I came down to join up and we looked at the blood trail - no need for Ruby, a firehose blood trail. If he sends me a pic, I will post it - a nice 17" 8 ptr, likely a 3 1/2.

-fsh
11-12-2011, 08:26 PM
---
Took my kids out for the opener of youth gun season. Gabe, my oldest is 10 and shot an 8 pt last year. This year he took a doe. Emma, my 8 yr old, shot and missed a doe today.
---
Last edited by Arjuna; 11-12-2011 at

08:29 PM

.
11-13-2011, 02:56 PM
---
Great job to Gabe!!

I know this is for our bow team but Nebraskas rifle seaon opened yesterday and I thought I'd tell everyone to be careful out there. I thought I was going to get shot by some roadpoachers. There were alot of vehicles driving the roads so I decided to move my spot. As I'm walking the treeline I see a doe running right at me and there just happened to be a vehicle parked on the road right behind it. I just hit the dirt mere milli-seconds before I heard 2 shots and bullets flying above. Scared the *&*#@$ out of me. After the deer was out of sight I stood up and they must of seen my bright orange and took off. Couldn't get any plates or else I would've called it in. I did find the doe they shot and I used my bonus doe tag and claimed the deer. So it didn't just get left there.
11-13-2011, 06:55 PM
---
That was a close one Mottz!!!! I hate to see the road hunters and turn them in when I can. It sucks you couldn't get the plates! I wish they would up the penalty for the poachers. It seems to me like loss of the hunting license is just no good since they are poaching any way. Maybe up the fines or start including jail time. Just my 2 cents.

Our rifle season starts this Saturday. I plan on taking the wife out for 5 days or so but I will have the bow with me as well. Not lookin forward to all the other hunters out there though!
11-14-2011, 04:35 PM
---
Congrats to Gabe, Arj!
Mottz, ditto, that just sucks. I've heard several after-sunset shots around here - the "unofficial" gun season has opened for the dirt bags...
This buck showed up in one of my hunting spots yesterday - I was elsewhere, lol...
-fsh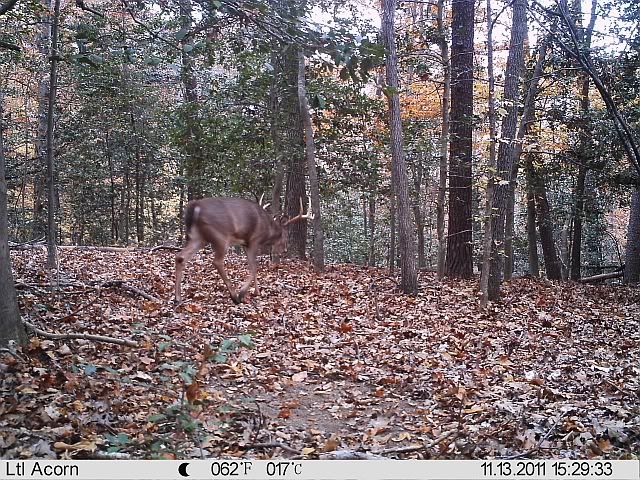 11-15-2011, 03:49 PM
---
Well I sat up in a field this afternoon with a buck decoy, near where that photo of the 10ptr was taken in my last post. He came out just after sunset, but ignored the decoy and my grunts. He followed the trail some does took earlier - oh well...
Here is the photo I took of my partner and his buck from last weekend:
-fsh