Team 13 - 12 Gauge Turkey Chokers
04-17-2011, 12:53 PM
---
Okay guys here is the storys of my three turkeys. Turkey #1 I roosted some turkeys Tuesday night got set up about hundredfifty yards from them early next morning started doing some tree calling got four different gobblers fired up. After fly down I could tell one was getting closer as he gobbled. Thats when I call just enough to keep him interested. He was fired up double and tripple goblling as he came closer suddenly he started alarm putting and flying right towards me. He flew up in the only tree between me and him. I am going what in the world did he do that for? Then I saw a coyote coming towards the decoys. He ran about five yards and got my scent from the decoys, and was gone. If that turkey would not have been right there I would have rolled that coyote up. What seemed like 20 minutes I sat there holding up my shotgun. I could tell that the turkey was nervous. He finally flew down about 40yds away and was not wanting to hang around he started running off so I folded him up at 50yds. Turkey #1 was down by seven a.m. He was a two year old Rio 17lbs 8.75 inch beard 7/8 inch spurs. I will try to get some pictures on later. I will have to tell other stories later as well my kids are dying to go play outside.
04-18-2011, 07:15 AM
---
Congrats on you guys putting the smack down on the birds for the team!
I actually saw 2 turkeys while I was shed hunting this weekend.
Ended up finding a couple decent sheds. When it was all said and done I spent 16 hours on my feet looking and ended up with some really nice blisters on my feet to show for it. A LOT of work for a couple sheds!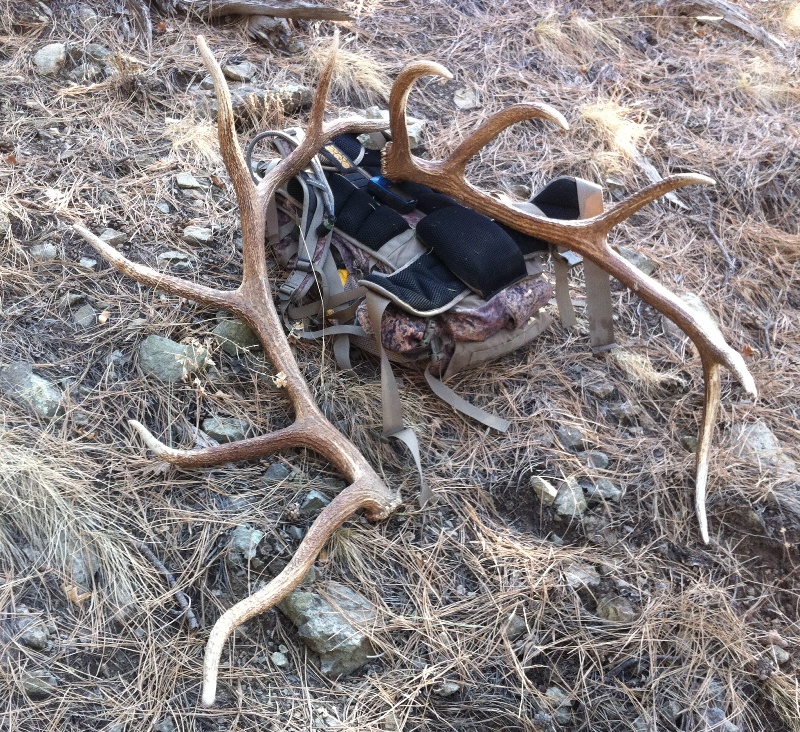 Hopefully I'll be able to get out and put a bird on the ground, it sounds like a vacation to sit and call on relatively flat ground turkey hunting!
04-18-2011, 02:48 PM
---
Turkey #2 was a really fast hunt. I saw a big gobbler in a field by himself around 10:30 opening morning, and I thought that I could get in front of him. When I got close I could hear him gobbling in the tree line across the field. I gave him a few yelps and some cuts and he answerd me every time. I was standing in a cedar tree and I saw him enter the field coming straight towards me. I eased back in the woods and set up my decoy and got ready. Within minutes he was on top of me. He came on the opposite side that I wanted him to, so when he stepped behind some cover I switched hands and was able to get on him. He gobbled and strutted for a little bit and then it was lights out for him. The whole hunt probably lasted five minutes. He was a doubled bearded Rio 1st beard was 8 3/4 2nd beard was 2 1/2 he had 1in spurs and weighed 19lbs.
04-18-2011, 06:21 PM
---
Turkey #3 wasnt much of a hunt. Friday the highest recorded wind gust was 71mph. I was driving around trying to locate some turkeys when I found a small flock in a low lying area trying to get out of the wind. I parked my truck and used the terrain to slip in on them. I got into position and a few minutes later they fed my way. I shot him at 30yds, and I never even made a call. This Rio wayed 20.1lbs had a 9'' beard but only had 1/2 in spurs (the spurs just didnt match up with the rest of the turkey for some reason)
04-18-2011, 07:15 PM
---
Hey guys I just got done trying to upload my pics and it said they were to large. I will have to get some help getting them uploaded. On the other hand congrats to everyone else who got turkeys.
04-19-2011, 11:37 AM