Team 11 Natural Bone Killers!
08-20-2010, 08:22 AM
---
Our bowseason will start in MD on 15 Sept and run through 31 Jan with intervening gun and ML seasons (fortunately, MD keeps the guns out of the main rut). I still go out with the bow while the men of iron are out and about, so I do not lose any hunting time. I've gotten picky about shooting bucks these last years, but will take several does to keep the freezer stocked - they are better eating, and horn soup is awfully thin anyway, lol.

-fsh
08-20-2010, 08:59 AM
---
Mine doesn't start 'til 25 September. I could hunt with a friend of mine who lives in St. Louis, but his land near Iberia has some "unique" individuals living around it. Poaching is bad there. The last two years I visited we didn't see a single deer. I'll just wait until Tennessee opens.
08-21-2010, 03:53 PM
---
Hey everyone. Been a long time posting since I've joined. Let's take it home this year! Personal info: bow hunting 23 years, got a great wife, kids, and hunting spots; and not really a "mammasboy". Got a few good ones scoped out. Have a nice 8 visiting regularly. (Posted a pic of it in the trail camera section). Good luck everyone!
08-22-2010, 02:49 AM
---
here in IL we start Oct 1 and go till Jan 16.

i am going out of town labor day weekend
08-24-2010, 02:42 AM
---
I went ahead and pm'd the 3 no-shows and asked them to log into the team thread.
I took my young wirehair doxie (Ruby) up to PA last week and got her officially certified for blood trailing ("UBT-I"). Certification is an independent assessment that is required in many states, but is not required in MD. Ruby and I are still on a learning curve working together - we sucessfully trailed 7 deer her first season last year, but many of those were easy tracks/found-deer for training purposes. Ruby did find two deer that could have easily been lost (pic is my wife & Ruby with a friend's buck that had a scant blood trail). Most of you all are too far away to where we can help track this season - keep me in mind Ed.
-fsh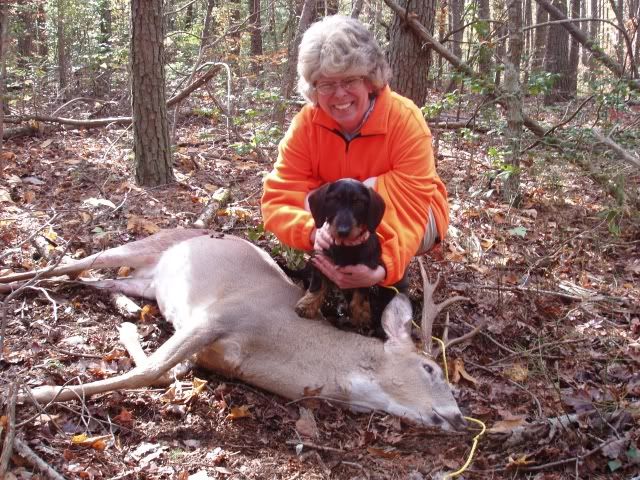 ---
Last edited by fshafly2; 08-24-2010 at

02:51 AM

.
08-24-2010, 04:05 AM
08-24-2010, 04:12 AM
---
Thanks Andy! Hopefullly my track jobs are easy this season!

Anybody thinking of a team name??
08-24-2010, 05:26 AM
08-24-2010, 05:36 AM
---
Finally got out to shoot the bow this weekend, it's been since late spring that I shot. I'm happy to report that I was shooting accurately out to 45 yds and my groups at 25 are less than 2". I've been using this bow since 05 and its like putting on a well worn pair of shoes. Still need to practice, but not like I used to... I will be refletching my arrows and getting my quiver ready over the next few weeks. We just moved in May and I need to get my workbench set up for arrow building...

I'll upload some trail cam photos here soon...
08-24-2010, 07:05 AM
---
I've been shooting off and on for about a month now when the temps haven't been above 90. After the first day or two getting the muscles back in shape everything is looking good.

But it looks like I'm buying another bow I just can't pass up. I've had my eye on an '09 Diamond Marquis which will probably be on it's way home soon!