Official Team Booner Busters Thread (18)
10-24-2009, 07:53 PM
---
Nice deer..
So I wonder how our captain is doing in ILL???????

Things got a little slow for me, tons of rain and warm temps again..
10-25-2009, 07:21 AM
---
That deer is a hoss PYbuckhunter, hope one of us can get one on the ground simlar to him!!
10-25-2009, 04:18 PM
---
I got the head back from the butcher, now I need to get a tape on it. I'll let you all know what it ends up being.
10-25-2009, 05:50 PM
---
75 6/8 is what I got...
Hopefully thats the lowest score we get as a team
11-01-2009, 11:37 AM
---
well no buck yet, been seeing alot, just nothing I want to shoot. Getting warmer also and seems to be slowing the rut alittle..
11-02-2009, 05:20 PM
---
I've been out a few more times since I last visited the thread...I saw more bucks on saturday then I have all season.

I missed a golden opportunity on another buck about the same size as the one I shot...I saw a doe and him come out onto a set of railroad tracks and I thought I saw them both go across to the other side and into the woods, I decided to try and get on the other side in front of them...as soon as I got down to the railroad tracks I looked up and they were 30 yards away and coming towards me but they saw me and took off. If I just stayed put I would have been all set.

I think the rut is very close up here...all 3 of the bucks we saw were right tight with does and they were acting pretty foolish

Things are looking good. I might take another doe or two...but I think I am saving my other buck tag for some tracking up north in the snow this year.

good luck to the rest of you guys!
11-03-2009, 07:47 AM
Nontypical Buck
Join Date: Aug 2007
Location: SOUTH Carolina--I've moved!
Posts: 2,760
---
I'll second the warm statement. It was a tough week in Ill. Warm temps and lots of rain made it rough for hunting. I managed to see a bunch of good bucks but none that would cooperate and come in close enough for a shot. I had a great time though.
I think I'll be back at it here at home tomorrow morning. Good luck guys!
11-03-2009, 11:30 AM
---
I had a hot doe with 4 bucks on her trail this morning, one real aggressive 2 yr. old was trying with everything he had to keep those other 3 bucks away. Nothing i wanted to put my tag on.
Been seeing good rutting activity here.
11-04-2009, 06:39 PM
---
I helped get my old man get on the board today...ran this guy right by him at 8 yards and the rest is history.
Bucks are starting to show up everywhere now...the rut is on! This guy had rubs and scrapes everywhere, and we've seen 3 bucks right on does in the last 4-5 days.
7 points 155 pounds dressed...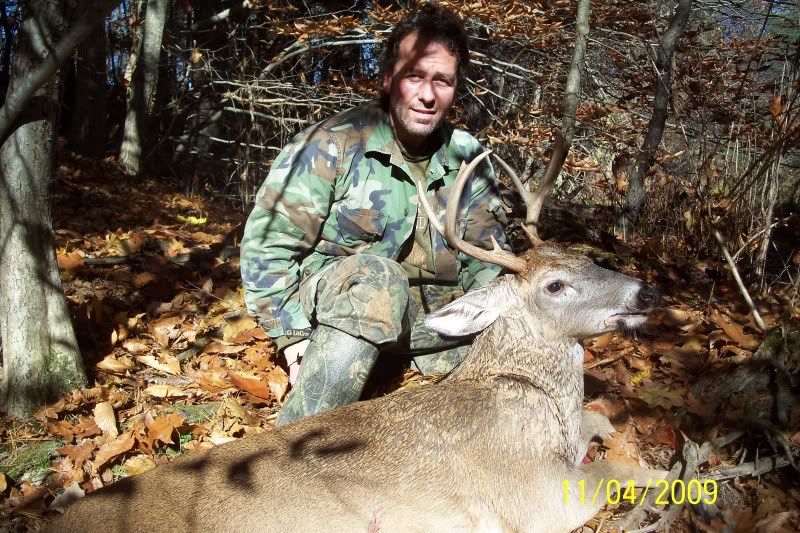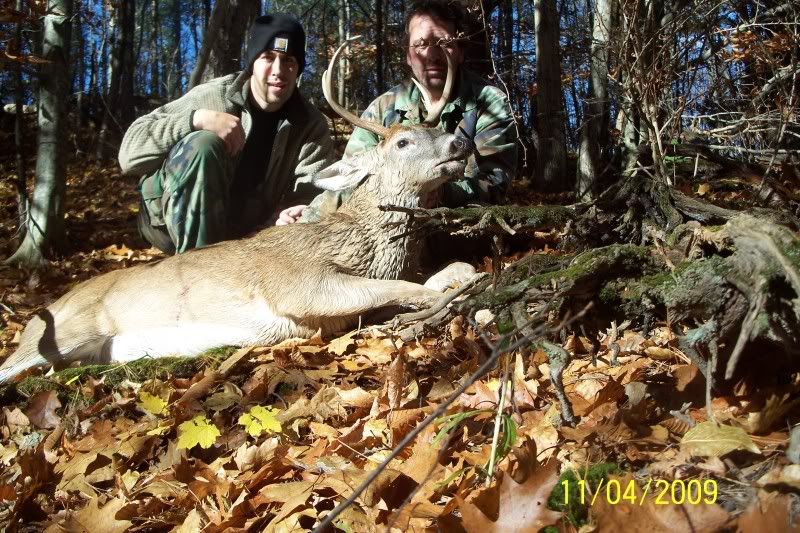 11-06-2009, 06:45 PM
---
Way to go! Nice buck. Its going to be in the mid 60s for the gun opener here tomorrow. I'm headed out with my bow in the hopes that the orange army pushes some my way. Its kind of a crap shoot the next 9 days during the shotgun season. The deer get pushed around more, so I hopefully see even more, but they become more wary after this. In any case, I'm setting up in my gun season sanctuary spot in a saddle between a couple of bedding areas. I can hear them coming through the leaves when they do head my way so I try to stay all day in a well brushed in ground blind if I can. The terrain is so rolling that its hard not to get busted in a treestand. The only wildcard is that my neighbor will be to the south with his slug gun in a tripod stand a couple hundred yards to the southeast, so I hope they come by me from the west first. Good luck everyone. I'm looking forward to it. Haven't been able to get out more than once a week the past few weeks since both kids have had viruses that have been hanging on. A lot of staying home from work and catching up when I can get there which means not much time for hunting. But I feel good about this weekend!