Official Team Antler Kings Thread (30)
09-19-2009, 05:00 PM
---
WEnt out again tonight and no luck again. Saw 3 little fawns and some squriels but thats it. I will hit er again next week.
09-20-2009, 07:02 PM
Nontypical Buck
Join Date: Feb 2003
Location: Isle, MN
Posts: 1,469
---
our season started saturday. i had a doe come within 10 yards of my ground blind, somehow she busted me. that wasn't a good sign. most of my pictures were at night, mainly about 15 minutes after legal shooting.
in total i got about 60 buck pictures this week, here's some of them: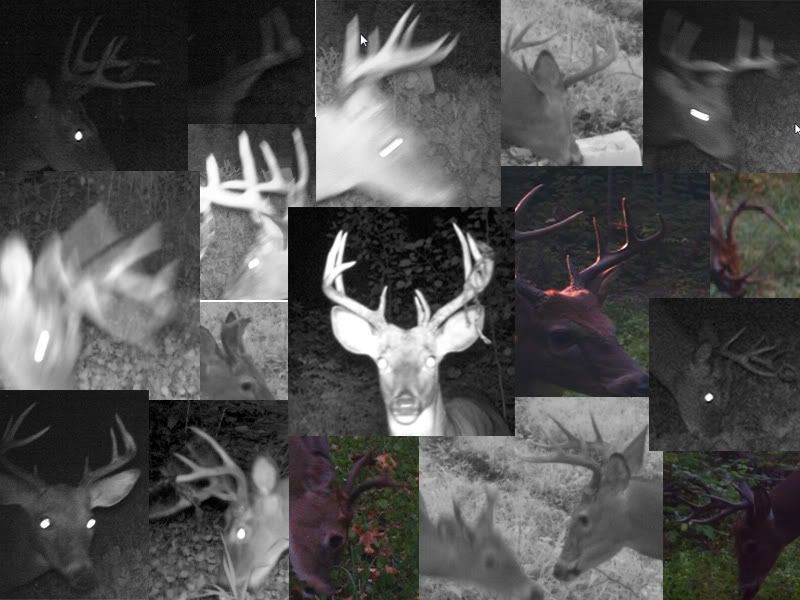 09-20-2009, 09:32 PM
---
rackluster- looks like some good opportunities ahead for you.
got a call from my son less than an hour ago he got an 11th hour bull moose . last night of season after sunset.
he had just shot a moose at dark....59-3/4 incher YAHOO.
unable to get it with his bow and with fading light used rifle to put meat in freezer,
after the season he has had he earned it. considering the truck wreck and bear charge. 4th moose in his 4 years back hunting one of them with a bow.
after 20+ years break in his hunting.
will post picture in a day or two
09-22-2009, 12:25 AM
---
Congrats to your boy AK N! Rackluster, seems as though you have a few different boys running around and some with great potential. The big boys are always like icebergs, or at least I think so. For the the 1 you see, there's 8 or 9 you don't. As far as your pics coming just a little after shooting hours/light, can you move in the direction they're coming from to get on them in legal hours??
09-22-2009, 08:49 AM
wow son's moose
---
My son got in from field at midnight last night.
few picture taken at the house, too late to get his field photos.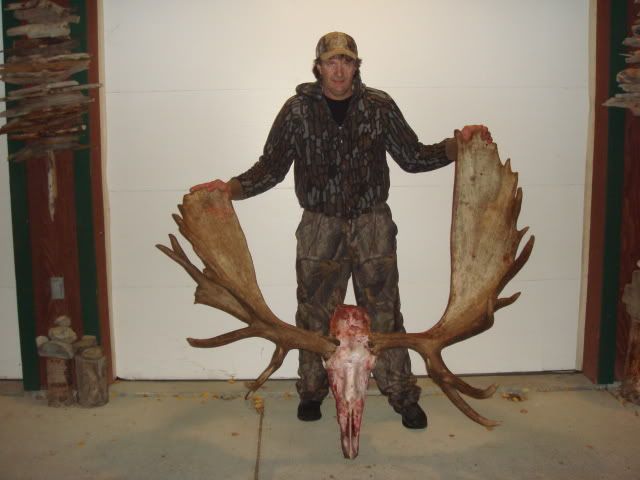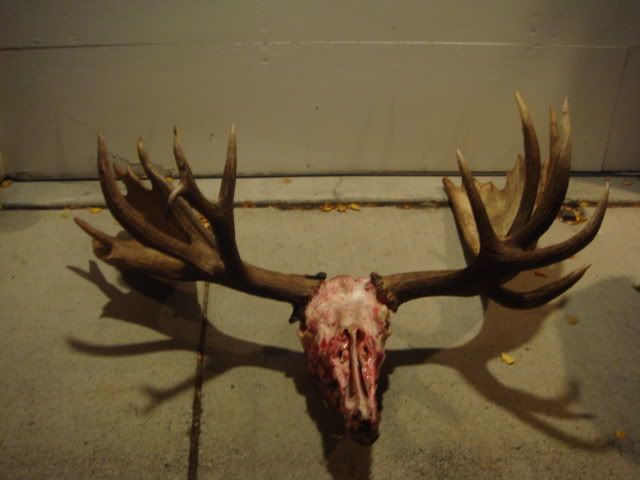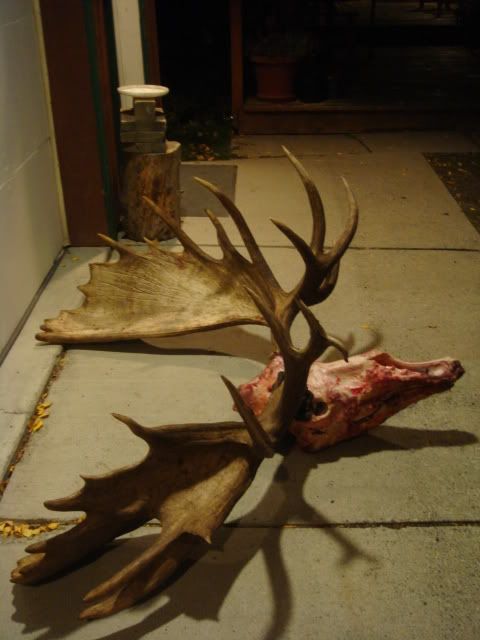 shorter right palm with alot of extra growth off back of the palm. right side appears to have double (??pedicles, not sure of term ) base but only one grew can see part of it on 2nd and 3rd pictures
extra growth area also had major lateral point broke off so should have measured wider.
left main beam has a little of a dip typical for 60+ inch racks, right main beam is straight but actually more rectangular than circular.
__________________
09-22-2009, 11:26 AM
---
Tell your son CONGRATS!!!! Awesome Pictures!
09-22-2009, 12:16 PM
Field photos
---
NICK THANX WILL PASS ON TO MY SON, ROB
DLP BROWN BEAR ROB'S FRIEND SHOT
SON'S MOOSE FIELD PICTURES NOT MANY GUYS GET 4 MOOSE IN 4 YEARS, HE HUNT'S HARD, GOT THIS ON HIS 11TH DAY OF MOOSE HUNTING AFTER A WEEK FOR SHEEP AND WEEK FOR CARIBOU. AND AFTER HORSE WRECK, TRUCK WRECK AND BEAR CHARGE. PRETTY EXCITING MONTH HE HAS HAD.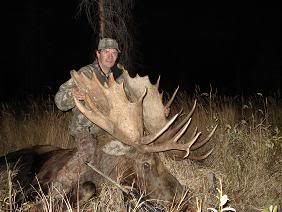 09-23-2009, 06:05 PM
---
Absolutely amazing AK N, amazing. Keep up the fantastic work, and sharing. Very Cool!
09-25-2009, 02:18 PM
---
Hey guys sent kydeerhunter a pm about an avatar haven't heard back yet.. Will let ya know.
Im goin out tommorrow morning only suppose to get up to 62 degrees tommorrow!
Hope they are movin tired of seeing the same two damn fawns!
Well Gd luck all.
09-26-2009, 06:06 AM
---
well Nick any luck this morning
i'm still a month away from my hunt in Alberta but starting to get excited about it, and trying to plan what to bring for gear and clothes. pretty well decided to bring my decoys, one of my double bull blinds and summit climber.
HUNTED THERE 4 YEARS AGO alot of deer there, saw a few nice bucks, no holy crap monsters! but i'm sure there are some there. area is where the transion from farm land to forest along a pretty nice size river.
anyone else out hunting yet? if so lets hear some reports.
also thinking about changing my arrow rest to a drop away.