Official team 14 thread TEAM TALL TINES
11-01-2008, 08:53 PM
RE: Official team 14 thread
---
BBD!! With my bow. Gun season is still a few weeks away.
[/align]
[/align]Well I got into my stand early today, but the cows were not far behind me. I was only in my stand for about 15 mins. and the cows showed up. They hung around until about 10 after 8. Around 7:30 I did have a small buck come through well out of range and with cows under my stand he was moving through fast. Once the cows finally left it was quiet and calm and I could finally start enjoying the morning. At 8:45 I saw three deer up on the ridge, I knew the way they were headed they were going to come down and cross the creek and possible come into range. As they were moving across the ridge I could see they were three large deer but I didn't see any racks, just thought they were some big does. I herd them cross the creek and then I saw him, my first thought was hes a shooter. I took a second to take a look behind him just to see what was with him, they were (2) 1-1/2 year old bucks. So the big boy comes in picture perfect. I stopped him at 25 yards and made a good hit. He went about 100 to 125 yards. I got one lung really good and just barely hit the other one. He was just slightly quartering to me. I am truely blessed. The lord has blessed me with four great season in a row now.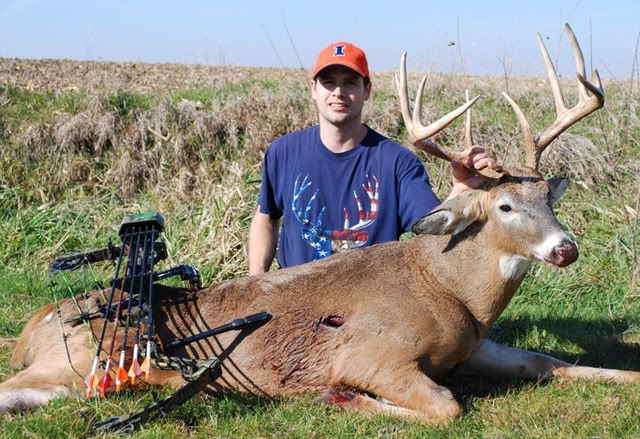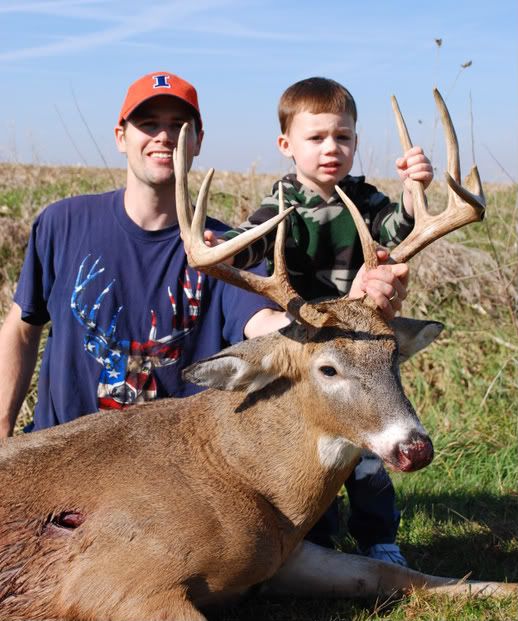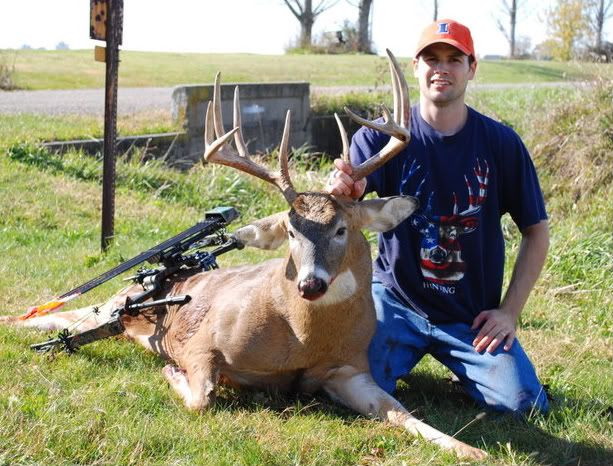 I scored him at 149-3/4". He would have been just over 150 if his G4 on the left wasn't broke.
11-09-2008, 07:09 PM
RE: Official team 14 thread
---
Thats awesome, congrats! Cant wait for gun season to start this saturday. I've been hunting hard with my bow but only have one doe in the freezer. Been seeing a lot of buck movement the last 3 days though. Its supposed to be 39-40 for a high on saturday around here so I'm pumped. Good luck everyone
11-13-2008, 08:49 AM
RE: Official team 14 thread
---
Congrats on the great bow buck IL hunter!!

Gun season starts here this saturday,,,the rut is really kickin in here and there calling for snow for the first few days,,,. ill be hunting the big woods again this year, lots of rubs and scapes around the area so im anticipating a great opener. good luck guys!!

11-15-2008, 02:54 PM
Nontypical Buck
Join Date: Mar 2005
Location:
Posts: 1,186
RE: Official team 14 thread
---
What a opening day it is raining so hard even the deer are looking for a unbeela to stay dry. I hope it gets better fast. Hey great looking deer with a bow I hope you have that good of luck with your gun.
11-24-2008, 01:18 PM
RE: Official team 14 thread
---
Congrats on the buck renfroridge!!,,,cant wait to see the pics.

Well the first week of season is here and gone for me. Hunted hard all last week, saw a few small bucks but
toosmall to shoot. will be going back out thanksgiving and hunting thru the weekend.

Good luck fellas!

12-01-2008, 09:26 PM
RE: Official team 14 thread
---
i shot my first ever buck this afternoon. opening day of PA gun. season. will post pics sometime tomorrow. it's an 8pt. shot him on the run. when i walked up to him i did'nt see an entrance wound. but saw a good bit of blood. i picked up his head to get a look at the rack and sure enough i headshot him. get this, entrance point was his left ear, exit was out the right side jaw joint. what happened was i had just got back to the woods from dragging my buddies 8pt. he got in the morning and lunch. i had entered the woods along a fire trail but wanted to go checkout the spot where my buddie got his deer. so i turned right and headed toward a water source which lead to his spot. i got to the water and turned to head over to his spot when i picked up my head and there he was. he and i were trying to figure out our next moves when he turned his head and i knew if given the chance i was going to shoot him. i was afraid that when he saw me that he was going to turn around and hightail it out of dodge. what happened still makes me wonder...huh! he turned to his right, went down a little slope and started a full out run right towards me. as he gets close i start to raise my gun and flip the safety off. as he's about to run right by me i notice that he's looking right at me the whole time. he gets about 10 yards past me, i had the crosshairs basically on the neck(compensating/leading him a little) and fired. he went right down on spot. got on the phone to a nearby friend and waited until he got to me then went over to my buck. i think the reason that i got him in the head was there was a change of elevation right where i shot him that caused the front half of his body to go down a little. plus he was on the run. anyways i feel blessed as does my friend to have taken our first ever bucks on the same day. will post pics when i load em up.
12-13-2008, 04:16 PM
RE: Official team 14 thread
---
This morning I decided to put my bow down and put my orange on and I grabbed my muzzleloader. It was cold and really windy this morning, it was down right misserable. At 7:30 I had a doe come up out of the creek heading right towards me about a minute late I see horns. My first thought was he's a shooter, but then he turned towards me and I thought no he's not because he was narrow. His rack was only out to the tips of his ears. So, for about a minute and a half watching him turn his head back and forth and changing my mind every time he did, I finally though it's been a long season, it's cold, it's only going to get colder, screw it I'm filling my last buck tag. I put the crosshairs tigh behind his shoulder, he was broadside at about 30 yards, and squeezed the trigger. He turnt and ran right at me falling over dead right at the base of the tree I was sitting in. In all he was with 7 does. I call him the Pimp daddy buck. I was shocked when I put the tape on him. I thought there was no way he was as big as the first one I shot this year. I was thinking mid 140's. He ended up being 154-5/8". I am very pleased. I must say the lord has truely blessed me with another great season. Now it's time to start shooting some yotes. Good luck everyone.