39-Official Team 39 "Buck Naked "Thread
08-27-2007, 04:56 PM
Nontypical Buck
Join Date: Dec 2003
Posts: 3,913
RE: 39-Official Team 39 Thread
---
beer&bones was one of the originals....not sure of the other one right off the top of my head. Regardless, welcome to team and let the countdown begin for opening day. I have 35 days.
08-27-2007, 08:28 PM
RE: 39-Official Team 39 Thread
---
sideways that was back in the day before all these yahoos started coming from out of state and buying up every piece of property that they could get there hands on around north platte ne and not to mention jay novachek starting a hunting lodge there to.
08-28-2007, 06:25 AM
RE: 39-Official Team 39 Thread
---
So, what does everyone hunt besides deer? I am getting ready for dove this SAT. and Duck / Goose after that. This will be my first year with a retriever of my own. I have a 10 month old Boykin. Don't expect too much out of him his first couple of trips but his training is going great. He is now running blind retrieves finding the bumper with just his nose.
Here are some early pics
http://pets.webshots.com/album/558881267febDCu?
08-28-2007, 06:39 AM
Nontypical Buck
Join Date: Dec 2003
Posts: 3,913
RE: 39-Official Team 39 Thread
---
I hunt mostly deer, turkey hunt in the spring. I go dove hunting a few times the first week or 2 of September, then my focus is back to deer hunting. I tried snow goose hunting a few years ago. I never could get into it, so I gave it up.
08-28-2007, 07:38 AM
RE: 39-Official Team 39 Thread
---
so what part of IA are you in I actually hunt along the missouri across from the IA border(wish some of them big boys you guys got out there would swim over) lol
I hunt the NEpart of Iowa. Close to the Iowa/Wisconsin/Illinios border. There is great deer hunting up here, but I've heard it is a lot better in Southern Iowa
Slo-pitch, pretty dog. My wife and I love chocolate labs...but we can't bring ourselves to getting on. We stuck too much time in remodeling our house and refinishing our floors for a dog....any my wife would feel bad leaving it outside.
I typically just bowhunt deer, shotgun hunt deer, diehard turkey hunter, and just chase around other small game when I'm not in a treestand. Next fall I should be drawn to hunt bear in Northern Wisconsin. I'm finding out it takes forever to draw a tag. This was my six or seventh point/year applying. So next year should be for sure.
Other than hunting what does everyone like to do for fun?
08-28-2007, 08:42 AM
RE: 39-Official Team 39 Thread
---
My group and me are pretty hardcore waterfowlers. I consider it just as much a part of my life as bowhunting is. We hunt geese almost every morning and when ducks open up we are balls deep in them. Last year we shot 107 geese before October (season opened Sep 1). Tons of geese by us. We have a couple fields we hunt and have spots on Lake Michigan aswell. We also make a yearly trip to North Dakota each year for a duck and goose slam. I also gun deer hunt, small game hunt, turkey hunt, and do plenty of fishing.
Heres a pic from last year in North Dakota.
Some tree rats.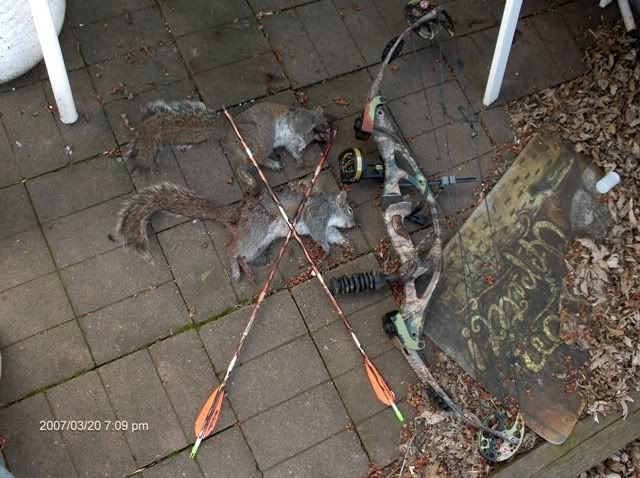 2007 Spring Tom