27- Team "Antler Anarchists" Official Thread
08-21-2006, 09:27 AM
27- Team "Antler Anarchists" Official Thread
---
OK, I'll get us going. My name is Bob, and I like to bow hunt. I hope you all have some big bucks around, cause I haven't got a buck in a while. Plenty of does though. Way I figure it I'm due.
Team 27
326.
gottahunt
225.
LnWolf
91.
moosehunter21
60.
tkycaller
200.
DUMB BASS
79.
Jesse James 17
197.
Hotburn76
293.
Sooner1982
231.
WV Hunter
42.
txrookie
08-21-2006, 10:00 AM
RE: 27- Team Official Thread
---
Well I hope I am in the right team, My login is Hotburn76, but it was posted as Hotburn17, Looked in the register and there is no hotburn 17 so I figure that after 350 names rob's fingers were getting a little tired. But back to the team, I amglad to be here and be a part of team 27! As a little back ground I am from the great state of Ohio and live up in the northwest part of the state and its all farm land, nothing but grade A corn and soybean feed deer! I mainly hunt with a horton CB but do have a recurve that I will dust off every year but my preferance is the Horton. Here is a sample of whats hanging out in frount of my stand, just hope they are not here on vacation!!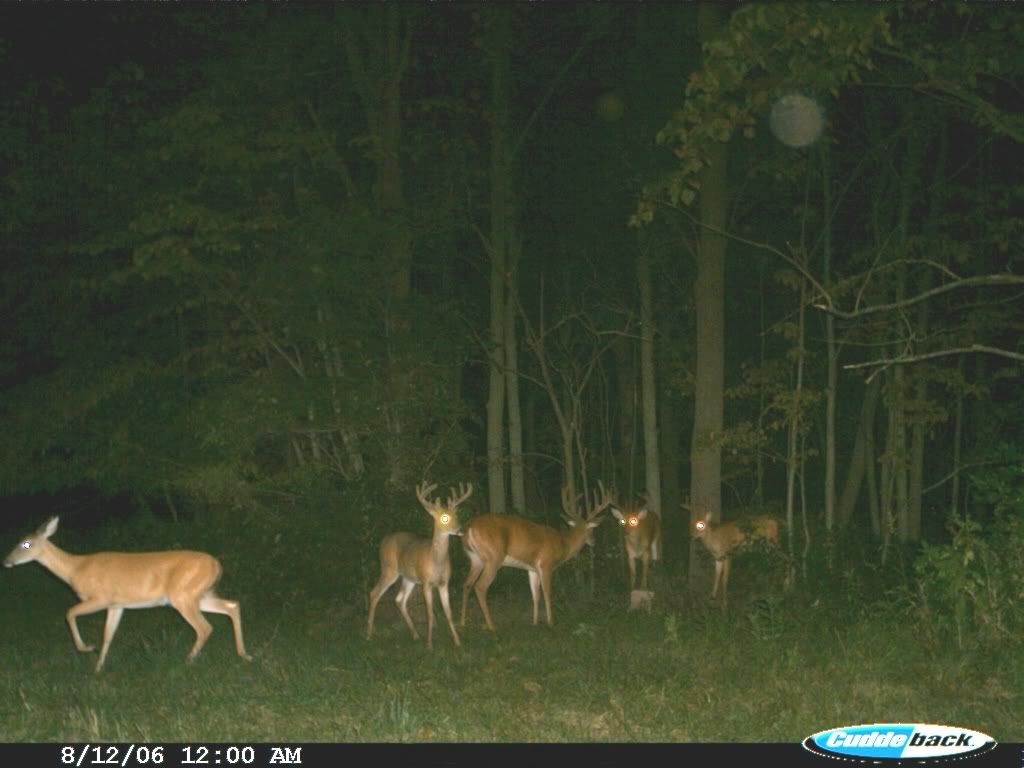 08-21-2006, 08:43 PM
RE: 27- Team Official Thread
---
Well all I got last year was my first bow deer. A small doe that is a huge trophy to me. This year will be my first bow buck! I have a couple of really promising stands set up. My name is Greg and I'll be hunting in Prairieville Tx. Good luck ya'll!
08-22-2006, 08:47 PM
Join Date: Feb 2003
Location: Oklahoma USA
Posts: 33
RE: 27- Team Official Thread
---
Good luck guys. I am an old fart from Oklahoma named Steve. I get pretty lucky from time to time. Last year I put three bucks on the ground and my biggest scored close to 160, one that scored 137 and the third did not quite make P&Y. I normally have a Kansas tag but no cigar this year. I took my biggest last year off of my spot here at home anyway. He had a buddy running with him that was good last year. Maybe the luck will continue.



08-22-2006, 09:08 PM
RE: 27- Team Official Thread
---
Guys, I saw that tkycaller mentioned in the bowhunting thread about the teams being picked that he saw he was on team 27 but hasn't checked in here. Fear not, he's in and knows. I know him personally and know he's going out of town. He's in....
08-23-2006, 10:14 PM
RE: 27- Team Official Thread
---
Hey guys we only have four not showing up yet, LnWolf and WVHunter have a good number of post and have been on regularly this summer so should be checking in soon. Sooner1982 and JesseJames17 are the newbies to the group and have a few post (6 & 4) so hopefully they get back on and let us know they are in and well. Hope you all are well and getting ready. I should be going and pulling my card this weekend so hopefully I can have some updated pics for ya! Hope you all are thinking of a team name. I have been but nothing sounds catching enough to even tell so if ya have any thoughts post them!
08-24-2006, 06:37 AM
Join Date: Jul 2006
Location:
Posts: 99
RE: 27- Team Official Thread
---
WOO HOOO!!!!! Newbie alert!!
Hey all, my Name is Ryan, and I'm in the great state of Oklahoma! This is my first year to hunt, and I will be hunting both bow and rifle this year.....Wish me luck! I don't have any deer pictures, but I have seen about 6 or 8 does atmy dad's house, and I'll be hunting another 400 acre property that my friend owns. There have been 3 or 4 10 pointers 2 or 3 12 pointers and one 16 point taken from this property in the last 5 years, so my hopes are up!!
I have an idea for a team name...how about........
Buck Recon