22- Team "Mud, Blood and Tears" Official Thread
10-23-2006, 06:07 PM
Join Date: Sep 2005
Location: Black Hills, South Dakota
Posts: 39
RE: 22- Team "Mud, Blood and Tears" Official Thread
---
That's a very nice buck, Stumpj!! Congrats!

I passed on a buck at last light Friday night that was just out of my comfortable range, and it was just dark enough that I couldn't make out how big his rack was. Then, when I was ready to sneak out, there were three more smaller, youngerbucks just ten yards to my right that busted me. Since then, nothing but does and fawns. It's been alot of fun just being so close though!!

10-24-2006, 05:58 AM
RE: 22- Team "Mud, Blood and Tears" Official Thread
---
Oh I'm happy, very happy with this trophy.
Sunday afternoon my landowner calls and tells me that they are taking the corn out, I always like to be there when they pick the corn just to see what comes out of hiding. He tells me that he is on stand and has already seen several nice deer. I'm mad as heck because I can't get out there because I have to go to dinner with some people. I get over it and figure I'll just go out in the morning to see what is walking around.
Monday morning I get out in the stand at around 7:00 and in no time at all I am seeing deer out in the freshly picked field, mostly does and small bucks. Temperature is in the low 30s and the wind is making it brutally cold, I wasn't ready for that, no where near enough clothes on. At about 9:30 I'm considering giving it up for the morning and just coming back better prepared later in the day. A little bit later on I hear steps out in the field to my right but a tree is in my way and I have to wait around until these two does walk past the tree and out into the open. I grab the rangefinder and it tells me 39 yards, no problem, I have this shot down pat. I draw back and put my third pin on the lower half of the bigger does chest cavity and then I hear something else walking around below me under the tree blocking my sight to my right. With my bow still drawn, I give a little peek down to see what is down there and to my suprise it was this big bodied buck. He was five yards from my tree and quarteringto me. I let him walk far enough past mytree to give me a quartering away shot, which made it a seven yard shot. I quickly move my bow toward the buck, put my top pin high right past his shoulder to make sure I get the close lung high and the farther lung low. I squeeze the trigger and he runs 60 yards to a small finger of woods and lays there and dies.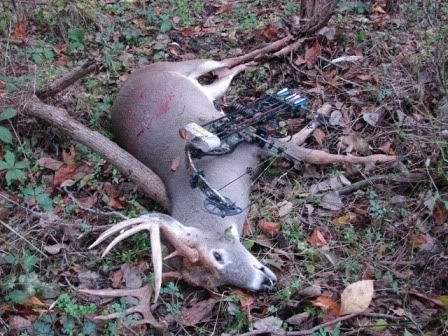 I couldn't be happier, even if the previouspicture doesn't show it.
'05 BowTech Old Glory, Easton Axis Full Metal Jackets, G5 Montecs, this deer never knew what hit him.
10-24-2006, 05:42 PM
RE: 22- Team "Mud, Blood and Tears" Official Thread
---
What a good story, It seems like every time we hunt and think of calling it quits untill later.most of the time something happens like your story that makes great memories. I am happy for you my friend, all things in life have a purpuse, that is why you had a dinner date that kept you from getting to the stand untill the next morning & something great happened.bigdaddy
10-24-2006, 07:49 PM
RE: 22- Team "Mud, Blood and Tears" Official Thread
---
Congratulations StumpJ, that is a beautiful buck. Good thing you didn't shoot the doe at that moment. I'm surprised he only scores 104 but he's an awesome buck and I'd take him too. I wouldn't have hesitated. Congrats.
10-25-2006, 09:59 AM
RE: 22- Team "Mud, Blood and Tears" Official Thread
---
hey good job stump thats a dandy! looks like he would score higher no matter hes a real trophy. i hope tonight is my lucky night, i can't hunt at all next week that sucks. hey mathewsboy whats your deer score? well good luck to everyone and ttyl.
tedrow

10-25-2006, 12:37 PM
Nontypical Buck
Join Date: Aug 2003
Location: Bessemer, MI
Posts: 1,719
RE: 22- Team "Mud, Blood and Tears" Official Thread
---
I havne't had time to score mine yet.. ASAP i will though.

Stump.. You get 4 circumference measurements per side, 8 total.. Beam length, tine length and spread credit..

Dont take any deductions either, this is ALL INCHES.. for the contest.

10-25-2006, 07:45 PM
RE: 22- Team "Mud, Blood and Tears" Official Thread
---
I'll try to add it up again and see what happens. I'll have a friend of mine do it also and see what he gets. If I get a different score, a better score, should I turn it in and get our total adjusted?