Official Team Pass-Through (22) Thread
09-07-2005, 09:58 AM
RE: Official Team 22 Thread
---
What's for dinner[:'(]
When I was younger I had some that looked just like that. It seems I'm pretty allergic to that crap. By the time I finally went to the doc I had that stuff al over[X(]. A good shot of penicillin and a few days later it was cleared up!
I learned to steer clear of that stuff. Luckily where I hunt now there isn't any poison ivy around.
Leaves of three.........let it be........
09-07-2005, 11:55 PM
RE: Official Team 22 Thread
---
Have you guys got any pictures of the places you will be hunting? I thought we could help eachother out by showing some set-ups and giving ideas. I always love to talk about the way to get ata better shot! I'll post some food plots and favorite spots:
09-07-2005, 11:57 PM
RE: Official Team 22 Thread
---
The first one was a clear cut with our creek "Beaver Creek" at the bottom. This one is not loading!!!!
How about another DeerCam pic?!?!?! I'll make them smaller and try again later.
09-08-2005, 10:01 AM
RE: Official Team 22 Thread
---
Ohhhhh man[:@]! Now I'm offended[8D]!

I should be setting up at least one stand this weekend, it's actually a bit of a puzzle for me. There's a field full of clover, a creek, and several trails that I thought I was set up beatiful on last year. Turns out, each stand I chose was wrong unless I was after fawns (which I did take one of). Twice I had obstructed 30 yard encounters with nice bucks and several times with a big boss doe, although one time it was probably because a hunting buddy of mine was on the other side of the field whacking away with a set of antlers.

I'll see if i can draw a picture with some good dimensions and detail of the area and see if you guys can't help me solve the puzzle.

09-08-2005, 11:25 AM
RE: Official Team 22 Thread
---
The land I hunt looks like this!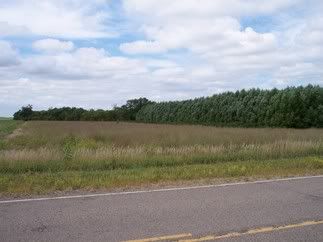 That grass is 6-8 feet tall in spots. With a small river running right through the middle. It's around 120 acres. It's hard to get a set pattern because the deer can and do bed anywhere! Probably about 10-15 acres of woods, some thick some not really! I hunt mostly the edges along the river.
09-08-2005, 11:43 AM
RE: Official Team 22 Thread
---
In case you haven't seen this. Here is the buck I arrowed last Nov.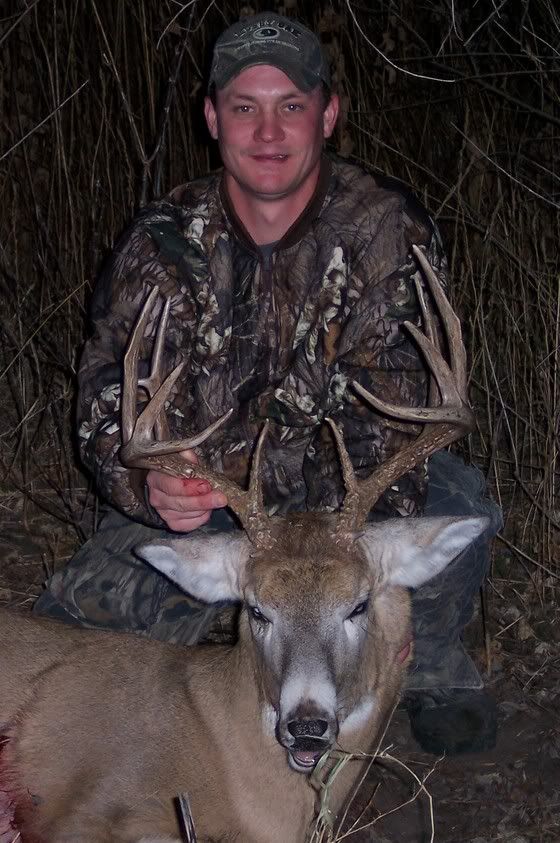 The Official P&Y score is 134 6/8 Gross & 129 5/8 net!
I know that the eight I've been seeing will gross 140". We'll see when I get him on the ground