How did your season go?
12-17-2010, 01:12 PM
How did your season go?
---
Well boys and girls, my season comes down to this weekend of black powder exclusive hunting with the Remington Model 700 ML. Taking a doe opening day was great for me. Other than that I didn't see too many deer. SO my question to you is, how was your season? Was it productive or do you feel discouraged?
Good luck to those of you who still have time to hunt.
BB
12-17-2010, 01:53 PM
---
one pheasant, goose and deer. id say it was good. i missed one doe. only saw 3 though, 2 during bow season and 1 during gun season(he was the shot). this season was productive. gonna hunt early snow goose in the spring too. im ready for next, got a nice spot that needs a stand so im gonna get one for there
12-17-2010, 06:12 PM
Giant Nontypical
Join Date: Oct 2007
Location: Jefferson County, Missouri
Posts: 7,684
---
Great so far and I'm not done yet. Shot a doe with my bow November 6th on video, shot an 8 point that was one of our main targets with my muzzleloader on November 19th on video, shot a duck away from a limit on November 25th, and the last time I went duck hunting (whatever last Saturday was) we shot 30 ducks (5 guys) which meant that everyone limitted. Gonna go after a doe with the muzzleloader tomorrow then I'm bowhunting the rest of the season and duck hunting. Probably gonna get a couple goose hunts in too.
12-17-2010, 07:41 PM
Spike
Join Date: Dec 2010
Posts: 37
---
Sadly I took and used all my tags in a day so no more hunting until my parents want to pay for mor tags lol I dropped 2 does 275 Yards a way with my 7mag and that evening I took a 10 point which was abt the nicest trophy ever that I have gotten
12-18-2010, 05:59 AM
---
I started hunting september 18th and have been hunting every weekend since then and some week days. I shot three does this year with the bow and hit a MONSTER 10 pointer but couldn't find it and we ended up seeing him during first season wondering off real slow. Also missed a couple does and another monster 8 pointer.
Heres the eight pointer I missed..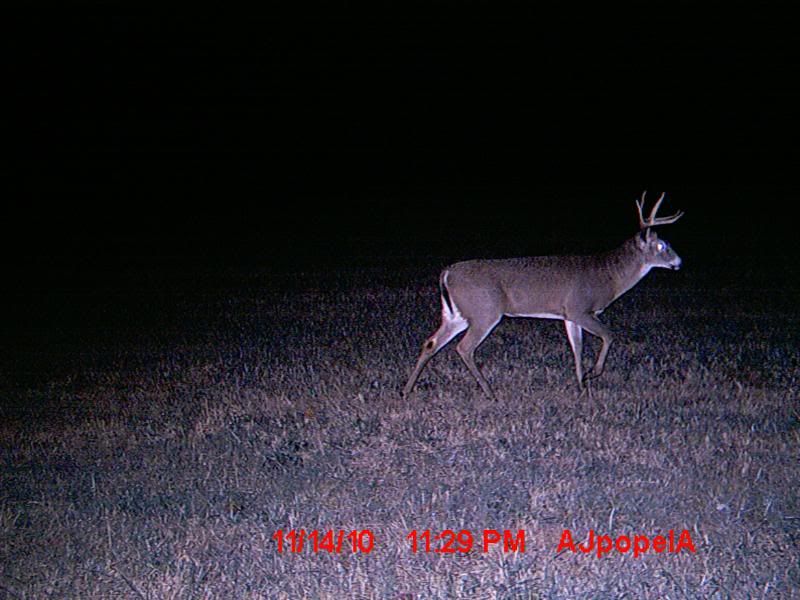 Heres the 10 pointer I hit.
This picture was taken in the middle of july. When I shot him he had some more length to his tines.
12-19-2010, 05:42 PM
---
I had a pretty good season I shot a cow elk and a ton of rabbits, porcupines, grouse , squirrels, and me and my friend shot a fox yesterday. I missed a 5x5 mulie during archery season but other than that I had a pretty darn good season. I also had very many successful deer and elk clients.
---
Last edited by genesis27:3; 12-19-2010 at

07:14 PM

.
12-19-2010, 06:57 PM
---
Good season here so far. An ohio 4 point, a Pennsylvania doe. Lots of time left for late season bow hunts in both states. Got a few squirrel, a porcupine, and lots of good times with friends in family. So I'd say it was a success.

Genesis any idea what that porcupine weighed? The big one that you're holding up?
-Jake
12-19-2010, 07:11 PM
---
Yeah it weighed a little over 20 lbs. I took that bad boy right to the taxidermist. I dont know if I will ever kill one that big again I thought it was a bear cub when I first saw it
12-21-2010, 07:39 PM
---
OHBow, Happens to all of us at some point. I missed a doe on sunday that gave me a nice broadside 120 yard shot. Shot right under her with my shotgun. SHe leaped straight up in the air, ran about 30 yards and stopped and looked at me again. I just let her walk after that tho. I figured she earned a get-away-free pass. The best part is three other hunters were standing there watching me when I missed, so they had lots of laughs. Keep hunting, you'll get some more chances.
-Jake