High school sports
10-29-2009, 03:39 PM
High school sports
---
So, I was just wondering what kind of sports you all do. I just graduated from HS but I wanted to see what all everyone else was involved in.
I was from the smallest Nebraska sports class, D-2 12. Did football, discus, shot put, and non-competitive weightlifting.
Football, I was an offensive and defensive lineman. Generally a center on the O-line or a nose guard/tackle defensively (depending on 4 or 3 man front), and rarely an end. We played 8-man.
Discus. Did it for 2 years. Got up to 145' in about 5 months of training my junior year. Injured groin senior year dropped my best to the 130s.
Shot put. Did that for 2yrs as well. Got up to 48' in ~5 months training jr year. Injured groin sr year dropped my best to ~45'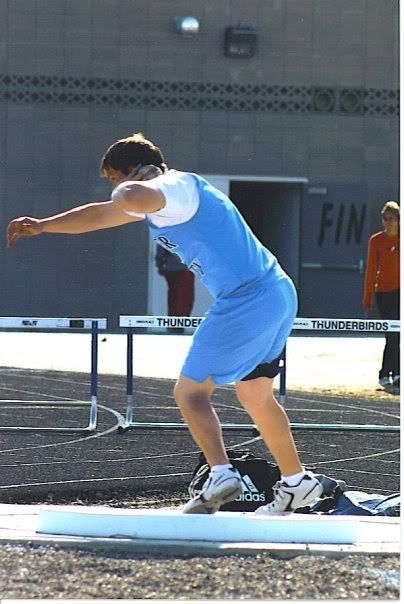 Weightlifting. Got up to a 330lb bench press, and half-squatted 785lbs, with a competition style squat of 550lbs at age 16.
Pics if you have them, curious to see what kinds of interests in sports the rest of you have!
10-29-2009, 04:03 PM
---
Well i played football in middle school. Wrestled and i mean real wrestling not the WWe stuff. In 7th grade i could leg press 900 pounds. Almost double what the high school kids could. I hurt my back at state wrestling. Hurt my knee at 22 could not leg press to save my life these days.
10-29-2009, 04:05 PM
---
Bigtim,
Wrestling was my favorite in junior high. But, in high school I wasn't tough enough
Wrestling is by far the most challenging sport out there. Those guys work so hard, and my high school had a reputation for making some darn good wrestlers-- they earned every bit of it.
10-31-2009, 03:37 PM
Spike
Join Date: Jul 2009
Location: Vevay, Indiana
Posts: 30
---
im from indiana so of course i play basketball. my school is 2a and we went 17-4 last year and i led our team in scoring a rebounds. im gettin a lot of college offers from d3 naia and some d2 schools but bball is all i do now