Team 6
04-07-2009, 06:42 AM
RE: Team 6
---
Great job 8pt! I wish I was still 17. I had my tacoma, hardly any school work, and all of the time and money in the world. Because of college and a full-time job now, I've only been twice since March 15.
Spring Break this week guys. I'm goin wednesday through saturday. Wish me luck
04-07-2009, 12:18 PM
RE: Team 6
---
8pt, good job on the bird and nice pic.

Chris, I know what you mean about no time or money. Our season started yesterday, but I won't get out till Saturday, and it will most likely be my only day to hunt this spring. I better get it done quick!

04-07-2009, 12:38 PM
RE: Team 6
---
Congratulations and great job 8pt!

And I hear you guys too about not having any time. Luckily i will be going home for the weekend from college for first day in a few weeks but i wont get much time other then that.

Chris good luck this week, get us another one.

04-11-2009, 12:25 PM
RE: Team 6
---
This picture was taken a few minutes after the kill. I took this picture with a cell phone so it's a little blurry.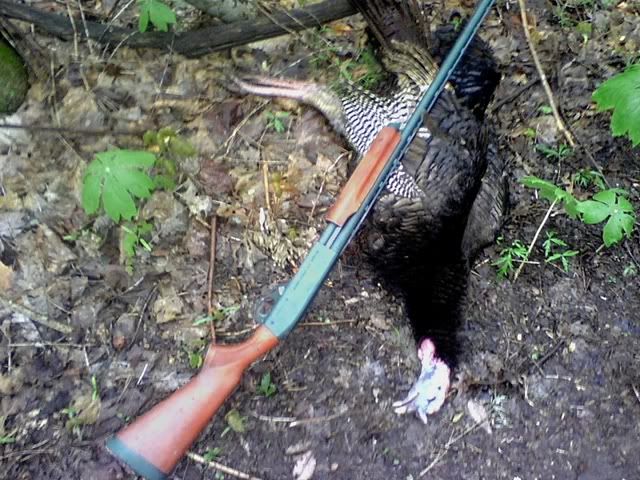 These pictures were taken with a high quality camera.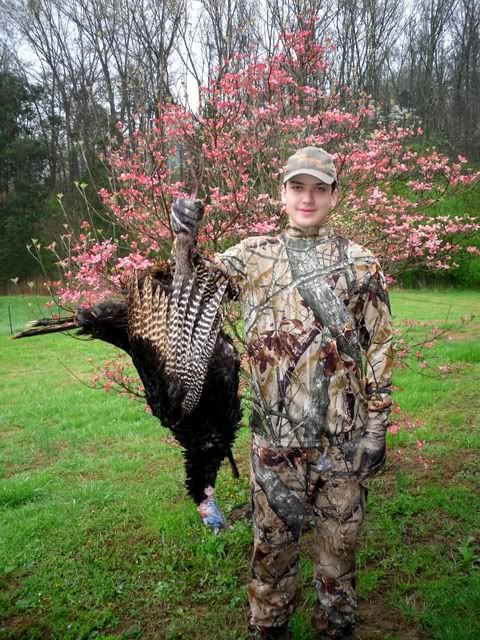 Score soon to come!
EDIT: Story
STORY
------------------------------------------------
As I walked to the top of the "mountain" a blanket of heavy fog covered the ground. It was a beautiful morning for turkey hunting, but a little on the cold side for what I was wearing.
Once I reached the top of the mountain I started to call with my "H.S. Crystal Call". I would walk 75-100 yards, stop, call, and listen for a response. On my third stop I called and heard a faint *gobble gobble * in the distance. Upon hearing this I slowly waked halfway down a hill in the direction of the turkey(s).
Once I got all settled down I called again and almost instantly, I got a response! *GOBBLE GOBBLE*
These turkey were still a ways away as I could only faintly hear them. After about 7 more minutes I called again and instantly got another response! After 45 minutes of this the turkeys sounded like they were getting closer.
I put down my call and shouldered my shotgun as I waited for the turkeys to emerge from the thick vegetation and branches below me.
Finally I saw four jakes walking towards me at 75 yards. (I quietly waited as the turkeys closed the distance.) At 45 yards the turkey angled away from me and started walking straight up the hill from where I came from.
When the lead turkey reached 40 yards I fired.... the turkeys ran around in circles but the lead jake only walked a few yards away as though nothing had happened. I quickly chambered another round and gave him two follow up shots, which sent him to the ground flopping.
After all the commotion of three shots being fired and a dead turkey laying on the forest floor thrashing in the leaves, the three other jakes that were following him were all staying put. 30 minutes later they finally walked away and I retrieved my bird.
I went to where I last saw him by a log but he wasn't there! After a few minutes of searching I saw his fan sticking out from underneath a log! This jake had somehow managed to get himself behind and underneath a log!?!
04-12-2009, 07:10 PM
RE: Team 6
---
Well I blew it this weekend. I was at full draw with an awesome tom at 15 yards. I was waiting for him to take a couple more steps to give a clear shot, and he saw something he didn't like. As you can probably guess he didn't stick around.

I don't know when I'll get back out again, but hopefully soon.