Wildfire on my Property (Lots of Pics)
05-11-2011, 10:51 AM
Wildfire on my Property (Lots of Pics)
---
Well, I typed this up and posted it on several other forums so I might was well post it here.
My place burned up, but at least I got some neat pictures. I had 5 trail cameras out when the fire hit and ended up with pictures of the fire on 3 of them. 2 of the cameras are going to be okay, 1 might make it and 2 are toast.
I didn't have the time on the cameras syncronized, so I can't really tell how long it took to go from one setup to the other, but you can see by the time stamps on the pictures that it was moving pretty fast.
Here's the camera that got hit first. Picture quality isn't very good, I'm guessing it was struggling with the smoke. You can see the leading edge of the fire toward the top of the picture.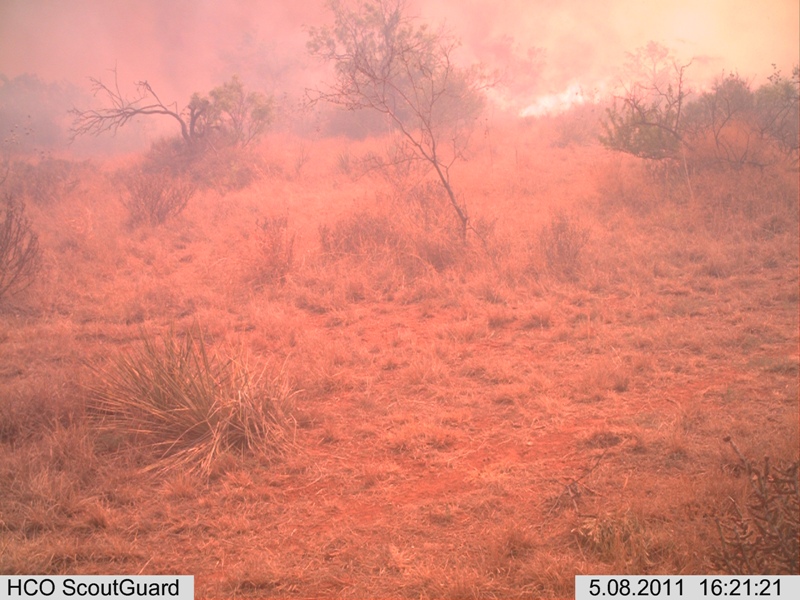 50 seconds later and the fire has moved a bunch. The flames weren't even in view on the left side of the picture on the first one and they are pretty close on this one.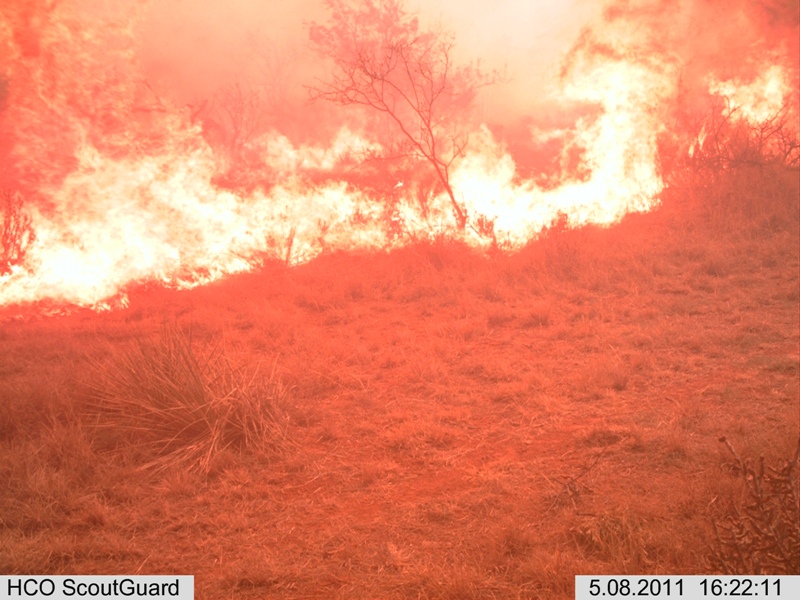 Just 3 seconds between these two pictures and the fire noticeablely advanced.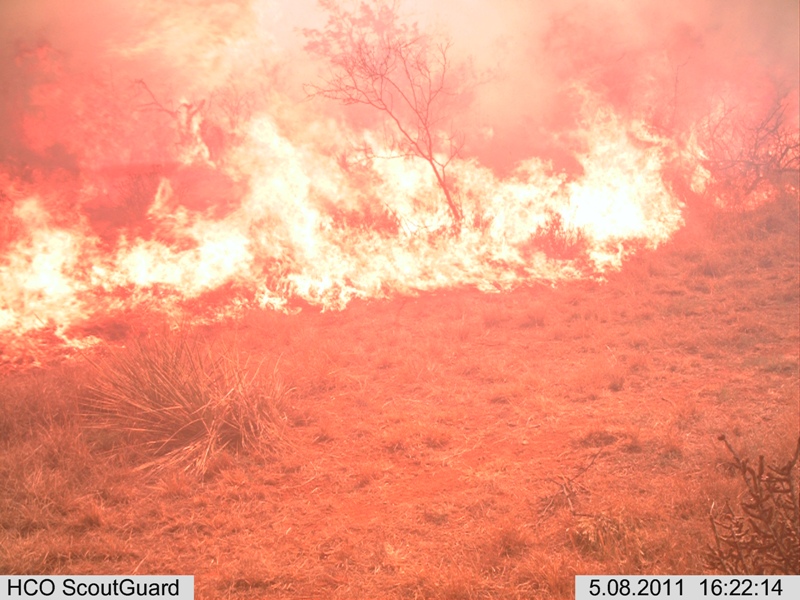 4 more seconds and it is back burning pretty intensely. I mowed a path in front of this camera and that slowed down the advance quite a bit when it hit the shorter grass, but it didn't stop it because the straps burned off the camera and it ended up on the ground. It might be salvageable.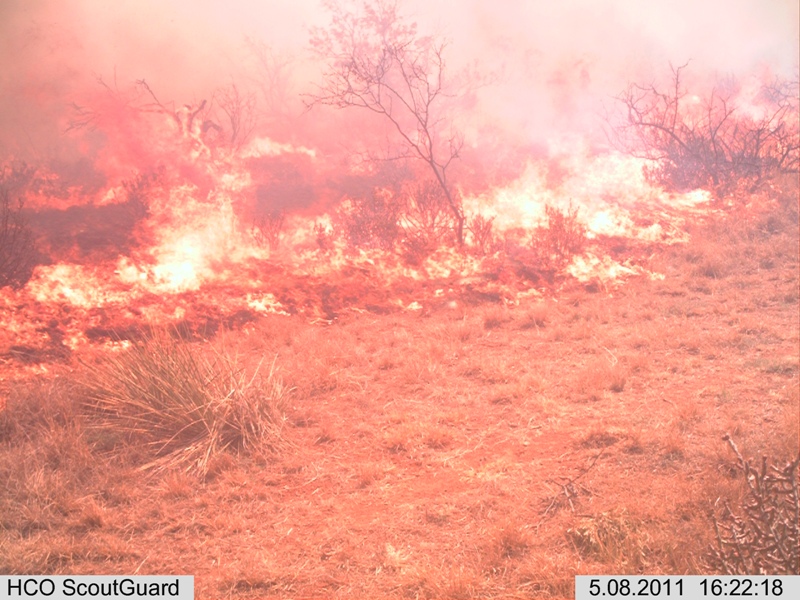 Next camera. This one is setup on my protein feeder which somehow didn't end up burning up. This one doesn't have seconds on the time stamp so you can't really tell exactly how long elapses between each picture. These pictures do give a pretty good feel for the intensity of the fire.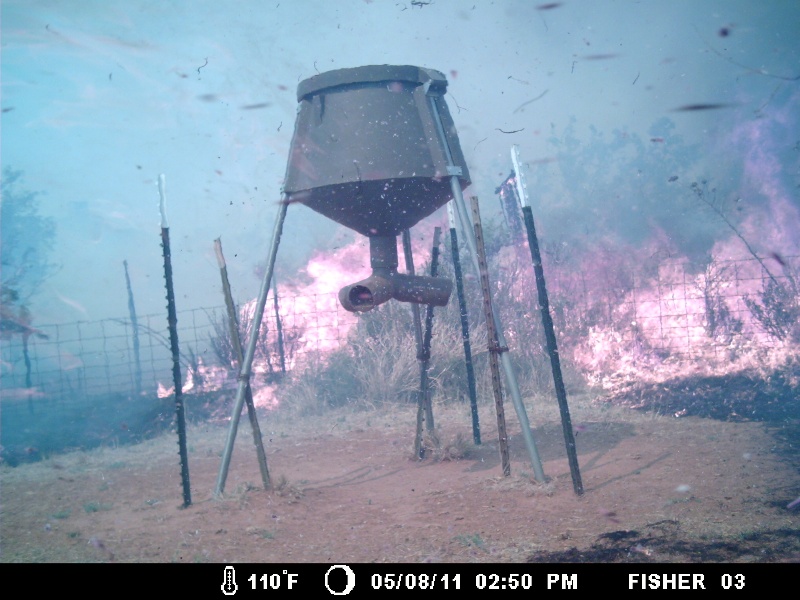 You can even see flames coming in front of the lens on this shot. This camera was pretty melted and I'm pretty sure it is toast but the SD card seems to still be fine.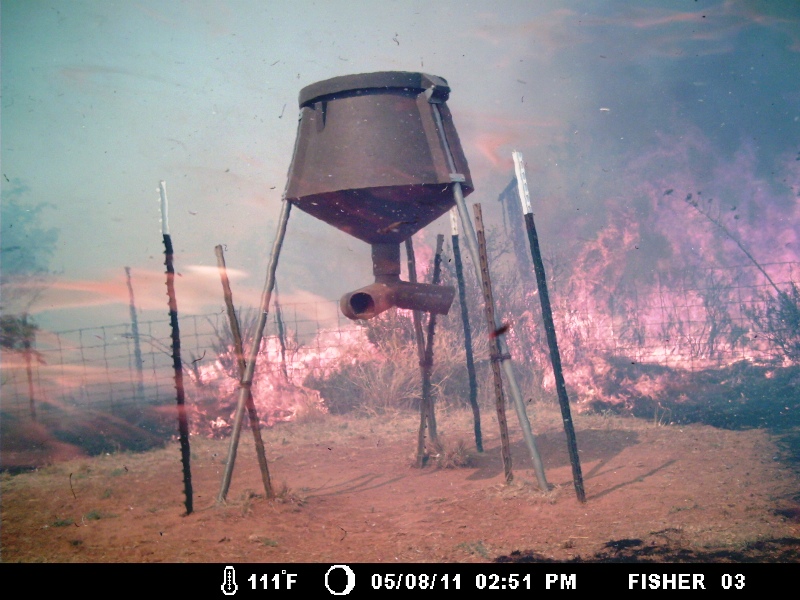 The brush is burning pretty intensely in this shot.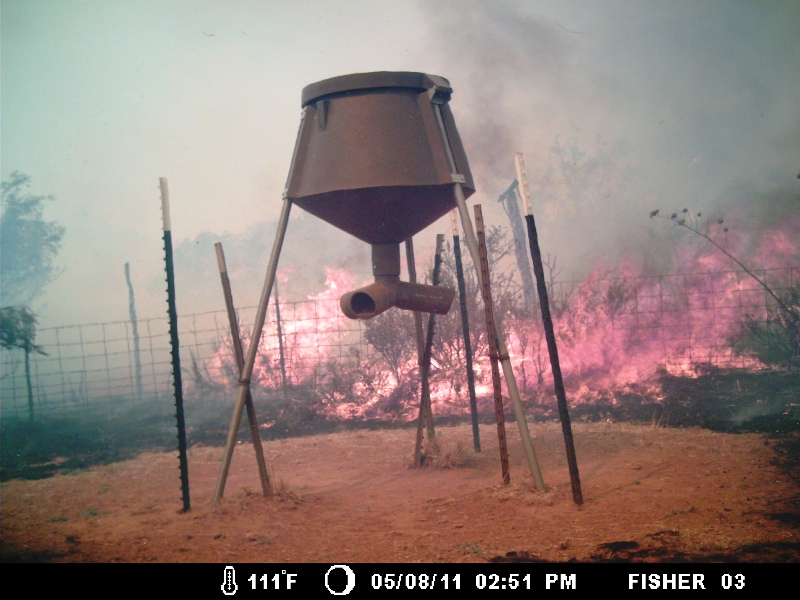 Just 2 minutes on the time stamp from the first picture and the fire is already moving on with pretty much everything burned up. You can see that the plastic housing on the camera has melted and is covering up some of the lens.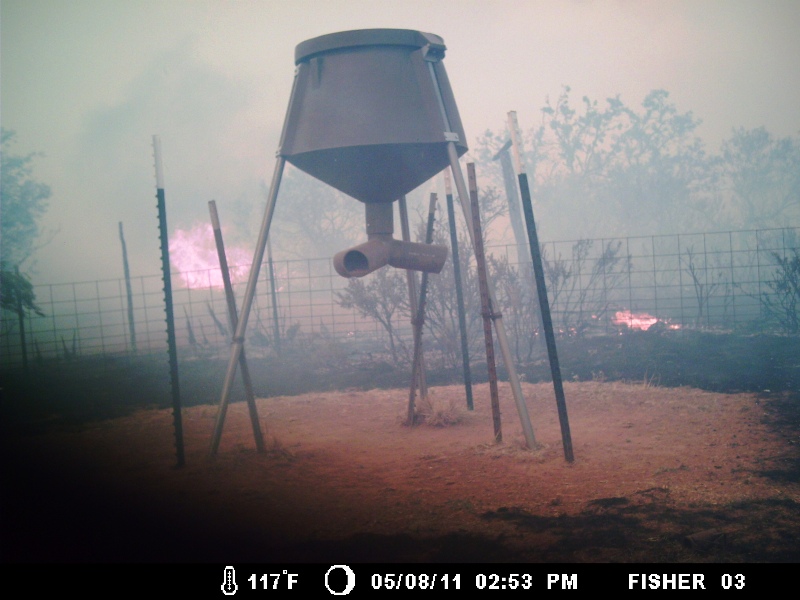 This camera is setup on one of my spin feeders. In the first shot no actual flames are evident. Lots of smoke though.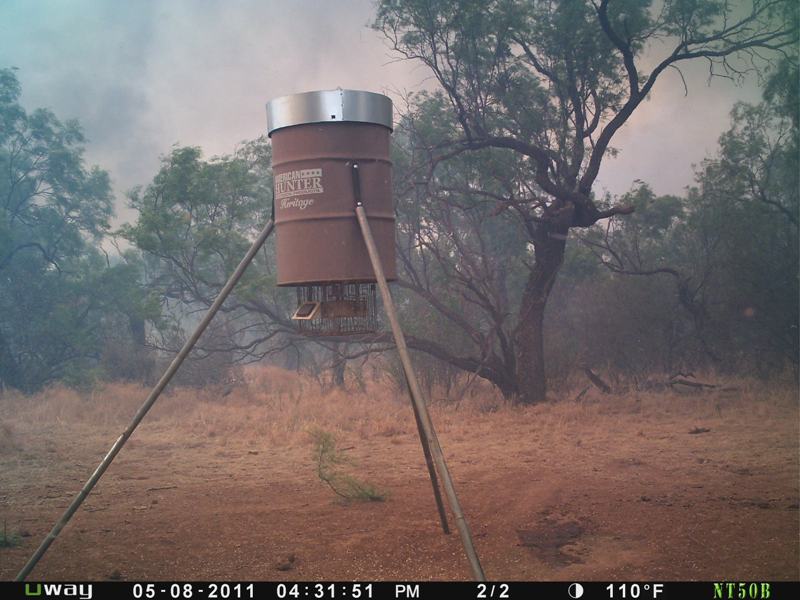 37 seconds later and there are now plenty of flames.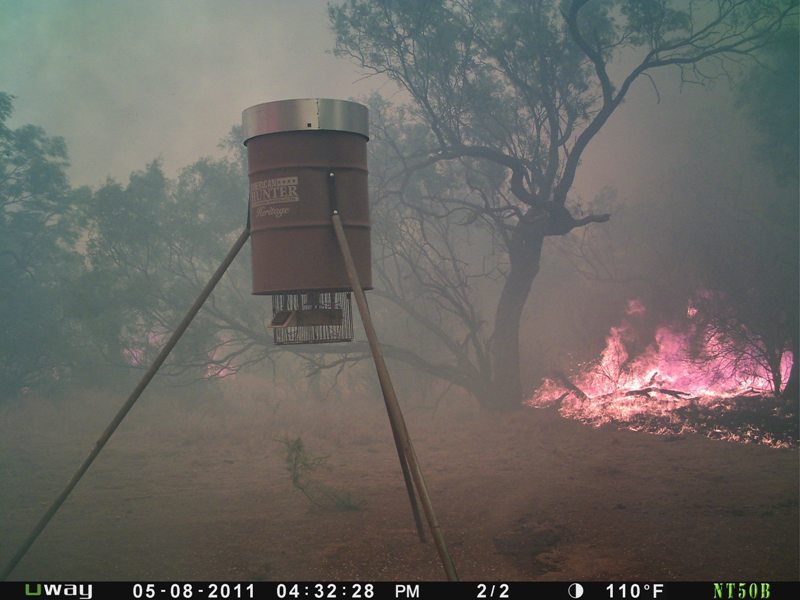 32 seconds after that and things are pretty well engulfed. This is just 1 minute and 9 seconds from the first picture where you couldn't even see the fire.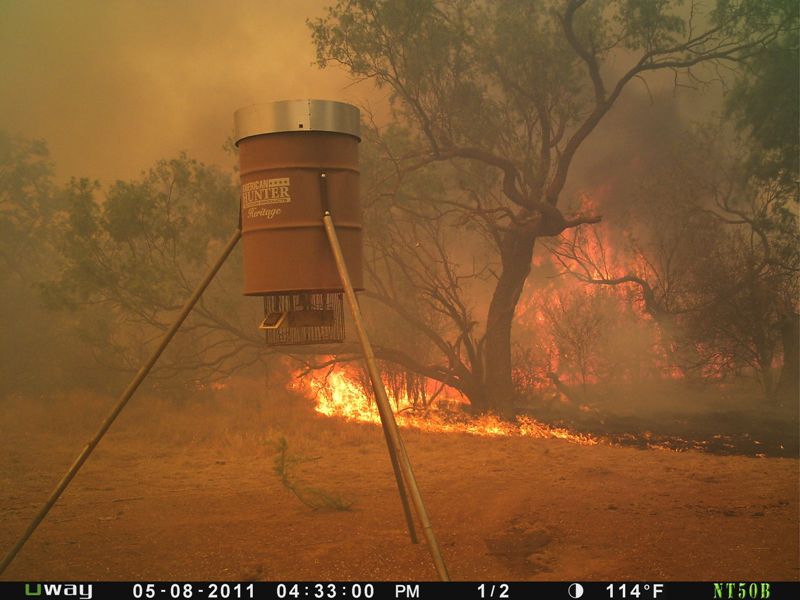 37 seconds later.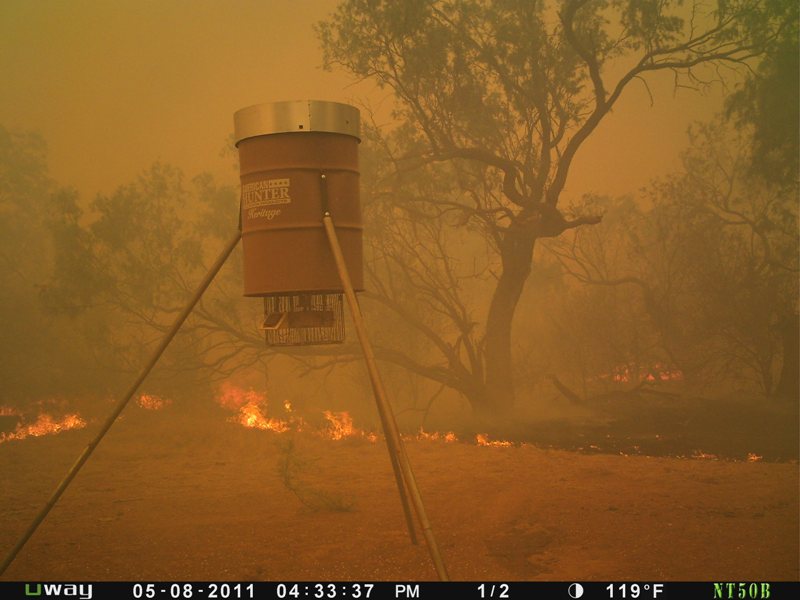 Less than 2 minutes later and the fire appears to be already out.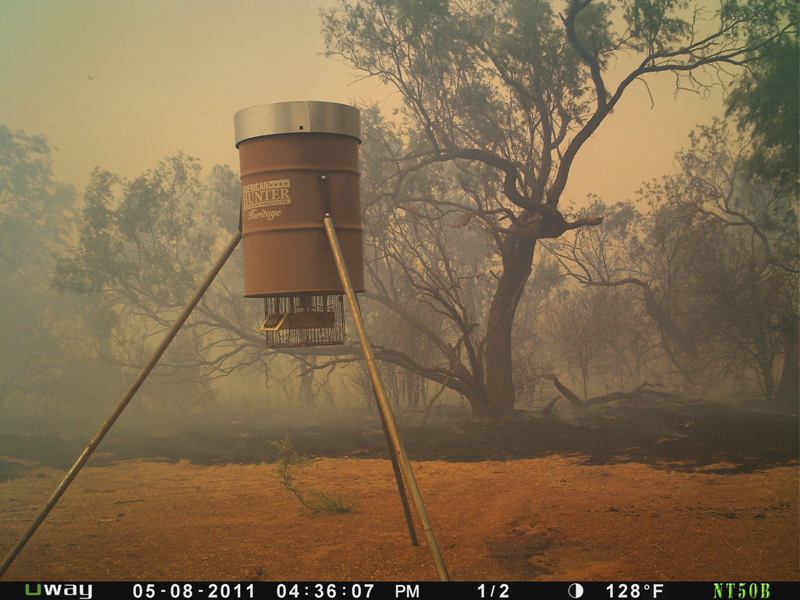 A few minutes later though and if you zoom in you can see that the fire isn't out, it's burning in the crack of the big mesquite tree.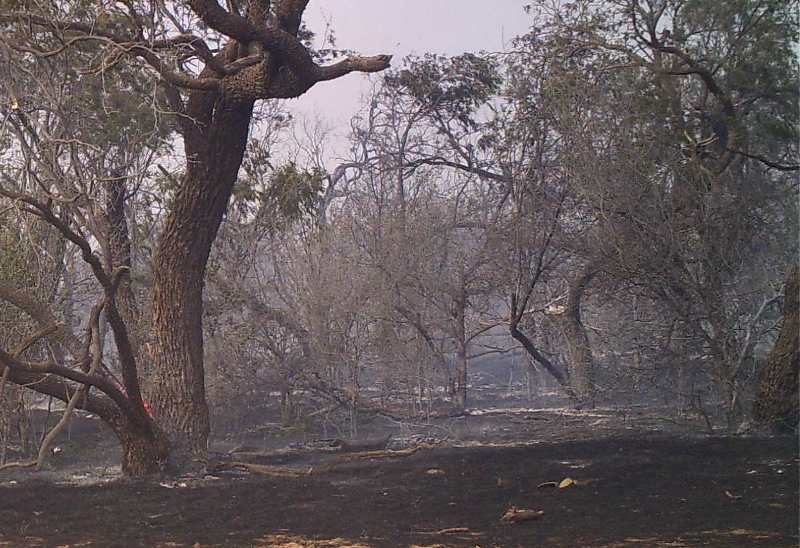 The fire would burn in the crack of mesquite trees and over the next several hours burn the heart of the tree completely up and even down into the roots. The tree in that last picture ended up burning completely to the ground at the stump.
Here's an example of another tree that suffered the same fate. Probably 90% of the big mature mesquite trees ended up looking just like this one.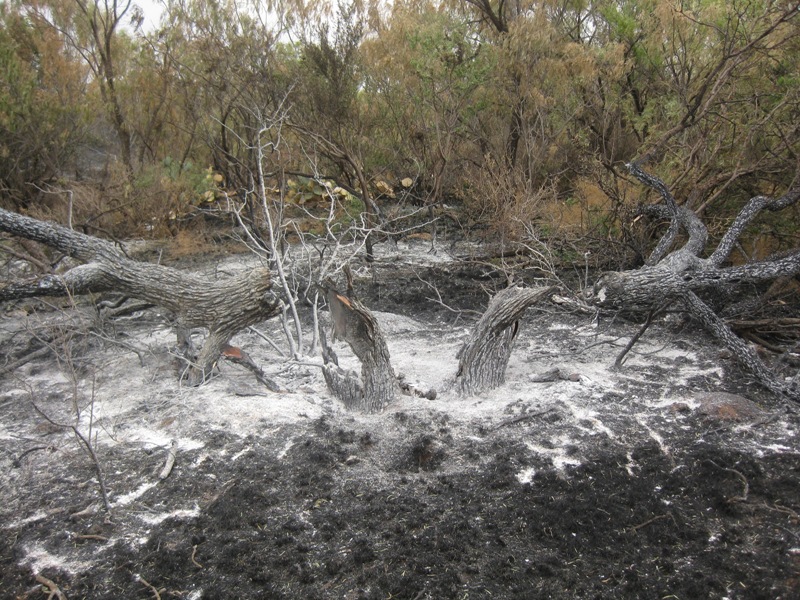 Here are some panoramic pictures from a the highest vantage point I have on my place. Pretty much the only thing that didn't burn was bare dirt. The road and some long narrow food plots that I planted last October but they never grew because it didn't rain.
This picture is a little over 180 degrees of panorama. It starts off looking north and then pans around to the southeast.

Click here to see a larger image -
http://padens.com/v-web/gallery/Fish..._stitch?full=1
This picture starts off looking northeast and ends up looking southwest.

Here's a larger image if you want to click -
http://padens.com/v-web/gallery/Fish..._stitch?full=1
Last panoramic picture. This one starts off looking southwest and ends up looking due north of a complete 360 for all the pictures combined.

Click here for a larger image -
http://padens.com/v-web/gallery/Fish..._stitch?full=1
The area looking north was the thickest nastiest stuff on my property and you can see from the ashes that there was plenty of fuel to burn there. That area took the brunt of hottest fire. There were actually a few stumps still burning today when I was down there checking on things. The rest of the place didn't exactly come out unscathed, but some of the trees look like they just might have a chance.
Travel trailer is toast.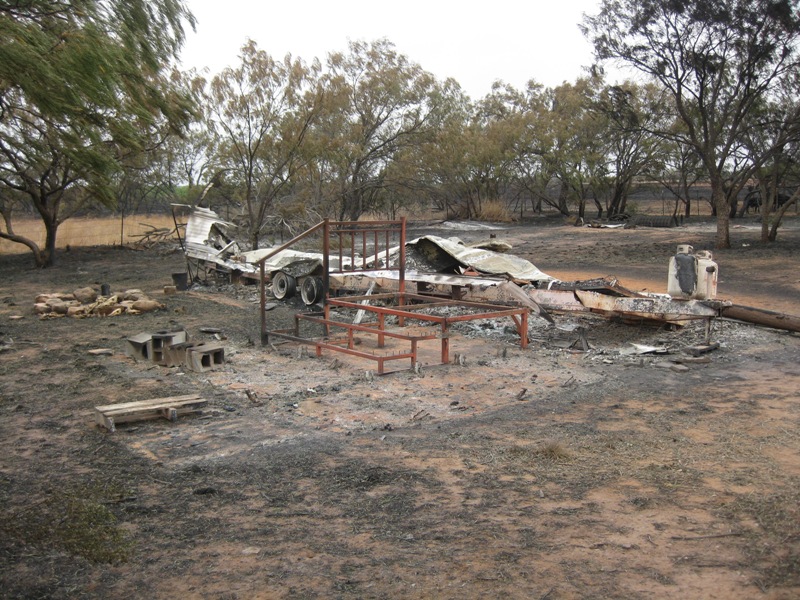 The blind on the hill made it.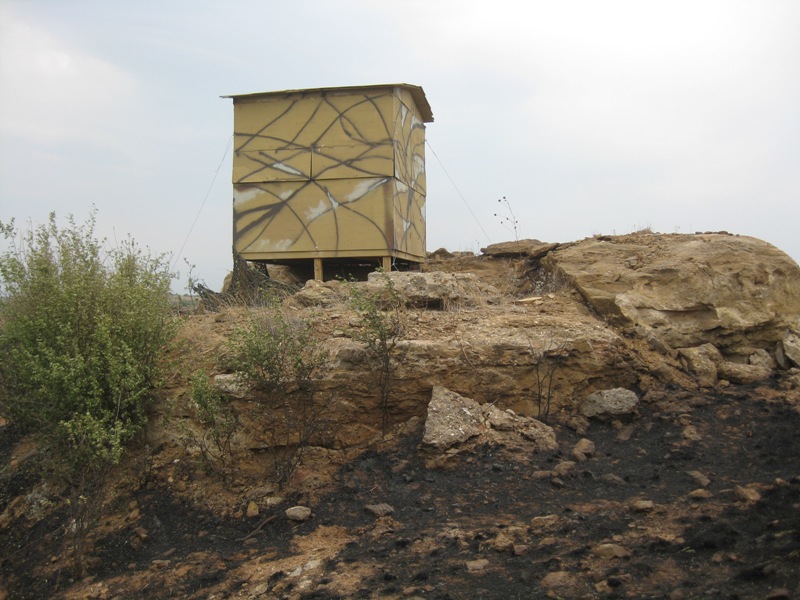 Protein feeder made it.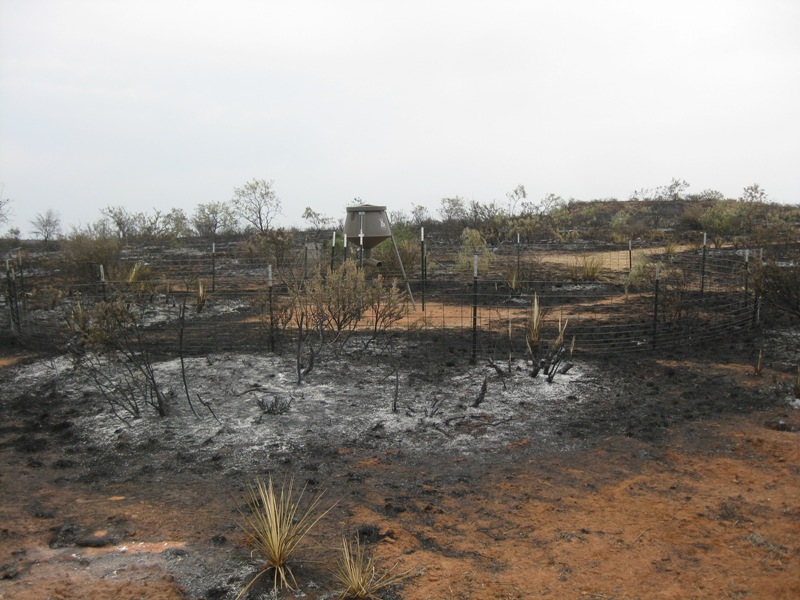 Grain drill is going to take some repairing.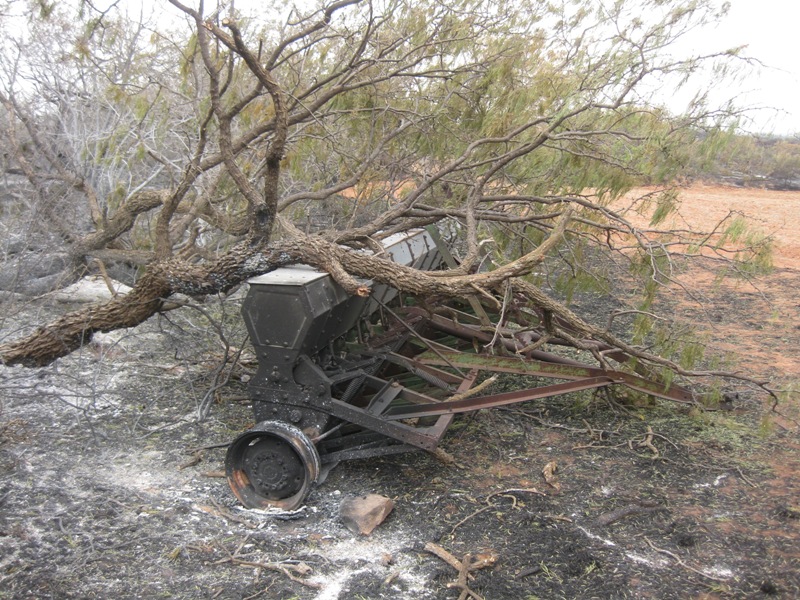 Some of the stumps were still on fire when I was down there today.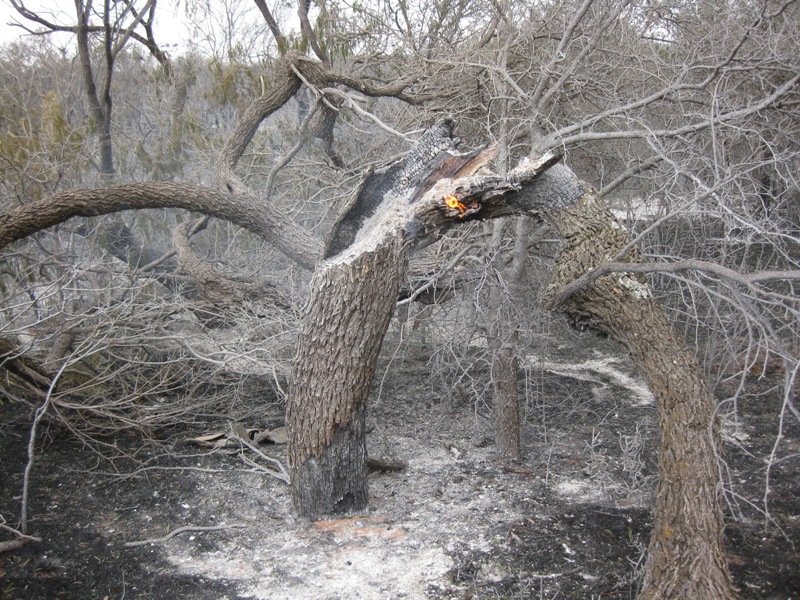 My biggest and oldest mesquite burned from the inside out.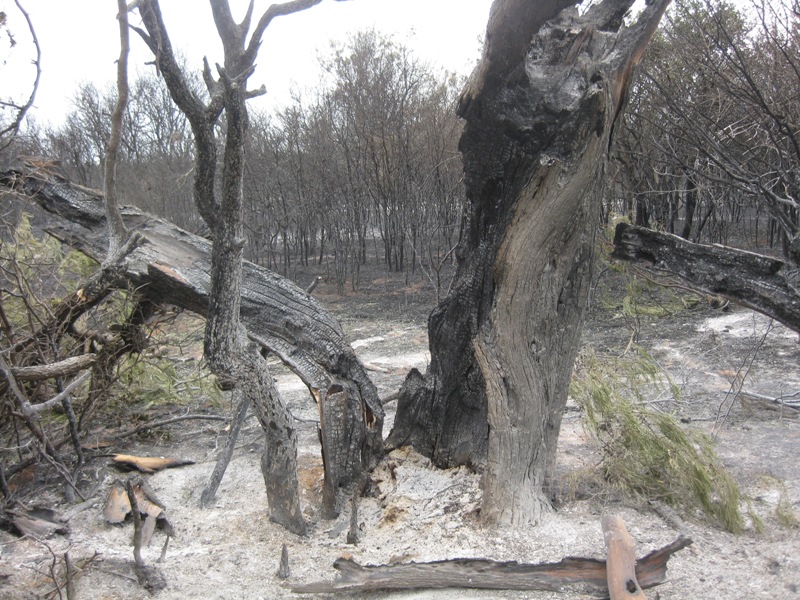 I took a timed shot with the camera to try to give some perspective on how big it was.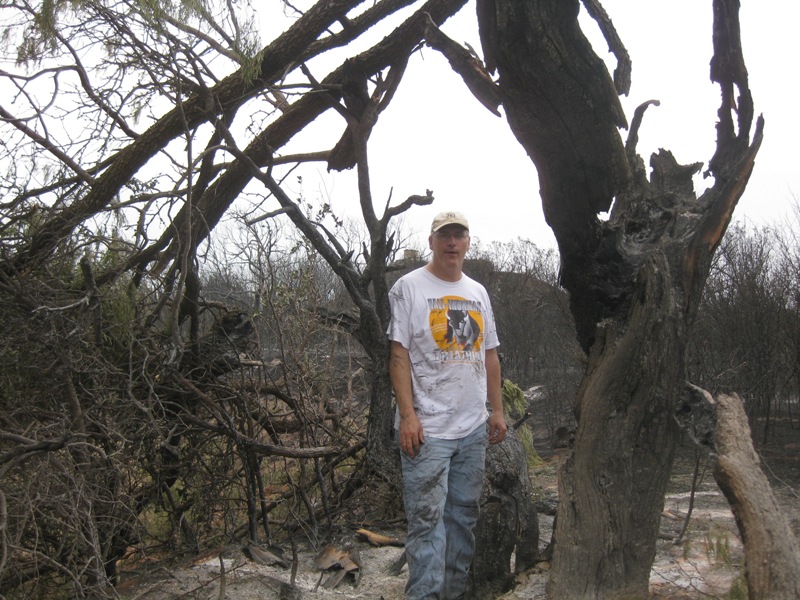 Another big mesquite gone.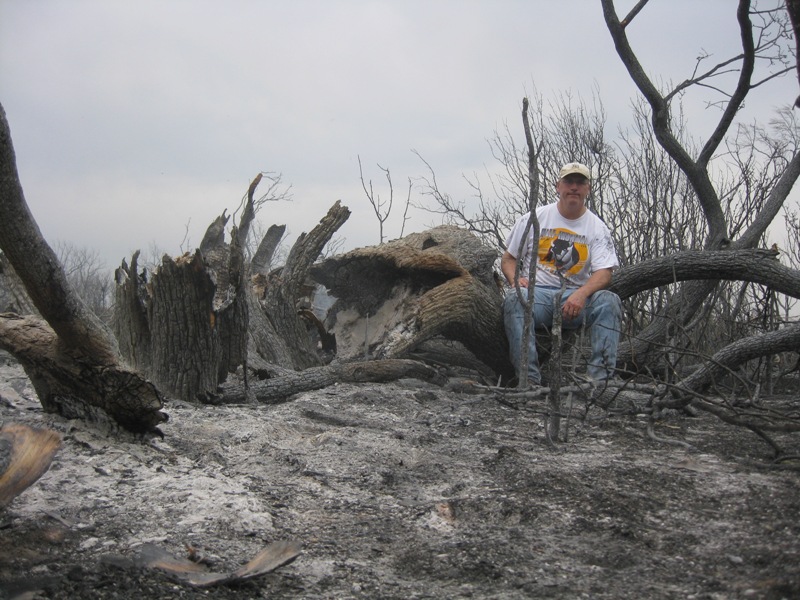 Lost another smaller blind that I had in a different spot.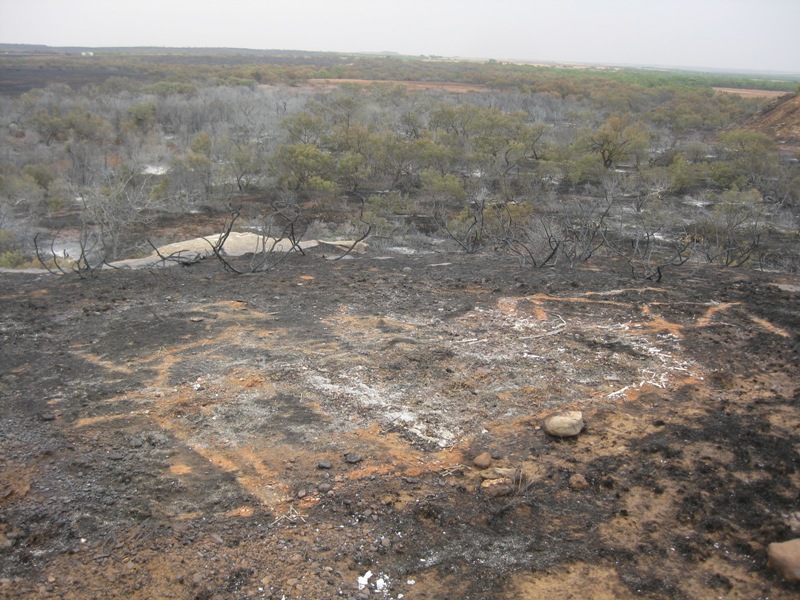 Maybe you can see it in this closeup?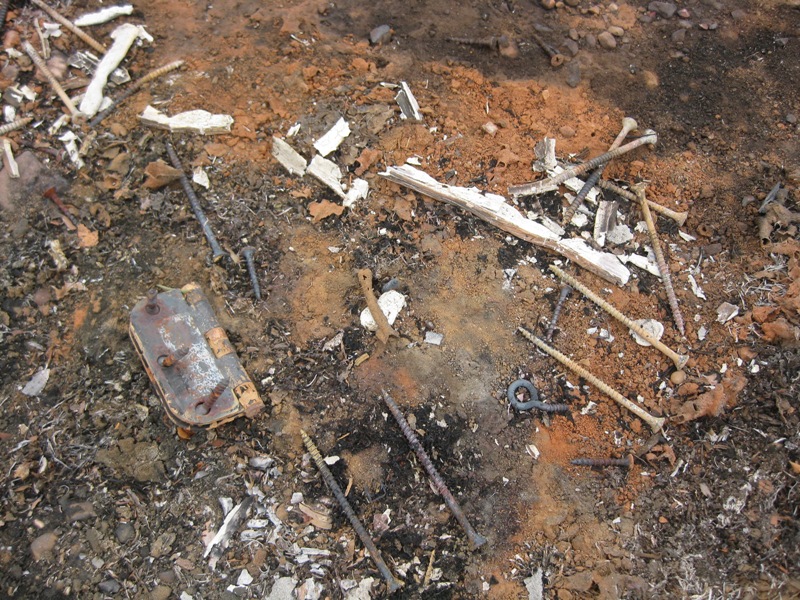 My tripod stand made it but the big mesquite behind it didn't.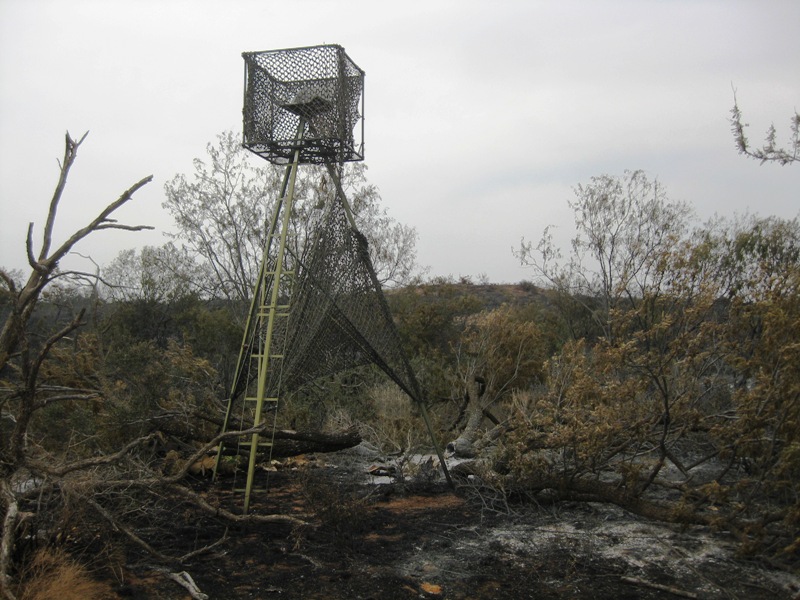 Here's what it looked like when I first put it up.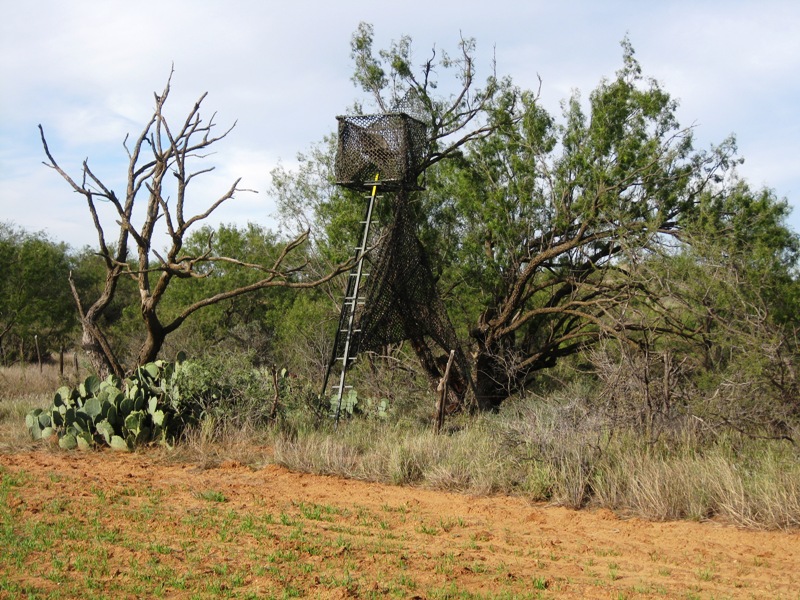 Not much left of my south fenceline. Wooden posts don't hold up very well to fire.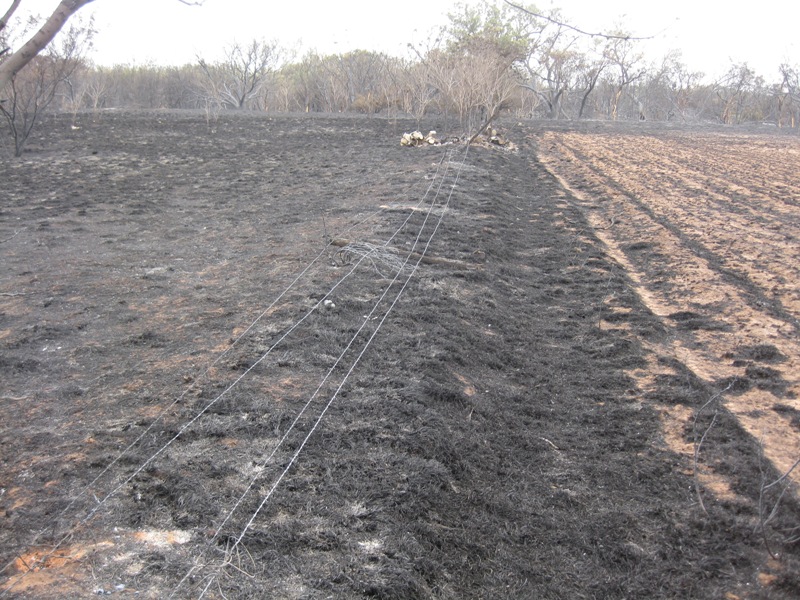 The crazy thing is that the brush seems to have just completely burned up with no trace left behind. This area had lots of brush mixed in with the grass and it is completely wiped clean.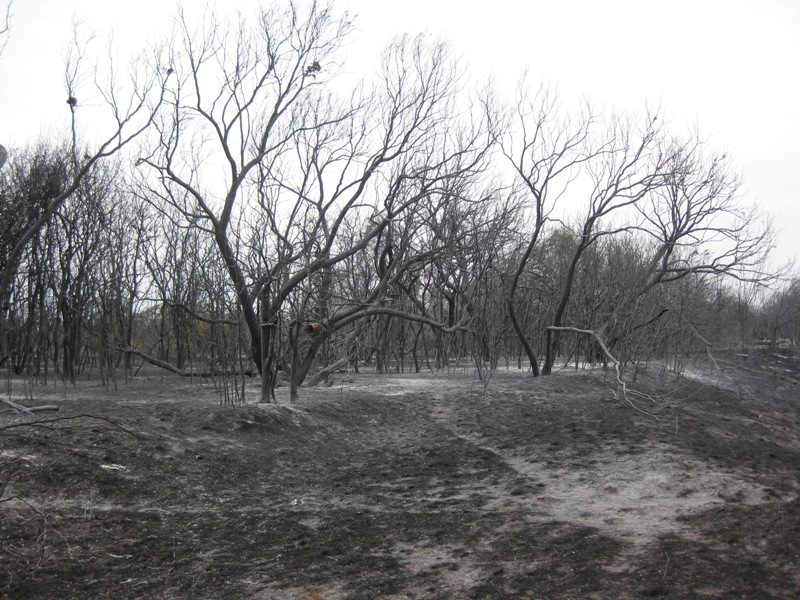 Not just a pass on by type of fire.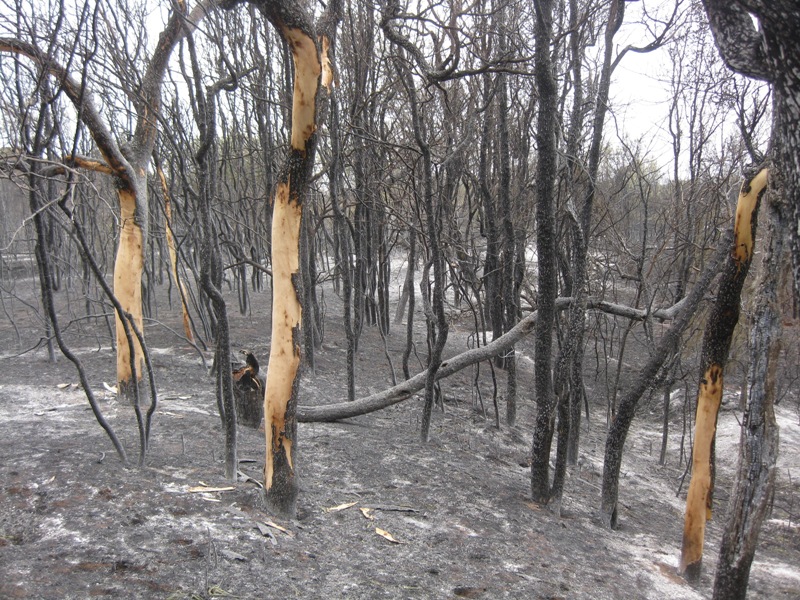 This is probably the best single picture showing how bad it is.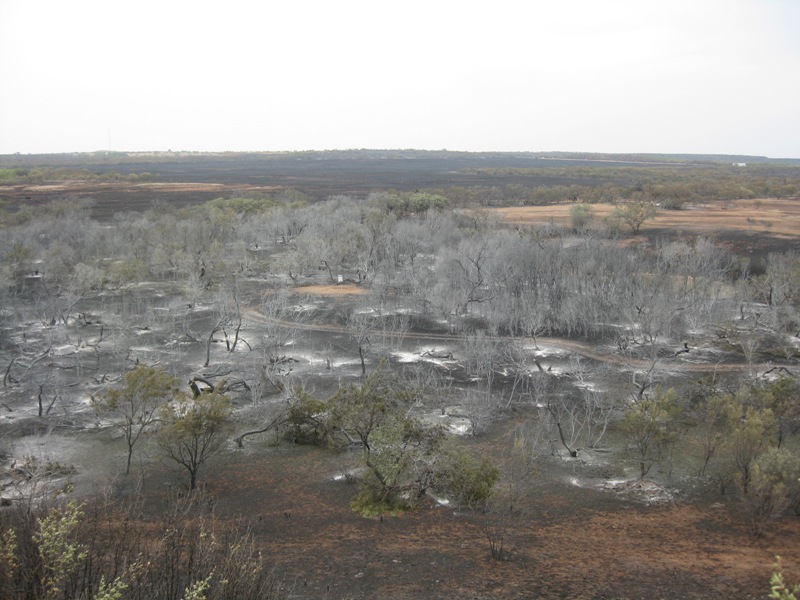 You can see a feeder in the middle of the picture. Usually the only ground that you can see is the area immediately around the feeder itself. The bare dirt. Everything else is completely hidden by how thick the trees are. I actually had to cut down some trees so I could have a clear view of that feeder. Now you can see bare ground everywhere.
Here's a winter time picture of the feeder that should give you a pretty good idea how thick it should be.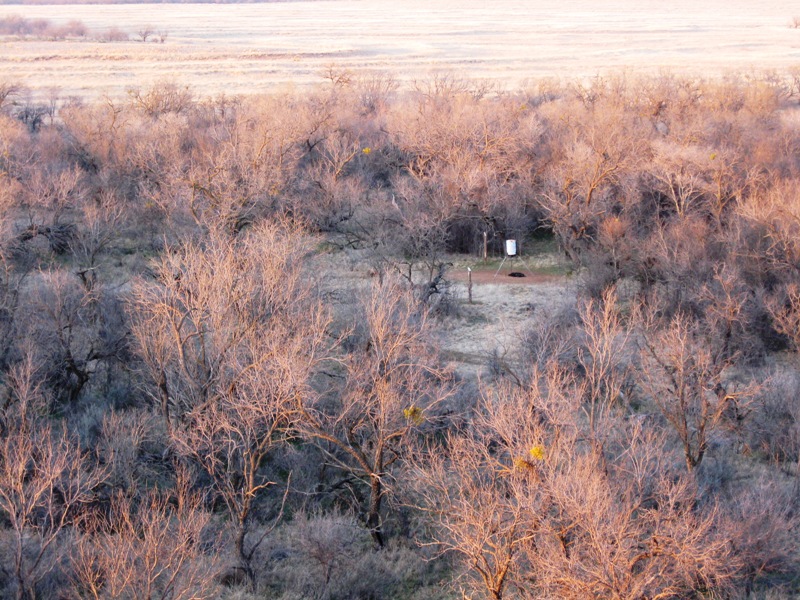 I only found 2 dead animals walking the place. A cottontail rabbit and this bird. Craziest looking bird I've ever seen. I picked it up and put it in the back of the truck to bring it home, but it blew out of the truck. Someone on another forum said that it was a painted bunting.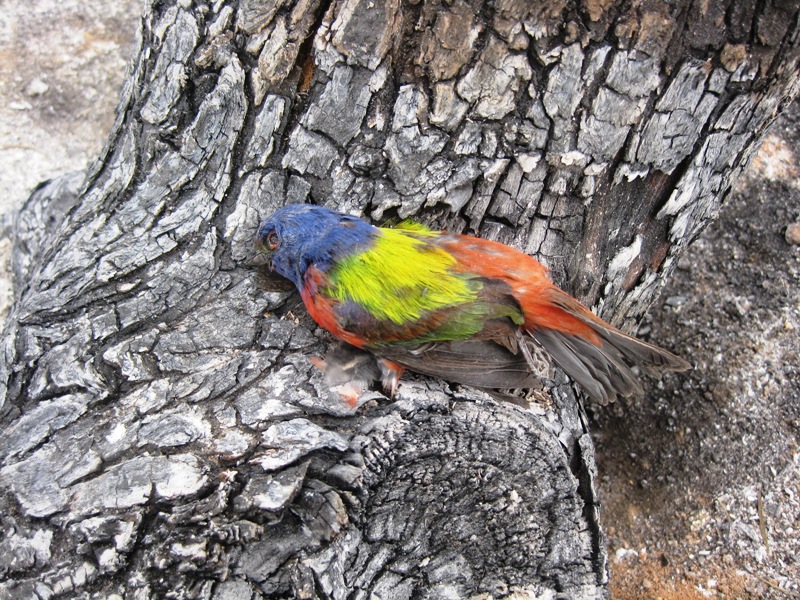 Oh well, I think I've posted enough pictures for now. If you want to look at more here's the direct link to the photo gallery.
http://padens.com/v-web/gallery/FisherCo
The fire pictures start on page 9 and go from there. If you want to look back at some of the earlier pictures you can somewhat get a feel for what it used to look like.
The initial cause of the fire is thought to be lighting but it hasn't been confirmed yet.
The fire started about 5 miles southwest of my place and crossed a paved highway that had fire breaks graded on both sides of the highway to get to my place.
They got it stopped when it got to another paved road a mile east of my place.
Here's the best article on it that I've found -
http://www.ktxs.com/news/27830850/detail.html
It will be very interesting to see how things progress from here.
If anyone has any specific advice I'm all ears.
Thanks, Nathan
---
Last edited by npaden; 05-11-2011 at

01:03 PM

.
05-11-2011, 05:35 PM
Boone & Crockett
Join Date: Feb 2003
Location: Ponce de Leon Florida USA
Posts: 10,079
---
Looks like ya'll have a drought going on out there. I'm surprised those green hardwoods burned like that. Based on what our fires are like, it looked relatively cool, not up in the tree tops.. I've been out there one time, all I remember is big dang cotton fields, I think it was Slaton, Tx we stopped in.
05-11-2011, 06:02 PM
---
thats some tough **** there...my buddy had all 900 acres go up in lubbock...he said it was over as fast as it started...it total like 25k acres around him burned, and it wasnt out yet at the time.

at least yall are ok! blinds can be rebuilt, cameras replaced, and the vegetation shall thrive now.

someone has said it was a camp fire that started it. another said a cigarette.
05-15-2011, 09:48 PM
Fork Horn
Join Date: Sep 2010
Location: Northern NY
Posts: 311
---
man, after seeing my bestfriends house burn to a crisp two nights ago i know how this feels...sh*t happens so fast it's unreal. But just like their house...it can and will be rebuilt. Only thing that really matters is the non loss of lives. Hope all goes well man!
05-16-2011, 07:18 AM
---
i'm sorry your property burned up. That was a beautiful place. Given adequate rain it will recover from the fire. Rain tends to run off untilled ground that is burned over. After a couple rainstorms the burned ground will absorb water.

About half our place in Garvin county, OK burned in November, 2005. The wind was blowing over 60 mph: The 4-8" oak trees looked like they had been hit with a torch-it burned the bark right off. We also lost about 300 mature oak trees. Much of the place is now overgrown with greenbriers, oak brush, wild plum and sumac. It's good deer cover.
Posting Rules
You may not post new threads
You may not post replies
You may not post attachments
You may not edit your posts
---
HTML code is Off
---